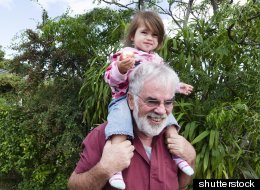 I get that you think that you never want to have kids. I get that they look like a lot of hard work, and you don't really like small children. I know that you cannot even imagine being a father. I was nineteen once, I understand. But one day, years from now, I am hoping you will change your mind. So here is the deal. If you change your mind and decide to make me a grandmother, here are the things I promise:
1. I promise to love and respect your partner, to respect the sanctity of your home and your relationship and I promise to keep my mouth shut about both. You may not do things the way I would, but even now, kids grown and life half gone, I am not sure I did it right.
2. I may hate the loads of laundry that you and your brothers leave all over the house when you are visiting now, but when invited to visit the home of my grandchild, I will joyfully do laundry, clean kitchens and tidy up toys. I know each of these things is small potatoes. I also know that when a young mom who has been up all night with a baby walks into a pristine kitchen, with the clean laundry piled neatly in a basket, she feels loved and cared for.
3. I will walk, talk and rock that baby until she lies sleeping in my arms and I will do it as many hours as needed, letting her mother catch up on much-needed sleep, work or just reconnect with her friends. I know my grandchild won't remember that I did this, but I will. I can barely remember you being a baby. You were tightly sandwiched between two brothers and, frankly, there are years of long blackouts in my memory. The doctor handed you to me and then, five minutes later, I sent you to nursery school. Holding your child will be a cosmic do over for me and I won't forget a thing.
4. I will listen. I know you feel that I have been doing a lot of the talking during the last nineteen years...there may be some truth to that. Having a child will shake the foundations of your being and nothing in life will ever look the same again. You and your partner may talk about this endlessly, but if you ever want another ear, from your biggest admirer, it is my turn to listen.
5. I will speak, give advice, show you how things are done, but only if you ask me. Babies can be scary, parenthood is a leap into the unknown and words of comfort from someone who has traveled this road can often be all that is needed, or conversely, just about the most irritating thing on the planet. You and your brothers turned out all right and I learned a thing or two along the way. I am available to download that information, upon request.
6. As a new parent you will be tired and miserable, grumpy and sometimes short. You will think you know everything even when you know nothing. You will be nervous and anxious and not always great company. Sometimes you will be euphoric and think you are the first person on Earth to experience such feelings. Don't worry, I lived through your teenage years, I have seen you like this before, and I will be there for you again.
--
www.grownandflown.com @GrownandFlown Grown and Flown: Parenting From the Empty Nest
EARLIER ON HUFF/POST50:
Grandparents Play An Important Role In Families, AARP Study
Eleven percent of grandparents have a grandchild living with them -- this jumps to 19 percent for African-American grandparents. Of the grandparent who have a grandchild living with them, 43 percent are the grandchild's primary caregiver. Some 16 percent of grandparents provide daycare services for their grandchildren when parents are at work or school.

More than 80 percent of grandparents report speaking to their grandchildren on the phone at least once a month and more than a third communicate through new technologies such as e-mail, Skype, and text messaging. Some 58 percent of respondents said they speak to their grandchildren at least once a week.

Forty percent of grandparents reported spending more than $500 on their grandchildren over the last 12 months. They widely report spending beyond traditional gifts, most noticeably contributing to education costs (53 percent), everyday living expenses (37 percent) and medical or dental costs (23 percent). Flickr photo by: AMagill.

The majority of grandparents in the telephone survey indicated that they have discussed morals and values (78%) and religion or spirituality (66%) with at least one of their grandchildren. Other topics include peer pressure or bullying; illegal drugs; and drinking and alcohol use. Thirty-seven percent report discussing dating or sex with at least one of their grandchildren.

As a corollary, nearly half (47%) indicated that they have attended religious services with their grandchildren in the past six months. Flickr photo via: cogdogblog.

About two-thirds of grandmothers said they take their grandchildren shopping (versus 58 percent of grandfathers); 63 percent of grandmothers cook or bake with the kids, versus 48 percent of grandfathers. Men were more likely to do physical activities with grandchildren -- 63 percent versus 56 percent of grandmothers.
Follow Lisa Endlich Heffernan on Twitter: www.twitter.com/grownandflown