New York City public schools join schools nationwide in mandating civic engagement. You don't need to wait for permission to volunteer, simply follow your passion and do something fun and meaningful today.
Helping strangers is the most authentic expression of giving because there is no implicit, "I'll help you, and then when I need help, you'll help me." There's just the beauty of giving and accepting between strangers in that moment. The simple actions of giving and receiving rejuvenate us because these gestures remind us what it means to be human. It reminds us that people are capable of grace and great strength. Kindness and hope can rekindle a place of healing in all of us.
I met Taylor, a brave twelve year old who has cancer, and her mom when they were at the hospital. Taylor's family wanted to do something to help hospitalized children. I suggested they invite friends and families in their community to come to a SoaringCelebration to decorate quilts and pillows to donate to hospitalized kids. 150 people showed up at the local elementary school. Together, we decorated 200 SoaringQuilts and 200 SoaringPillows. Ten days later, Taylor and her family donated these pillows and quilts to children at Columbia Presbyterian Hospital, where Taylor was a patient.
Because Taylor had lost most of her hair from the radiation and chemotherapy, the hospitalized children immediately recognized her as "being one of them" as she joyously handed out the red heart-shaped pillows and checkerboard. Taylor's family and the patients became instant friends, recognizing one another as kindred spirits. The experience gave sisters Ryan and Cory an uplifting opportunity to do something fun and positive with all of their friends, and play an active and powerful role in helping Taylor to heal.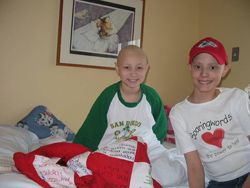 Five SoaringSecrets for volunteers:
1. Start with your passion and volunteer in an area you love. Are you a "foodie?" Maybe you can volunteer for an organization that feeds the homeless. Is reading your passion? Check out the successful literacy organizations in your area, they always need more volunteers. Passion goes a long way and builds on your strengths. To help you get started take a look at All for Good.
2. Research before you take action. Explore charities in your neighborhood that are devoted to issues that resonate for you. Try volunteering at several of these organizations and see which one is the right fit.
3. Take small steps. Make a commitment and keep it for a few weeks. It is tempting to over-commit at first, however, you may have to pull back at a later date. This does not serve you or the organization you are supporting. Start small and increase your commitment. Everyone will be thrilled.
4. Share the wealth. Soaringwords has structured all of its volunteer experiences around a "program in a box" where we organize all the logistics so you don't have to. Soaringwords knows that when it comes to volunteering, "more people is simply more fun." Families, co-workers and friends volunteer together. Organize something during lunch with your co-workers or recommend an organization to your company's head of employee volunteer programs or Corporate social responsibility initiatives. Teens have created Soaringwords Clubs after a couple of volunteer experiences.
James Jordan Boys & Girls Club
5. No task is too small. It's the 1,001 details that make a charity run smoothly. Just ask Eren, one of our terrific Soaringwords summer interns. Over the past month, he's probably organized the same 5,000 Fabric markers at least a dozen times. There's the "aha moment!" when he sees volunteers decorate SoaringQuilts and SoaringPillows at a community event, knowing that his small piece made it possible. And, on Monday morning he'll have to re-organize for another event.

SoaringHugs
There's nothing like a hug. A jumble of arms, chins, elbows converging with a common goal.
Let's be close.
Hey, I see you.
"Hi."
You are not alone.
That's why I was interested to read a recent New York Times cover story For Teenagers, Hello Means How About a Hug? It's nice to know that people under the age of 20 have figured it all out. In today's frenetic, oft-times scary world, a hug simply goes a long way to connect us to others and remind us of our humanity.
Soaringwords is LOVE IN ACTION. I invite you to get into the action and help ill kids heal. Send me a photo or video of a SoaringHug and we'll share it with millions of ill children to inspire them to "Never give up!" Your hug can be fun and creative. You can "name your hug." Be bold. Share something to motivate ill kids and their families to smile and feel embraced and supported by you.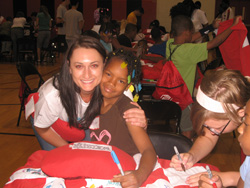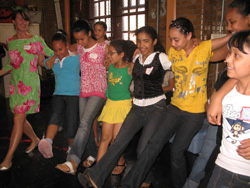 SUBSCRIBE TO & FOLLOW LIFESTYLE
We're basically your best friend… with better taste. Learn more