The date is looming in everyone's mind, somehow those months of planning have passed like TiVoed commercials, and one of the biggest decisions of the year is almost at hand; what will you decide... to wear for Halloween this year?
I still remember the Halloweens of my childhood -- homemade costumes thanks to Mom, (I had the best "Little Big Bird" costume, thankyouverymuch), ringing the neighbor's doorbell and shouting "twick-or-tweet!" as only an adorable four year old can, and being absolutely delighted by the candy that filled my orange plastic pumpkin I proudly toted from door to door.
However, celebrating Halloween changed as I aged. In high school, too old, really, to trick-or-treat, but too young (at least where I grew up) to go to a crazy Halloween party, I spent those four years handing out candy to little Princesses and Spidermen who rang our door bell and shook their candy-filled pillowcases at me.
Then college came, and each year the costumes of my female peers became sexier. One year I was a sexy, yet still conservatively dressed, witch, with a long black skirt, cleavage-bearing top, fishnets, black pointy-toe boots and a witch's hat. The next two years I was a pimp, complete with a black menswear vest worn as a shirt, black pants, pink stiletto heels, a pink and black furry "pimp" hat, and a pink and black sparkly cane that my creative roommate made for me. I had a blast as a pimp, completely got into character, and led my four whores around the party on leashes much to everyone's delight. My senior year I paid homage to my state by shimmying into a black velour mini dress, black fishnets, a leopard print cardigan, lots of gaudy gold jewelry and a blonde wavy wig, and declaring myself a wife of an Italian Jersey Mobster. I had a blast, from what I remember, and vowed to continue dressing up for Halloween.
Last year, when my NYC girl friends informed me of the arousing attire that they planned to don for our Halloween debauchery, I decided that I did not want to miss out on the skank-tastic fun. Armed with their packaged costumes from Ricky's Halloween store, they morphed into Sexy Scarecrow, Provocative Pirate and Raunchy Referee; but I wanted to find a more clever, yet still risque costume. I decided to go as the original slut, 50's pin-up Bettie Page.
Most parts of the costume I already owned, (man, what does that say about my wardrobe...), but I had to acquire a perfect jet black, thick banged Bettie Page wig. When I finally had the entire costume together I appeared to be the living reincarnation of Miss Page herself, knock-out curves and all. I was immensely proud of my creation, and just knew that I would not only look hot, but be the hit of any scene with my witty take on the sexy costumes that adulterate the city every year.
However, once I breached my doorway I knew I was wrong in my assumption. I strutted out the door in my tiny black dress, thigh-high fishnet stockings, peep-toe black high heels, black corset, tiny cropped leopard print cardigan, and Bettie Page wig, and from the doorman's reaction I knew that the he officially thought I was a prostitute. Despite the odd stares from the people in my building, I was certain that once I emerged into the cultural epicenter that is New York City that people would know exactly who I was dressed as.
But, yet again, I was wrong. Although the streets of NYC were filled with fellow costumed citizens, I stood out in my skimpy duds. "Are you a hooker?" a random Cowboy asked me as I sauntered past. As I tried to gather my pride I shouted back "No, I'm Bettie Page, the original 50's Pin-up! How is it possible that you can't recognize that!?" Alas, the clueless Cowboy was just the beginning of my night-long quandary, where I had to dissuade several people that my "services" were not for sale.
When I hobbled home that night, still drunk and my toes completely numb from my teetering high heels, I swore that I would never dress so slutty again, even for a costume. Maybe, instead of trying to show the goods as a "Naughty Nun" or "Feisty Freddy Kruger," women can start finding more witty, less trampy costumes to strut around in on Halloween. Rather than wearing basically "lingerie and some form of animal ears," as the line from Mean Girls so accurately put it, maybe women can reach deep into their brains and pull out a campy, intelligent costume that wouldn't embarrass their parents.
This year, when I go out on Halloween, in my 80's aerobic instructor costume, I will be covered and warm. While it may not be the most "timely" costume, I will be wearing more than double the clothes than the year before. I won't look dowdy, as it will still showcase my figure, but I will not be half-naked and displaying the goods. So I encourage you ladies, before you wiggle into your two-piece "Naughty Navy Gal" costume, look to the news for inspiration, or even to the past, and come up with your own cunning costume.
Some ideas to lead you in the right direction: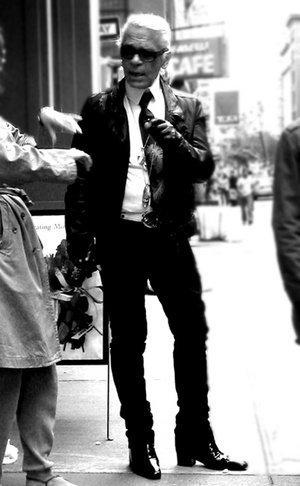 For those with a sleek boyish frame, look no further than the chancellor of style himself, Karl Lagerfeld. Pull on those black skinny jeans, shiny black flat shoes, white high collar button-up shirt, black jacket, black tie with a broach pinned on, black fingerless gloves, and a medium-length white wig pulled back in a ponytail. Most items are easy to find in your own closet, thus making this recession-proof chic. The other fashionistas will approve.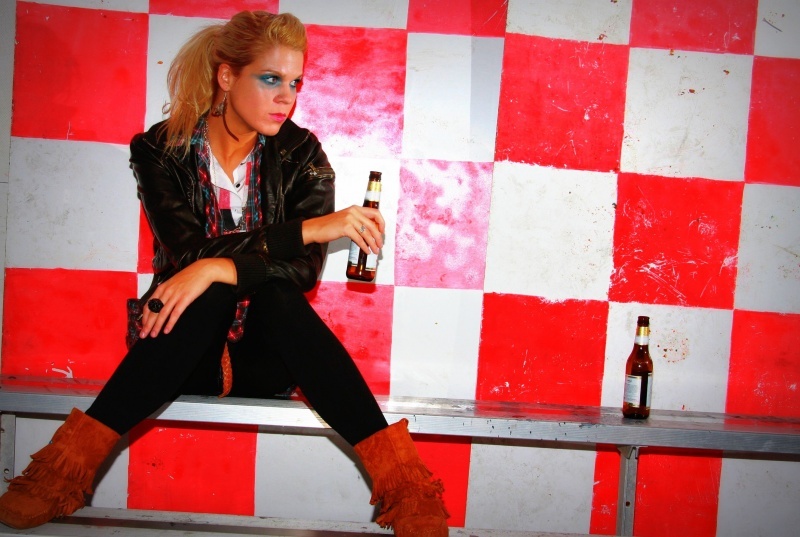 Or, another closet friendly costume would be that of a Hipster. Easy for men or for women, you just need the tightest skinny jeans you can squeeze into, converse sneakers, a vintage t-shirt, American Apparel hoodie or plaid button-down, unwashed hair, and thick framed glasses that have either clear lenses, or have the lenses popped out. Bonus points if you spiff up your costume by adding a headband tied around your forehead, ripped tights, and a smug sense of self entitlement.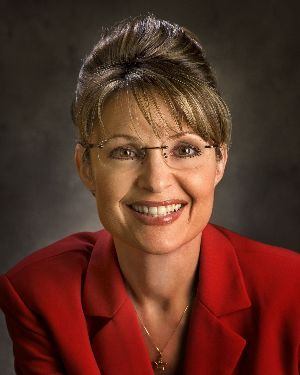 The most timely costume of the season would be that of Vice Presidential nominee Sarah Palin. If you want to splurge, rush to your nearest department store and find a red suit, or a red jacket and red skirt separates. If you're like Joe six-pack and you're trying to save a buck, just dig up that skirt suit you haven't worn since your last job interview, don some wire-rimmed glasses, and pin up your hair in the signature Palin-esq up-do. Extra credit given if you can effect her Alaskan accent and stay sober enough to spout some Palin sound bites. Show the RNC that it doesn't take $150,000 to look like Sarah!
FOLLOW HUFFPOST