It is the simple delights that make life sweet. All around us, political upheaval, economic crisis and technological revolution confound and dazzle us. I struggle to absorb it all and ultimately find comfort in the worlds I know best - family, friends and food.
To me, it is a universe to get lost in, so many facets and faces. A few highlights: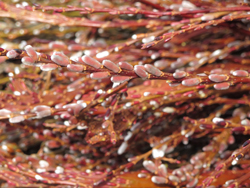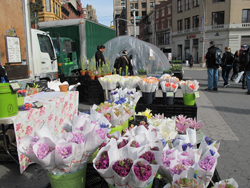 Union Square Greenmarket on Saturday - where spring is definitely in the air! Pussy willow branches made their debut along with bare cherry branches and a host of flowers that we associate with the change in seasons. And while we are a few months away from outdoor spring crops, there were treats like spinach or kale from Norwich Meadows and the Saturday bounty from Two Guys from Woodbridge. I arrive at their tent every Saturday and spend the best $20 of the week. Pea shoots, mezzuna, baby watercress, basil, sorrel or shiso - at $4 each I take an explosion of flavors home with me and dole a little out each night. I went bonkers and bought 1 lb of exquisite cherry tomatoes from Shushan Valley Hydro Farm (yes, $9 but worth every cent!) and tried 2 of their cucumbers. Yum. I just had to restrain myself from devouring half the tomatoes on the ride home. The fish from PE&DD Seafood could not have been fresher - as usual I got some cod and tried the flounder filets. (They are why I get raves on my fish dishes.)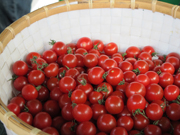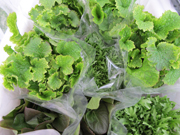 How delightful to bump into Chef Dan Kluger from ABC Kitchen navigating a cart of market treasure - Lynnhaven goat cheese, Windfall Farm greens and other ingredients which might be classified as secret. We reflected on the dearth of produce but appreciate the simplicity of the choices. It is the last stretch before the frenzy of the coming season is upon us and the never ending quest to utilize more and more ingredients consumes diners and chefs alike. A good problem!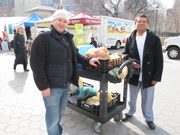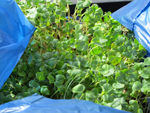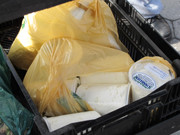 I expect that next year we will see innovative producers find new ways to preserve the harvest - like Migliorelli who for the first time has a freezer at the market filled with bags of frozen veggies (peppers, kale, collards, beans...and more). We have to be thankful for Luc Roels at Farm2Table co-packers for bringing back the ability to process, freeze and preserve products for farmers and local manufacturers. I was the lucky buyer of Migliorelli's last pouch of frozen kale. I bought their new tomato puree, but it is no match for Katchkie Farm Tomato Sauce, though I realize I am prejudiced! (Friday night I cooked up a pouch of collards with Paffenroth onions and Cayuga Pure Organic garlic. The perfect bed for my cod.) The increased use of greenhouses is altering winter produce availability. It will be interesting to watch this movement grow while we also see how we utilize our 3 greenhouses at Katchkie Farm.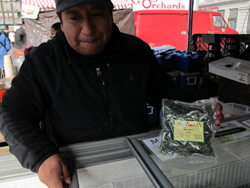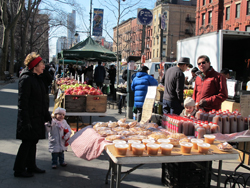 More food? Sunday at the 77th Street Greenmarket, probably one of my favorites for its small town feeling and wide sun drenched sidewalk - a counterpoint to the fast paced, addictive, fashionable Union Square market. Along Columbus Avenue I greet Choi Wah Wong, a Great Performances/Katchkie Farm Alum, who does a magnificent job for Feather Ridge Farm. Even when I don't need eggs, I never leave without a least a dozen. Today, I bought my usual Omega-3 enhanced crate, and then some pullet eggs! "Smaller and sweeter" said Choi Wah. (I went home, fried two and ate them on a bed of market spinach. Outstanding!) I didn't really need anything, but caught the crosstown bus home laden with apples and cider from Terhune, bok choi and broccoli rabe from D&J Organic, corn tortillas from Hot Bread Kitchen, pasta from Knoll Crest and collards from Gajeski Farm.
A detour to Gracie Mansion to review final plans for the Conservancy Dinner tomorrow night ('life happens around food') before heading to the Javits Center and the annual International Restaurant & Foodservice Show. There, along with essential items for our industry, one finds some odd and unusual looking items. Industrial food, fabricated flavors, consumer convenience and products for profits find buyers. But there is hope here too! There is a growing section called: The Pride of New York - where buyers can find local food and wines.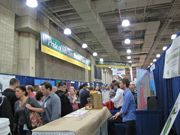 The aisle with Pride of New York is like a farmers market grown up. Organized 9 years ago with passion and advocacy from Special Assistant for Market Development Bob Lewis, the pavilion features approximately 30 companies. Some of us are in Greenmarket but have succumbed to the call of greater outreach and cannot resist the idea of taking that great jam/pickle/loaf of bread/sauce/wine and creating a product line. Rick's Pick's (I buy the Handy Corn and the Pepi Pep Peps by the case), Beth's Farm Kitchen (check out her new book, make your own jam), Orwashers (the NY bread legend), Katchkie Farm (see the fabulous new labels on the product line) along with other regional growers and producers are but a drop in the sea of products at the show. And though we think of NY as the center of art, finance (and the universe in general), we are a strong agricultural state and in the top 5 for apples, maple syrup, cabbage, sweet corn, cherries, grape juice and wine, pears, snap peas and onions. Over 7 million acres statewide support over 36,000 farms.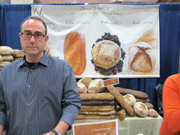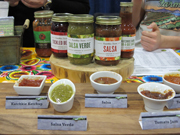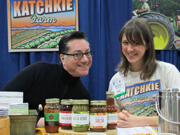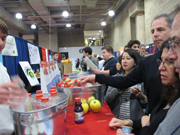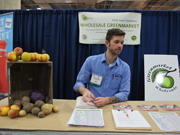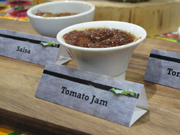 I love this industry; I love local food; I love figuring out what to eat based on what I shop from small scale growers I know; I love the flavors; I love watching my fellow farmers discover ways to extend the season, preserve the harvest, realize greater returns; and I love the feeling of being in the right place at the right moment as consumers everywhere are rediscovering the building blocks of a healthy and vibrant local food system. And I have deep respect for so many farmers and individuals who have fought for decades to keep our local food system alive. We barely made it but for them.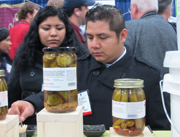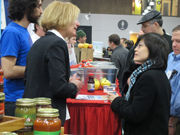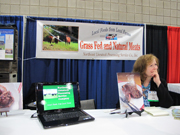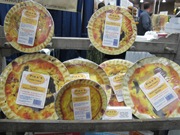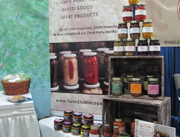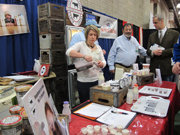 If you are interested in learning a little more about what's happening with local food and farming, check out the Just Food 11th Annual CSA in NYC Conference this coming Saturday, March 5th, to learn about local food systems, CSA, Eating Local, Home Canning, Fair Trade practices, Food Security and Farmland - and so much more. Hey, you'll have a great local lunch! (we're cooking!)
And the Oscar goes to.....Locavore's; for helping us discover that what we were looking for was right in our backyard all along. There's no place like home!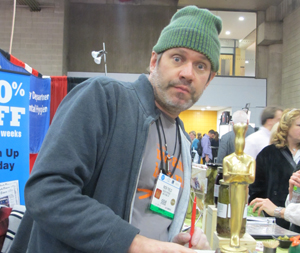 FOLLOW HUFFPOST