THE BLOG
Last Mango Racing, These Saints Go Running
The traveling party-on-a-schoolbus from Sackatoga Stable that followed Funny Cide and the posse that cheered on Donegal Racing's Paddy O'Prado showcased racing partnerships that combine a quest for racing glory while enjoying the trip. A relative newcomer to the partnership table, Last Mango Racing is ticking off the requisite boxes -- partners, horses, trainer, advisors, camaraderie. It never hurts to have some celebrity firepower to lead your victor to the winner's circle as Jimmy Buffett did with Who Dat Ambush, on January 8, 2012 after winning a starter allowance at the Fair Grounds Race Course, LA.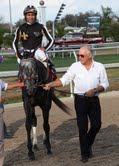 Photo on left: Who Dat Ambush being led to the Fair Grounds' winners' circle by partnership member Jimmy Buffett. Shaun Bridgmohan riding. Photo courtesy of Hodges Photography
Who Dat Ambush is owned by a subset of Last Mango partners together with some outside owners. Currently, Last Mango Racing is running FleurDeFortyFour, from Any Given Saturday's first full crop, who finished second in a Fair Grounds maiden special weight this weekend in his third start. Franderella, a Henny Hughes three year old filly is on layup.
The Fair Grounds winner's circle in 2012 is a long way from the deck of Jimmy Buffett's boat the Last Mango II where in 2007, New Orlean's Saints' coach Sean Payton, the Saints' director of communications Greg Bensel and Buffett were chilling. It was Super Bowl weekend in Miami, FL. The Indianapolis Colts were getting ready to win 29 to 17 over the Chicago Bears and Coach Payton was in town to receive NFL Coach of the Year honors.
While on that boat ride, the three friends talked football -- Coach Payton encouraged Buffett to design a play that he would call at the Pro Bowl the following weekend. Buffett came up with a half-back pass that he called "the Last Mango" and Saints quarterback Drew Brees and Giants Running back Tiki Barber were designated to run the play. They did, the pass was intercepted, but that's another story.

That afternoon the friends also talked about New Orleans' recovery post-Hurricane Katrina. Buffett specifically asked about how the Fair Grounds Race Course (FG) was doing in its comeback. "I offered that we organize a small group of guys and each throw in $1000 a man and go get a hard-knocking claimer and run it in the fall meet at FG, our way of doing something we are all interested in. And what better place than the Fair Grounds, where we all have a connection," explains Greg Bensel.
"I decided I would create an ownership group and name it after that boat ride, and that failed half-back pass. It would be named Last Mango Racing Stable, after Jimmy, Jimmy's boat and Jimmy's lifestyle. I wasn't sure how this would translate to horseracing, but I thought 'What the hell, let's give this a go,'" says Bensel of taking on the role of managing partner. "Our ownership group is a diverse group of people and the obvious names that most people will recognize are Sean Payton, Drew Brees, Mickey Loomis, Ron Jaworski and Jimmy Buffett."
Last Mango needed a head coach -- also known as a trainer in racing terms. The Saints' connections were familiar with Tom Amoss who had visited the Saints' training camp. Amoss took on Mango Racing and was charged with finding their first horse to claim. After a couple of false starts, Amoss' eye lighted upon Pulaski County and he made the claim for $50,000. According to Bensel, the claim prompted a call from Ron Jaworski to Amoss all fired up that he had just claimed a Polish horse.
Pulaski County was a steady performer for Last Mango and gave the partnership their first taste of the big time when Bensel persuaded trainer Amoss to run him in an allowance on 2008 Kentucky Oaks day. Bensel relates, "I finally convinced Tom to let us run. We got Julien Leparoux to ride when his horse scratched. There were one-hundred thousand plus people there and we were all dressed up and I was doing media interviews. The paddock was packed and electric. Robby A (Robby Albarado, Pulaski County's regular rider who had declined the ride) came up to me pre-race and said 'Hey Greg, no hard feelings, business decision.' The gates opened and the race began, down the lane they came and here came Pulaski County flying, picking off horses left and right. He couldn't catch the winner nor the Zayat horse, but we finished a game and charging third, ahead of Robby and eight other horses. It wasn't a win, but it was to us!"
Brian Foret, of the Stallion Company, Lexington, KY, advises the partnership and guides them through the intricacies of racing and bloodstock. As such, he has insight into what makes Last Mango work, "First of all Mango is made up of a big group of friends who are also some of the best guys in the world. They are in for a small amount of money and they all went into the deal with the attitude that they don't expect any money back. They have very low expectations and are involved for fun. They all understand there will be ups and downs. They understand how hard it is to win in professional sports so they appreciate all the wins and understand that losing and injuries and setbacks are a part of the business."
A racing partnership where many of the partners are active, professional athletes offers the opportunity for reflection on the nature of sports and athletes. With firsthand knowledge, Bensel answered the following questions: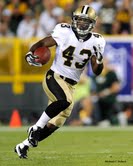 What human athlete does Who Dat Ambush most resemble?
Bensel: Darren Sproles...small -- quick turn of foot
Photo on right: Darren Sproles, New Orlean Saints Running Back and athletic-doppelganger of Who Dat Ambush. Photo courtesy of New Orleans Saints
What is similar between horse racing and pro football?
Bensel: The journey, the difficulty just to get a win... winning is hard to do in any sport, it is very difficult in both horse racing and football, both take talent, proper preparation and a little luck.

What is most foreign to a football professional about racing?
Bensel: In football you can look in the face of your players and talk and communicate and get a sense of how they feel. What is foreign is not being able to do that with a horse, at least I can't...who knows if that horse feels good, even feels like running all out during the post-parade??? No one knows....
Can you describe your feelings/emotions pre-, during- and post-race?
It is the same for a race as it is for a Saints game... pre race(game) on pins and needles, nervous, anxious....and post race (game) if a win, there is nothing like it... I celebrate the horse wins a little more emphatic and the football wins a little more professional... laughing
A previous version of this post erroneously referred to Last Mango Racing as Just Mango Racing.
MORE:
Drew Brees
,
Jimmy Buffett
,
Tiki Barber
,
Sean Payton
,
Mic
,
Ron Jaworski
,
Robby Albarado
,
Pulaski County
,
Paddy O'prado
,
Funny Cide
,
Greg Bensel
,
Fair Grounds Race Course
,
Julian Leparoux
,
Tom Amoss
,
Who Dat Ambush
,
Brian Foret
,
Shaun Bridgmohan
,
Donegal Racing
,
Sackatoga Stable
,
Franderella
,
Fleurdefortyfour