Almost forty years have passed since Secretariat electrified the world with his record setting 1973 Belmont Stakes victory. With that, he won the Triple Crown, the most elusive title in all of sports.
The America's Cup, the Ryder Cup, the World Cup. At the end of those competitions, there is always a titleholder. Not so with the Triple Crown.
A horse can win the Kentucky Derby and take the Preakness Stakes. Yet, since 1978, when faced with the 1 ½ mile trip around Belmont's "Big Sandy" main track, all have faltered. Sunday Silence, Silver Charm, Real Quiet and Smarty Jones ran their best, just missing the Triple Crown.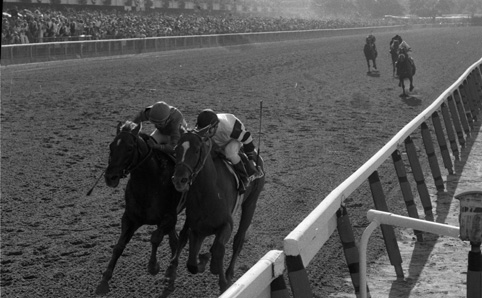 Photo courtesy New York Daily News
There was a 25 year gap between Citation's and Secretariat's Triple Crown wins. In rapid succession close after, Seattle Slew (1977) and Affirmed(1978) won the Triple Crown. At the end of the '70's the title seemed common place.
History tells us differently, for there has been no Triple Crown winner since Affirmed. There have been many horses close to winning it, heartbreakingly close. Those final furlongs of the Belmont Stakes' homestretch bear silent witness and wait for the next incarnation of Triple Crown winner.
Who knows? Maybe in 2011 ... this time of year, seasoned two year old prospects for the Triple Crown emerge. The bumper-car like aspect of early two year old racing has given way to polished and professional performances. Meltdowns and hijinks are fewer. It's time to grow up and be a race horse, or even better, a Triple Crown winner.
Who do you like?