Winter Vacation and Light N Easy are thoroughbred mares. They moved to new homes recently. Winter's transition was uncomplicated, while Light N Easy's sojourn was fraught.
Winter Vacation was unraced, and a moderately successful broodmare -- her first and only foal to run won the first time out as a two-year old. Winter's owner was a thoroughbred farm manager. He saw first hand the effect of overbreeding on the thoroughbred industry and elected to retire her from his breeding program. He asked me to find Winter a good home.
Through a referral by three-day event guru Denny Emerson, Jordan LaPlaca came down from Sharon, Vermont to see Winter and some of the other horses being retired off the farm. Originally, Jordan was looking for one horse, but ended up taking home three. Winter Vacation, her buddy Diorama, and retired race horse Double Domino. All three are up on Jordan's farm in Vermont, trail riding, learning dressage, schooling over little jumps. Winter is bathed, pampered, given treats and has a forever home. Placing these horses with Jordan has worked out better than I ever expected.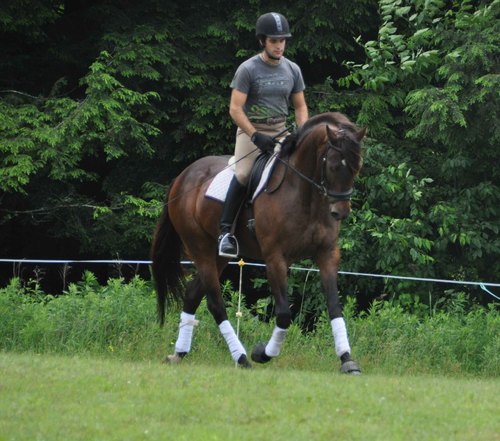 Jordan La Placa schooling retired broodmare Winter Vacation in the basics of dressage.
Photo provided by Maverick Hill Dressage
Light N Easy was bred in Mount Morris, NY, and ran twice in $4,000 maiden claimers at Finger Lakes Race Track in Farmington, NY. She finished ninth and eighth in races one week apart, and never raced again. I worked for the farm that bred and raced her, but left while she was still in utero. Her dam, Mrs. Jonnina, was a favorite of mine.
Light N Easy next appears as a broodmare at Star Barn Thoroughbreds, on the leased former Reigle Heir Farm in Grantsville, Pennsylvania. (According to the Jockey Club, she had her first foal this year on June 11.) Touted as part of an agrarian utopia, under the aegis of a 501-C-3 charitable organization Star Barn Thoroughbreds accepted donations of mares in return for offering a home for the horses and the structure for donors to claim the mares as charitable donations.
Unfortunately the arcane business model at Star Barn Thoroughbreds has not worked out and they are left with over one hundred broodmares, some stallions and sparse income. Marquis stallions like Senor Swinger and Ecclesiastic were removed to stand at another farm. Staff who were long time Reigle Heir employees left due to conflicts about the management of the horses.
The founder of the Star Barn, Robert S. Barr, is new to the Thoroughbred industry. Although named "National Holstein Boy" in 1961, there is nothing equine related in his credits. Under the umbrella of the Barco Group, he runs enterprises including 21st Century Appraisals and Agrarian Country, the parent company of Star Barn Thoroughbreds. Agrarian Country's 2009 IRS return (990EZ) reports the operation ended the year with a $511,989 deficit.
Without a Pennsylvania veterinary license, Paul Truitt, a non-practicing vet with dated racing industry experience was hired to run the operation In 2007 Truitt was terminated from his position at Nashville's Animal Control Services. In fact, Truitt was brought up on charges that included failing to euthanize dogs and cats in accordance with the standards of practice for veterinary medicine in the state of Tennessee. The Tennessee Board of Veterinary Examiners found in Truitt's favor.
According to Truitt, out of funds and owing money to a neighboring farmer who leased them pasture land, Barr made a deal with the farmer to barter a group of horses to satisfy the bill. Light N Easy was one of the group. The farmer's shipper picked the mares up at Star Barn with the New Holland horse auction as their destination. The New Holland auction is a major feeder of horses into the horse slaughter pipeline. Inhumane, barbaric and vivisection are terms frequently used to describe horse slaughter.
On Monday, June 27, Light N Easy was in a New Holland kill pen, identified by a photo texted to a spotter by Deb Jones, of Thoroughbred Identification, Protection and Advocacy, Huntington Beach, CA. Until Friday morning, it was thought that Light N Easy was not pulled from the pen and had gone to slaughter in Canada.
A phone call can change everything.
Friday morning I received a call from a jubilant Jones and her rescue associate Lisa Amarino that Light N Easy had been the "unknown mare" in a group that had been bailed out of jeopardy from the Camelot horse auction in Cranbury, NJ, by benefactor John R. Murrell. A Dallas oil man, Murrell has a string of thoroughbreds based in New York and he is a committed advocate for horse welfare.
Light N Easy had been bought at New Holland by the owner of Camelot, for about $100, so he could run her through his ring. Horses leaving the Camelot sale fare no better than their brethern at New Holland. A fairy god-mare must have been looking out for Light N Easy to emerge from the slaughter milieu. The lucky mare is now safe in a paddock with her reprieved cohorts at Ron and Barbara Rickline's Xanthus Farm, Gettysburg PA.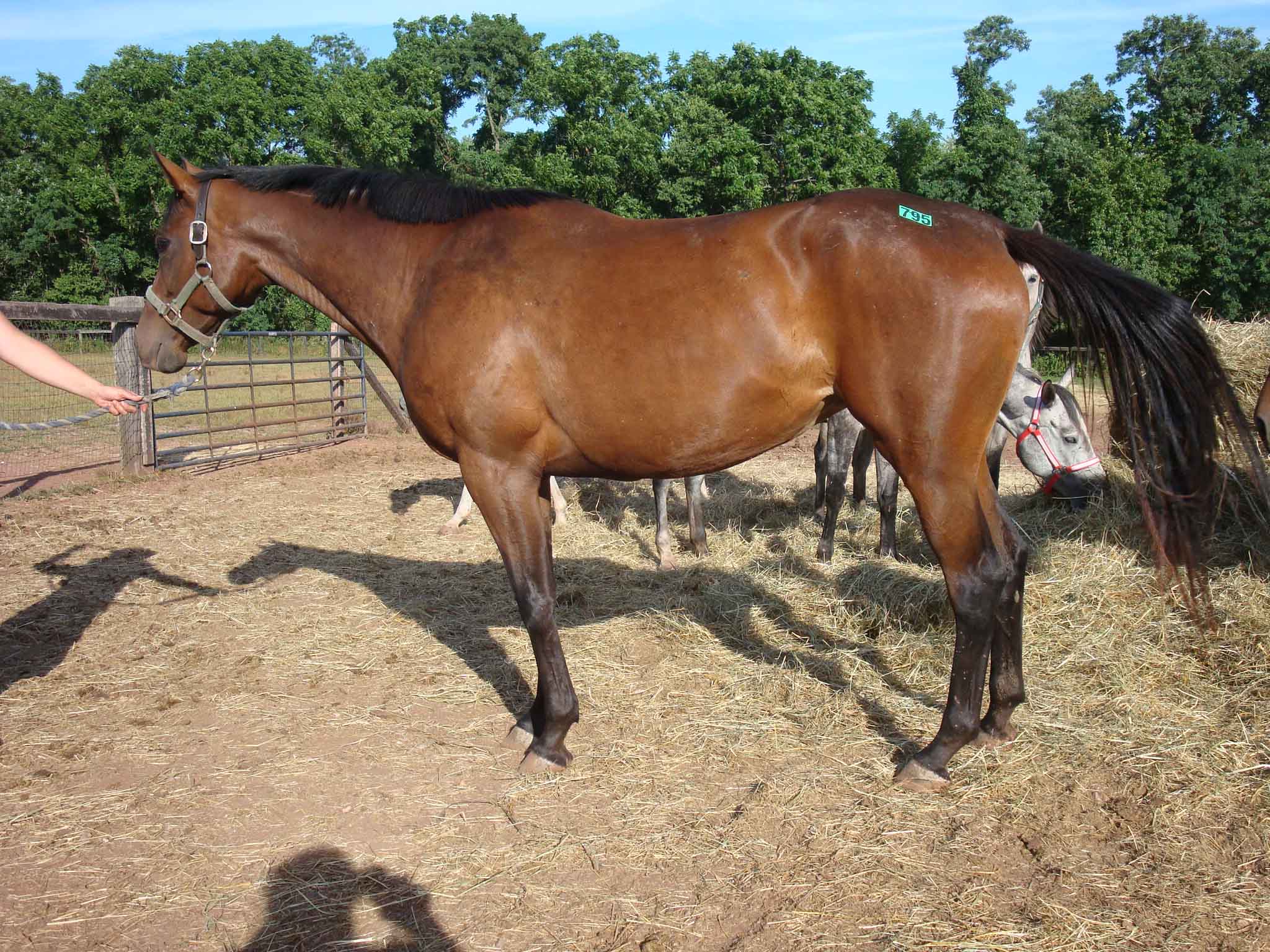 Light N Easy upon arrival Xanthus Farm, her quarantine sanctuary.
Photo provided courtesy of Xanthus Farm.
The rescued mares will stay together in their isolation paddock for thirty days. The kill pens are notorious harborers of equine pathogens. To protect the mares, and any horses they will come in contact with, they will be closely monitored for the month, watched for clinical signs of illness. If all goes well, the mares will be placed in safe, permanent homes at the end of their quarantine.
A question remains about Light N Easy's 2011 foal. The Jockey Club has a Live Foal Report for a Light N Easy filly born on June 11, 2011, by the stallion Jockey's Dream (BRZ). The Foal Report is sent to the Jockey Club by the owner of the foal to start the lengthy registration process.
Yet in conversation, Truitt said that the filly did not survive foaling. He said prior to her tenure at Star Barn, Light N Easy had fractured her pelvis, making parturition difficult for her. At this point, the fate of Light N Easy's 2011 filly is unclear.
Can a fairy god-mare strike twice?

Follow Liz O'Connell on Twitter: www.twitter.com/NYThoroughbred