Human rights are important. Too often, though, working to improve them is a task left to someone else. Someone who "works on stuff like that."
Personally, I've spent a good portion of my time the past five years advocating for human rights, particularly freedom of expression, in Venezuela. A month ago, the United Nations Association of the United States of America recognized me as this year's Leo Nevas Human Rights Youth Activist winner for my work to inform international mechanisms about the situation facing Venezuela today.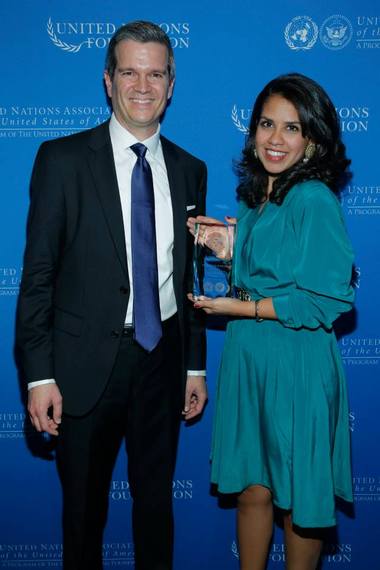 It was an immense honor to be recognized with incredible people in this field of work among the likes of Samantha Power and Malala, people, and more importantly, women, who have moved human rights mountains in their life and career. Instead of feeling less than, I felt extremely proud of the recognition. It symbolized the power of one. It represented the role that small-scale activism can have in changing the status quo and making this world better.
Because of this, I wanted to commemorate Human Rights Day by reminding you that you, too, can champion a more equal world, where everyone counts, with small actions every day.
And you don't need to be world famous or have started your own non-profit to do so.
The unendingly inspiring Nelson Mandela said, "No one is born hating another person because of the color of his skin, or his background, or his religion. People must learn to hate, and if they can learn to hate, they can be taught to love." With that guiding principle in mind, we must approach human rights as being a human responsibility as well.
That said, my first prescription to being a human rights advocate is to start taking responsibility for human rights at the most basic level. To quote another remarkable person, Fatima Bhutto, "You can't choose who you're compassionate towards." That means advocating for US immigration reform or using Twitter to denounce voter fraud is not enough if simultaneously you are condoning prejudice, unequal, segregationist or hateful behavior from yourself or those closest to you.
To champion human rights, start be analyzing your attitudes and how you respond to those around you. Are you laughing at racist jokes? Are you making fun of disabled people or calling your friend "retarded" because, whatever, it doesn't really mean that? Are you derogatory to an ethnic group or ideology different from your own? You may be thinking, yeah, but "it's not that serious."
Except it is.
How can you contribute to making our world more equal when your own actions don't resemble that conviction? Those examples and other seemingly harmless attitudes become habits, which then become beliefs, and consequently, can even become actions.
If looking to dedicate yourself more fully to human rights work, examine your skills and think of how you can use these to advocate for human rights. Human rights are so broad and all-encompassing, that it's almost impossible not to be able to incorporate some form of awareness into our daily practices. Regarding economic, social, and cultural rights, for example, if you're a an artist, create awareness through your medium. If you're a business owner, ensure you are being just with your employees in all senses. If you are a public person, a teacher, a mechanic, virtually any profession or hobby can be used as a platform to say hey, we're all human beings, and we all have the right to claim equal, inalienable rights during our time on this planet. If you're into politics or civil service, so much can be done in our own country to ensure civil and political rights are adhered to, not to mention the need for these to be advocated for in dozens of countries. Through your own campaigns, educational initiatives, policy advocacy, and most importantly, leading your followers by example, you can make human rights a bigger priority.
And if you find yourself inclined to be more militantly involved in the cause, a great way to start is by looking to the countless resources already making important strides in human rights issues across the spectrum. At the local level there are hundreds of thousands of initiatives you can volunteer and work more formally with using a range of skills from writing (getting awareness out through the media), business (advocacy needs business savvy and resources to be enacted), marketing (no human rights campaign is successful without it), law (international law, among other legal disciplines, are crucial to the success of protecting those that fall victims of human rights abuses) and others. And international organizations such as Amnesty International, the United Nations Office of the High Commissioner for Human Rights, the Inter-American Commission on Human Rights, are just a few examples of entities that are doing extraordinary human rights work all over the world. They need man power to get the word out and to reach more and more people regarding the importance of human rights work, so getting involved is as simple as wanting to do so.
The ways we can help are endless, but what is most important to remember on a day like today, when the most international organization in the world, the United Nations, is "bringing to the attention 'of the peoples of the world' the Universal Declaration of Human Rights as the common standard of achievement for all peoples and all nations," is that equality starts with the every day actions of one person, and that one person can be you.