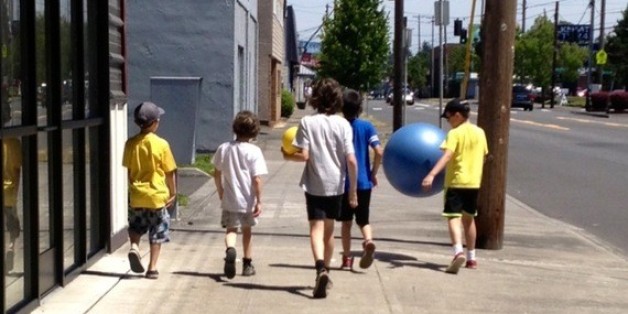 Naturally, the following questions have come up over and over again lately:
What are you doing this summer?
Any big trips planned?
Where are you guys going?
At first when I was asked these questions, I'd cringe a little bit... because here are my answers:
Not much.
Nope.
Sticking close to home.
We will do some day trips; we're lucky enough to live in Oregon where the beach and the mountains are each under two hours away; and we'll sneak in a long weekend somewhere before school starts up again.
I was starting to feel bad, listening to other moms on the playground talk about their kids going to multiple camps, Disney vacations, a Hawaii trip or a family reunion back east.
Then I stopped feeling bad. Because my boys are going to have an awesome summer.
We are one week into summer vacation, and I've joined forces with a few other working moms who have semi-flexible schedules (work from home/flexible hours/off on Mondays) to give our kids one of those old-school, no-agenda, bike-riding, running-through-sprinklers, free-for-all, popsicle-eating-'til-there's-a-ring-of-red-around-your-mouth summer vacations.
Monday through Wednesday the boys will all travel in a little pack over to a different house. This cuts down on camps, nannies or babysitters -- which would equal cash.
We just had the first day here at Camp Ferraro. I had five boys at my house and the following things happened:
Giant fort was built
Water gun fights
One hour of Minecraft
Picnic lunch in the backyard
Capture the Flag
Walk to the park
Wet heads in fountain at park and shook them out at each other like dogs
Tag
An endless amount of swinging on swings
Hide-and-go-seek
Kickball with giant yoga ball
Snacks, snacks, SNACKS!
Visit to children's theater to hear a reading of a new play
The last of the pack was picked up and I was back down to just my two.
Of course, I was pretty exhausted from having my radar turned up extra high with my eyes on five, but I gotta say... it was a pretty fun day and it totally flew by.
The next day, when I went to pick them up from my friend Sharon's house, my older son was doing laps around the block on a bike and my younger one was "playing the piano" (sorry, Sharon). On the way home, they gave me the highlights of their day, which included ping pong, going to the store at the corner to buy milk and peaches, Nerf fights, and eating Nutella and peanut butter sandwiches for lunch.
Another really good summer day.
As I put my youngest to bed, he told me how much fun he'd had and how excited he was to go to my friend Jen's house tomorrow and what did I think they would do there? Can they have a sno-cone stand? Can he bring his bathing suit? Do you think Jen has Nutella at her house, too?!?
Who knew doing nothing could be so much fun.
Lori's website, Drawn to the '80s, is where her 5-year-old draws the music hits of the 1980s. Her blog, Once Upon a Product, is where she writes about beauty products, music, and her Mick Jagger obsession.
Also on HuffPost:
SUBSCRIBE TO & FOLLOW PARENTS
HuffPost Parents offers a daily dose of personal stories, helpful advice and comedic takes on what it's like to raise kids today. Learn more