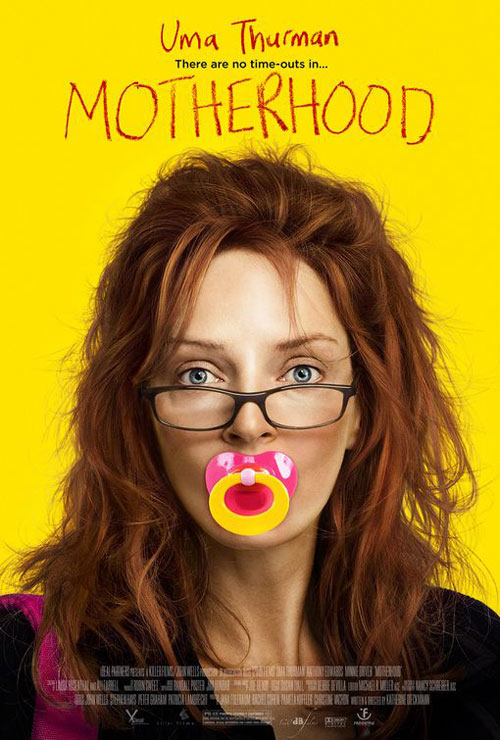 "Motherhood will break your heart," advised the extremely chatty 60-ish woman who was standing in the line of mere mortals--to the right of the red carpet--waiting to get into last Wednesday's New York premiere of Motherhood, a new film starring Uma Thurman. My new friend was a passerby who intended to talk her way into the screening. Me, I was there by actual invitation, based on my status as a harried mommy-blogger. The film is about a day in the life of another harried mommy-blogger, played by Thurman, with Anthony Edwards as her husband and Minnie Driver as her best friend. I'm not supposed to talk about the movie itself until it hits theaters this Friday, October 23, so let's talk about the event.
I don't get out much, so first thing I noticed once I was in the door was all the stick-thin, black-clad 26-year-olds shifting uncomfortably in their 4- and 5-inch heels. Motherhood? I don't think so! Most gatherings of moms I go to showcase a wide variety of sneakers. Here, just about the only females in sensible shoes were me, Uma Thurman's 11-year-old daughter Maya, and the one guest who was so pregnant I thought there was a good chance she'd go into labor in the lobby. Beautiful Uma, stick-thin and black-clad despite being mom of two, wore spike heels as well, but I had to wonder how often she does so. Her walk into the theater was so spectacularly wobbly and awkward that I could hear several groups of women behind me gossiping about it.
It was pretty fun, for a change, to hang out with the high-heels crowd, sit across from celebrities (Minnie Driver was right across the aisle from me, rocking red-and-black 6-inch platforms), see a free movie, munch free 100-calorie bags of Popchips potato chips and chew on free Jelly Bellies. And at the after-party, I got to sip free prosecco and sample cupcakes from Billy's, the Chelsea bakery where Uma's character buys a birthday cake in the movie. The party was at this chic lounge called The Gates, and all the same young women were there, doing the same "my shoes hurt" dance as before, sipping prosecco in groups of two and attempting to look as if they belonged there, in that crowd of well-dressed strangers--and not to look as if they were eagerly waiting to spot the stars. For such a packed room, it felt oddly empty.
As the director, Katherine Dieckmann, slipped through the crowd toward the corded-off VIP area in the back, by a fireplace, my friend Sally and I slipped out to get some real food, but were detained briefly by our chatty premiere-crasher pal, who perched alone on a banquette, looking triumphant. She'd successfully talked her way in--giving the name of a company that she knew hired extras for the movies--and had been seated right across from the Thurman family. She just couldn't believe we were leaving the party. What could I say? Lunch had been 8 hours earlier, and cupcakes just weren't cutting it.
After a soup-and-salad dinner down the block from the after-party, I bemoaned the price of motherhood. Babysitting: $13 extra to the regular babysitter, $60 to the night babysitter, plus $15 car service for her to get home since it was after 10 pm. Dinner: $25. Total price of free movie: $113.
Sally asked me, "So, was it worth it, to see a new film and sit across from a few celebrities?"
You know what? It totally wasn't. And not because of the steep bill. Motherhood hasn't broken my heart, at least not yet. I'm sure I could be having a lot of fun adventures out in the adult world wearing high heels and drinking bubbly. But the Motherhood event reminded me of one of the major themes in the movie itself: that my usual boring, barefoot evenings of reading storybooks and running bubble baths are precious, full of joy, and just exactly what I want to be doing right now.
What about you other moms? Does a night out on the town remind you of all the glamorous things you're missing out on, or does it sometimes, like Wednesday night did for me, make you grateful for the unglamorous life you've got?
Louise Sloan, a Ladies' Home Journal editor, writes on being a mom at "Ladies' Lounge," a new group blog. She is also the author of Knock Yourself Up, a cross between memoir and reporting about the trend of women choosing to become single moms.

FOLLOW HUFFPOST