I was getting a bit lax in the eco-friendly arena. But preschool whipped me into shape.
My son just started preschool for the first time a couple weeks ago, and I thought I'd be the dorky parent who sends carrot sticks and soy nuts for snacks when everyone else gets Lunchables or some other food that's "fun," mainly due to being based on white flour and sugar and housed in disposable cartons, boxes and bags covered with brightly-colored, bug-eyed licensed characters. For at least a minute or two, I seriously worried that he might be a preschool social reject because of the uncool, health-conscious lunches I planned to prepare. (In reality, I think he has a couple years before he risks becoming a pariah on those grounds.)
Turns out I seriously underestimated my ultra-progressive, parent-run preschool. No Blues Clues-emblazoned Yoplait for this crew! Right in the family handbook, it spelled out a lunch and snack policy that was healthier and way more eco-friendly than I was planning to be. Healthy lunch and snacks only, they said, no sweets allowed--and please send food in reusable containers, with real cups, spoons and forks and a cloth napkin. "This practice will eliminate the waste of paper and plastic and help your child learn to preserve the earth's resources."
Whoa. I was planning on being eco-friendly and all, but no yogurt cartons, pretzel packs, or juice boxes EVER? What about those little containers of organic applesauce? Don't they buy me some moral high ground, despite the plastic? What about my guilty addiction to Ziploc bags? And it would never have occurred to me to send a cloth napkin to school. The responsible citizen in me thought these were excellent rules, but the harried mom thought, "yikes!" I had some shopping to do.
After totally striking out at local stores -- cloth napkins for kids and eco-friendly lunch paraphernalia are apparently far from the norm, even in my famously progressive Brooklyn neighborhood -- I went online and found some great products (my favorites listed below). Scott was ready to go green.
But something else happened. Preparing his healthy, eco-friendly lunches guilted me into doing the same for myself -- and because of his preschool's rules, I was ready with all the right containers.
I swear my turkey on whole wheat tastes way better in its hip-looking ReSnackIt reusable bag than it would in a Ziploc. Even those drearily healthy carrot sticks have taken a step up: now they get dipped in the hummus I put in one of the tiny little Sassy containers I got for Scott.
The transformation goes further--as I put his cute cloth napkin into his lunchbox, I find myself thinking that, instead of a paper towel, I really could use a cloth kitchen towel to dry the counter after sponging it. Meanwhile, at work--I'm a magazine editor--the Envirosax company sent me a 5-pack of their portable, reusable shopping bags. Thanks to Scott's preschool giving me a shove in the ecologically correct direction, I decided to try them.
Turns out they're not only pretty, but practical: They fold up easily to the size of a Kleenex pocket pack, so you can always keep one in your purse, and they have nice long handles so you can hang them from your shoulders, making grocery-carrying a lot easier (a big deal in New York, where you have to shlep your bags for blocks). Plus, Justin Timberlake uses them. How cool is that?
The upshot: After two weeks, I'll bet all the paper and plastic Scott and I would have generated--but haven't--would fill our kitchen garbage can. I still use too many paper towels and too much plastic, but I feel great about the changes I've made. It took some effort to get myself set up with products that make re-using easy, but now it really isn't so hard to pour some milk into a thermos or spoon some yogurt or applesauce from a big jar to a small container that I can throw in the dishwasher later. I wouldn't have done it without a push--our culture is set up to encourage excess packaging and the idea that things can be heedlessly thrown away, and it's so much easier to just go with it.
So, what I've learned so far in preschool? Just like the teacher says, rules really can make the classroom a better and happier place. And sometimes, peer pressure can actually be a force for good!
Do you have an eco-friendly lunch product you swear by? Check out my faves:

ReSnackIt is basically a reusable plastic sandwich bag, only it's BPA- and PVC-free nylon with a coating on the non-food side, dressed up with cute fabric and a Velcro close. Unlike a plastic baggie, you can toss it in the washer and dryer, instead of having to hand-wash and dry it inside-out. It comes in sandwich size or the smaller snack size, which is perfect for a preschooler's snack or half-sandwich. The fun designs make brown-bag lunches much brighter. Plus, I don't have to feel guilty about throwing away ("where exactly is 'away'?" my son might ask me someday soon) another plastic bag that will clog a landfill and take 1,000 years to degrade into toxic substances. Another attractive option: Reusies.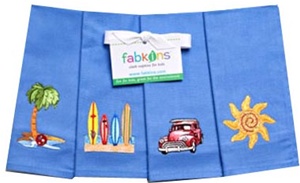 Fabkins are child-size cloth napkins with cute embroidered designs and a label for your child's name. I was afraid of the stain-showing potential of the solid colors so I chose blue gingham (with zoo animals) for one set of 4 and red stripes (with surfing themes) for the other. I love them, use them at home, too, and only wish they'd use a looser-weave cotton that wouldn't wrinkle so much. Another company with cute kids' napkins is Happikins.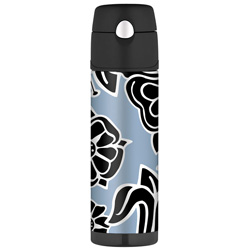 Thermos not only makes terrific BPA-free stainless-steel insulated straw cups for kids under the Foogo label, but they make adult version, too -- the clunkily named "fashion hydration bottle." The design is much easier to deal with (especially when driving) than the screw-off top of my Kleen Kanteen, the trendy water bottle in New York right now. With this Thermos product, which is double-walled to keep your drink cool, you just press a button and the top flips up, exposing the straw. It's also way better than my son's Sigg water bottle, which has a cute exterior but a "sports top" seemingly designed for a flexible bottle--since you can't squeeze the stainless steel, you have to suck really hard to get any water out of it.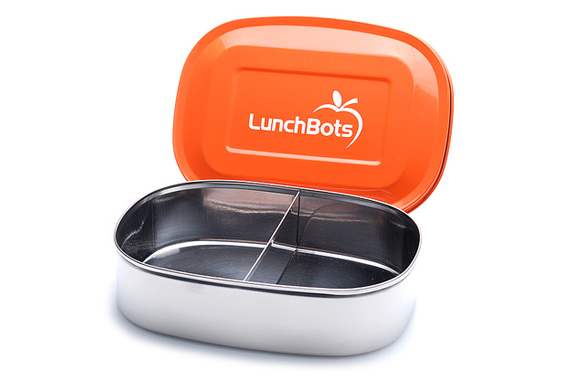 LunchBots are brightly colored stainless-steel containers good for sandwiches, salads or whatever. I got the "Duo," which holds two different foods separate from each other. You can throw it in the dishwasher and be happy you're not using plastic. I wish they came in fun patterns and in more sizes.

The Sassy Baby on-the-go feeding set sounds like an infant product, and it technically is, but it's also a great, inexpensive, BPA-free plastic 4-piece bento box-style system for packing a variety of things--sandwiches, dips, snacks. Best of all, unlike some other bento-box products, everything has a lid, so soft or liquid foods definitely stay where they're supposed to be, and you can use each container separately if you wish. I got 'em at Amazon.com. A slightly more expensive option is to get the "Bento Buddies" from Laptop lunches--also 4 different-sized containers with lids. (By the way, for inspiring--or intimidating--examples of bento-box school lunches, check out the creations of Wendy Copley, a health-conscious, eco-friendly mom who's way out of my league!)
Happy eco-eating!
Louise Sloan, a Ladies' Home Journal editor, writes on being a mom at "Ladies' Lounge," a new group blog. She is also the author of Knock Yourself Up, a cross between memoir and reporting about the trend of women choosing to become single moms.

SUBSCRIBE TO & FOLLOW THE MORNING EMAIL
Start your workday the right way with the news that matters most. Learn more