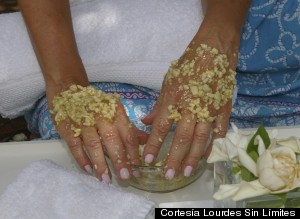 Yo siempre he creído que la belleza proviene de adentro para afuera; ambas pueden enriquecerse con productos naturales. Soy amante de las manos y la cocina, por eso siempre ando buscando recetas orgánicas para degustar nuevos sabores y embellecer mis manos.
¿Qué creerían si les digo que pueden embellecer sus manos solamente sacando 3 productos de la despensa de la cocina? Este exfoliante es una receta sencilla para restaurar la piel quebrantada que dejó el invierno, tan rico en vitaminas y aceites naturales que dan ganas de comérselo.
1 onza de almendras molidas
1 cucharadita de miel de abeja clara
1 cucharadita de jugo de limón natural
Mezcla todos estos ingredientes en un recipiente hasta que quede una pasta gruesa. Luego aplica la mezcla mientras la vas frotando en la parte superior de la mano dejándola por unos 3 minutos. Enjuaga las manos sin jabón y siempre trata de usar agua fría para mantener la elasticidad de la piel. ¡Repítelo una vez por semana y verás la diferencia! Esta maravillosa receta la encontré en un libro naturista de Rosamond Richardson, experta en productos orgánicos. La semana entrante les traigo una mascarilla para la cara y con esos mismos ingredientes les voy a enseñar a hacer ¡un delicioso postre!
Cómo mantener las manos hidratadas:
Siempre usa guantes para fregar, limpiar y hacer jardinería.

Mantén al lado del fregadero un aplicador de crema hidratante de mano para que cada vez que termines de cocinar o fregar la uses.

Coloca al lado de tu crema facial el pote de la crema de manos para que todas las noches y mañanas la uses. En la cartera siempre lleva un tubo pequeño de crema para las manos y úsala durante el día.
Si eres aficionada a tomar sol, no olvides que tus manos también necesitan protección. El no usarla con el tiempo pudiera resultar en manchas.
Embellece tus manos abriendo la despensa
SUBSCRIBE AND FOLLOW
Get top stories and blog posts emailed to me each day. Newsletters may offer personalized content or advertisements.
Learn more