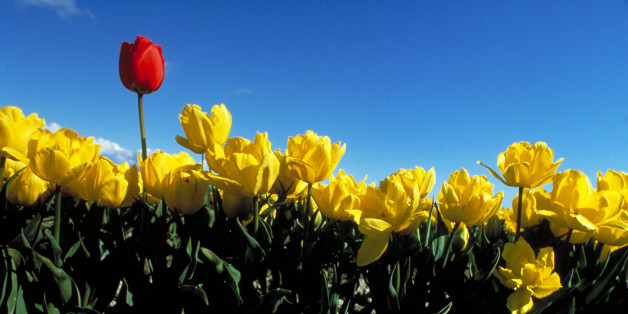 At the beginning of 2013, I sat in the Roxie Theater in San Francisco watching the film How to Survive a Plague with tears streaming down my face as people on screen were rallying, crying, desperately sacrificing their bodies, and ultimately dying in an effort to demand government action on AIDS. The film pushed me to ask: Why don't I know more about this deeply important time in my community's history? I never learned about AIDS in an American history class in public school. In fact, while I learned plenty about Reaganomics, never once was the rich history of the LGBTQ community in the 1980s mentioned in a class that covered the decade until my senior year of college (in an upper-division course offered only once every few years).
Today, education on LGBTQ history and contemporary dialogue specifically around transgender civil rights issues have been framed by important dates and events when straight people became more comfortable with our identities. Our civil rights issues are defined by convincing non-queers that we are normal and non-threatening and celebrating marginal increases in pop culture visibility while downplaying aggressively anti-trans legislation that, for example, essentially barred trans and gender-nonconforming people from using public bathrooms in Arizona. The contrast between inclusive progress (driven by the needs of the most marginalized in our community) and exclusive progress (benefiting only those in our community with the means to assimilate into mainstream culture) has become especially striking in my life.
In her latest book The Gentrification of the Mind, queer activist Sarah Schulman writes that, in contrast to previous queer generations that were openly rejected, my generation of queers have to "go through the difficult process of learning to realistically evaluate their own lived experience," instead of relying on what society tell us are our successes and failures. She posits that queer youth today are too complacent and must realize that the terms of queer justice are defined outside our community. In this vein, I feel it is important for me to examine my history and explain why I am driven personally toward a politics of queer visibility rather than the politics of assimilation.
My life has been defined by privilege. I was born in 1991, a year when the AIDS epidemic continued its brutal assault on the community that I now consider my home, yet I have never had to look AIDS in the eyes or live the experience of mass death of friends and loved ones to a disease blamed on our collective identity. When I was two years old, Brandon Teena was raped and killed in Nebraska for essentially being the person that I am today, yet the closest I have had to come to his experience is watching Boys Don't Cry and searching for a little piece of myself in Hillary Swank's convincing eyes. Skip to 2012, when the Center for American Progress released a report confirming that 40 percent of homeless youth are queer, and of transgender homeless youth, 62 percent are black. But I am from a middle-class white family, so I receive the hegemonic power of white privilege, the same privilege that produces the extreme socioeconomic disparity between queer people of color and white queers. Throughout 2013, there was a seemingly endless trickle of news regarding hate crimes against transsexual women. Though my internal experience may prove similar to that of transsexual women, our external experience could not be more different. Transitioning to a more masculine identity comes with inherent privileges that we need only look to our rate of female representation in Congress to recognize. The reality is: I walk down the street at night with a sense of personal safety that my transgender sisters do not experience.
For me, assimilation is especially accessible. As a passing white transsexual man with a degree in political science, a job that pays for my San Francisco apartment, and a boyish appearance that makes elderly women at the grocery store smile at me with trusting eyes, it's easy for me to be satisfied with my own experience of assimilation into a society that already acknowledges white men as actively more powerful than others. I know, however, that the political and cultural successes my community has experienced in recent years disproportionately affect and favor me and leave much of my community in the margins, grasping for tangible change.
As 2013 passes, I realize that, though the year marked important events in my legal and physical transition, the most significant transition I have experienced has been mentally. I spent the first 20 years of my life actively and urgently trying to assimilate into traditional female culture. For the past two years, I waited excitedly for my assimilation into male culture and felt confused as the assimilation I thought I had always wanted became more and more uncomfortable. The truth is: I'm tired of pushing myself to assimilate. I realized that, though heteronormative culture has proven willing to accept me, I am not willing to accept it. To comfortably slip into this culture, one of selective privilege and without true queer representation, would be an abandonment of my voice (and its disproportionate likelihood of being heard) and a personal detachment from a politics of queer solidarity that I find invaluably important.
Thus, it is my choice in 2014 to be visible, to continually question my social position, and to seek ways to use my privilege to advance inclusive progress in the queer community in an effort to motivate my generation to seek more radical definitions of equality and justice.
SUBSCRIBE TO & FOLLOW QUEER VOICES
We're spilling the tea on all the queer news that matters to you. Learn more