Sue White was 23 years old when she stuck a Hot Wheels car into her pocket, walked into a convenience store and pointed it at the attendant.
"Give me all the money in the drawer."
I know this because she told me.
I know that she was homeless, that she was unhappy. I know that, one day, something happened that made her want to take back control.
That something was love.
"It was my first relationship -- I just fell completely in love with this woman."
They found each other living on the street. They decided to make a change.
"Did you ever see Thelma and Louise?" Sue asked.1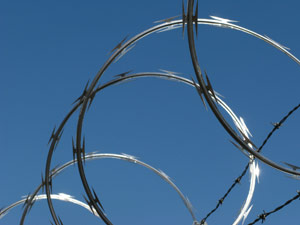 Razor wire surrounding the prison where Sue spent 105,120 hours
Sue and her co-defendant committed five counts of armed robbery without ever actually being armed.
The Hot Wheels heist was one. Here's another:
Christmas was coming. Sue was crashing at a house with another homeless woman and her kid.
She heard the 5-year-old ask his mother, Does Santa know how to find me?
"And it just broke my heart."
So Sue went to Target, filled a basket with toys, shoes and clothes, and walked right out the door.
She placed the stolen goods out front the house, knocked on the door and ran.
There was a note. This is what it said:
"I just wanted to make sure you know I didn't forget you.
Merry Christmas, love Santa."
And with each robbery, Sue kept thinking, "If I can just do this one more time, maybe I can get enough (money) to hold myself over until I find a job."
Then she went to prison -- four years at California Institution for Women.
It was 1987. It was where the love ended.
Sue paroled back into homelessness. She worked odd jobs, tried to play it straight.
It took two years.
One night in 1994, she sat in a parking lot staring at the glow radiating from a Hallmark store.
"It was pouring rain. I hadn't eaten in two days. I was cold. I was tired."
She prayed.
"Lord, I don't know how you're gonna do it but, all I want is some food, a shower and a bed to sleep in."
She got up. She walked into the store. And she said, "Please open the register... I need your money."
The judge gave her 15 years.
"It just goes to show," she said, "you've got to watch what you pray for."
They took her to Valley State Prison for Women (VSPW) in Chowchilla, California.
I've been there.
They sell t-shirts that read, "I toured the world's largest women's prison" in big cartoon letters.
Inmates arrive by bus, tunneling through mesmerizing rows of agricultural symmetry.
It's like a portal into a hidden world where razor wire sparkles in the late day sun.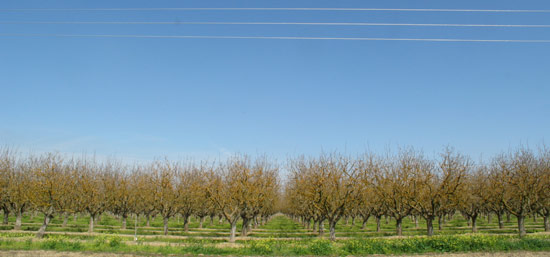 On the road to VSPW
Eight women are locked in a room about the size of a FEMA trailer with eight lockers, four sets of bunk beds, a bathroom and a sink.
There isn't much wiggle room. Sidestepping is essential.
Unlike men's prisons, California's female inmates aren't separated by classification.
"So you can have a murderer, a child molester and someone who cashed a bad check all in the same room," Sue said.
"You have to become someone you are not to fit in," she said. "And you kind of lose yourself in the process."
Sometimes the women share. Often they steal.
Music blares at 2 a.m. Insults echo off concrete. You can feel your neighbor breathing.
"It's an emotional struggle every day you wake up," Sue said.
"This isn't just doing time. This is your life, year after year after year."


VSPW from above (CDCR photo)
There are the violent ones. Ones like Dice, who beat her baby brother to death with a blunt object.
Dice throws boiling water at roommates.
She shouts and she screams. She beats people with boots. She pushes hot metal against flesh.
"The staff knows nobody wants her (in their room)," Sue said, "but where are they going to move her to?"
So they don't.
A few years back, two shy inmates were living with Dice.
They didn't really speak English. They were terrified.
So they slit their own wrists.
"Dice comes out screaming, 'Get those bitches out of my room!' So the staff takes them to the infirmary, stitches them up and puts them right back in their with her."
There are subtler sufferings too, like tampons, which VSPW used to issue out to the rooms in bulk, but then stopped because the women "were using too many".
So the inmates were forced to go to the (often male) staffers and ask, "Can I have a tampon?"
And the staffers were forced to deny their request.
"Do you know how humiliating that is?" Sue said. "It's hard to feel human when you are constantly reminded of being an inmate."
A few years ago, Sue said, a whole room full of women attacked one girl sexually with a broomstick.
"What is happening within our system where people are getting in the frame of mind to think that that is even an option?"
Then she answered her own question.
"It's human nature that the more you see something, the more you become desensitized to it.
"Let me give you an example."
About nine years into her sentence, Sue was sitting on her bed when two of her roommates started fighting.
"They're boxing, I mean really punching each other."
Sue didn't break up the fight. Inmates learn never to break up fights -- you'll end up getting blamed too.
"I was sitting on my bed, making out a list, and this girl got hit so hard that a bit of blood splattered on the paper I was writing on."
Sue felt herself swell up with anger -- she was going to have to make this list over again.
"And then I froze and I thought, 'oh my God, this person is getting the hell beat out of them and I'm worried about getting their blood on my paper.'
"It sickened me."
But it's funny how life works.
Amid the darkest period of her life, Sue met Lisa.
It was 2002. It was when the love came back. This time, it was real love.
They were in a landscaping class together.
They made each other laugh. They built a future. They took back control.
And in 2007, after roughly 6,300,000 minutes behind bars, California released Sue White.
She finished parole. She found a job. She made it.
She visits Lisa every Sunday.
Thirty-nine months left and then they'll be together again.
For now, she waits.
So I asked her -- as a prison "success story" -- what could we learn from your experience?
And I've paraphrased her response like this:
Punishment is an important part of the process, like the tilling of a soil where only the inmate themselves can plant new seeds.
But, if they're to grow, it takes a network of support that, today, barely exists.
"There are good and bad people in prison, but we can't necessarily judge them on the crime they came in on," she said. "We need to look at what they're doing on the inside.
"We need to start paying attention to the individual."
"You get the impression from the news that all these women are just bad, bad people," she added. "Well, they're also somebody's mother and daughter."
This is important. For though it feels natural for a man to be masculine in prison, for a woman, "every time you turn around your femininity is being taken away from you."
They need family. They need support. They need a reason to believe.
"Whether you like it or not, they're going to be back in society one day," she said.
And when that day comes, most of them won't have a Lisa.2

1Despite the Thelma and Louise reference, Sue doesn't take the significance of her past crimes lightly. Her relationship, she says, was unhealthy. It was not, as she thought at the time, love. It brought her a sense of acceptance, but that acceptance came with a price, that acceptance was not love. She hasn't heard from her co-defendant since they appeared in court.

2Sue, Lisa and Dice are pseudonyms to protect the real people involved in this story.