Sue White was 23 years old when she stuck a Hot Wheels car into her pocket, walked into a convenience store and pointed it at the attendant.
"Give me all the money in the drawer."
I know this because she told me.
I know that she was homeless, that she was unhappy. I know that, one day, something happened that made her want to take back control.
"It was my first relationship -- I just fell completely in love with this woman."
They found each other living on the street. They decided to make a change.
"Did you ever see Thelma and Louise?" Sue asked.1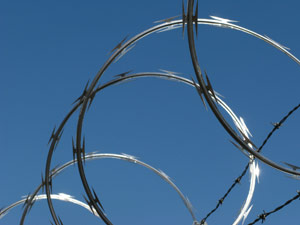 Razor wire surrounding the prison where Sue spent 105,120 hours
Sue and her co-defendant committed five counts of armed robbery without ever actually being armed.
The Hot Wheels heist was one. Here's another:
Christmas was coming. Sue was crashing at a house with another homeless woman and her kid.
She heard the 5-year-old ask his mother, Does Santa know how to find me?
"And it just broke my heart."
So Sue went to Target, filled a basket with toys, shoes and clothes, and walked right out the door.
She placed the stolen goods out front the house, knocked on the door and ran.
There was a note. This is what it said:
"I just wanted to make sure you know I didn't forget you.
Merry Christmas, love Santa."
And with each robbery, Sue kept thinking, "If I can just do this one more time, maybe I can get enough (money) to hold myself over until I find a job."
It was 1987. It was where the love ended.
Sue paroled back into homelessness. She worked odd jobs, tried to play it straight.
One night in 1994, she sat in a parking lot staring at the glow radiating from a Hallmark store.
"It was pouring rain. I hadn't eaten in two days. I was cold. I was tired."
"Lord, I don't know how you're gonna do it but, all I want is some food, a shower and a bed to sleep in."
She got up. She walked into the store. And she said, "Please open the register... I need your money."
The judge gave her 15 years.
"It just goes to show," she said, "you've got to watch what you pray for."
They took her to Valley State Prison for Women (VSPW) in Chowchilla, California.
They sell t-shirts that read, "I toured the world's largest women's prison" in big cartoon letters.
Inmates arrive by bus, tunneling through mesmerizing rows of agricultural symmetry.
It's like a portal into a hidden world where razor wire sparkles in the late day sun.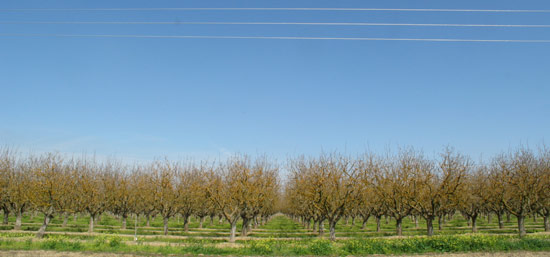 Eight women are locked in a room about the size of a FEMA trailer with eight lockers, four sets of bunk beds, a bathroom and a sink.
There isn't much wiggle room. Sidestepping is essential.
Unlike men's prisons, California's female inmates aren't separated by classification.
"So you can have a murderer, a child molester and someone who cashed a bad check all in the same room," Sue said.
"You have to become someone you are not to fit in," she said. "And you kind of lose yourself in the process."
Sometimes the women share. Often they steal.
Music blares at 2 a.m. Insults echo off concrete. You can feel your neighbor breathing.
"It's an emotional struggle every day you wake up," Sue said.
"This isn't just doing time. This is your life, year after year after year."

VSPW from above (CDCR photo)