"Halayeb," a mineral-rich disputed border triangle between Sudan and Egypt, "is Sudanese and will revert to Sudan," President Omar Hassan Al Bashir asserted this week in what observers interpreted as stirring the pot of already very strained ties between Khartoum and Cairo.
Al Bashir triggered the explosive issue dating back to the 1990s in abrupt remarks at a large rally in the eastern Sudanese city of Port Sudan where he was dressed like the Halayeb region's natives, the pan-Arab daily Asharq Al-Awsat reported.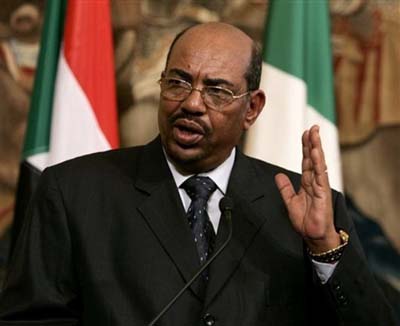 Sudanese President Omar Hassan Al Bashir (blog.kochlef.com)
The comments are the tip of the iceberg in tense Sudanese-Egyptian relations, the paper quoted observers as saying, despite Al Bachir's insistence that ties with Egypt would remain strong.
The Sudanese leader added that he planned to meet with Egyptian President Hosni Mubarak to discuss the matter, stressing that he sought to maintain "good relations" with Sudan's neighbors.
According to Hani Raslan, director of the Sudan and Nile Basin desk at the semi-official Al-Ahram Center for Political and Strategic Studies, the Egyptian and Sudanese positions on Halayeb are well known.
"This issue should soon be resolved in light of the good relations between both countries," he told Al Masry Al Youm newspaper.
But Egypt and Sudan almost came to blows 17 years ago over the Halayeb region, said to be rich in manganese.
Since then, the Sudanese government has called for a negotiated settlement of the dispute through a joint committee to resolve all contentious issues.
The triangle is 1,000 kilometers (622 miles) from Cairo, at latitude 22, which Egypt claims is its southern frontier, and borders the Red Sea to the east.
Although most cartographers have traditionally placed Halayeb squarely within Egyptian borders, Sudan has repeatedly insisted the territory is Sudanese.
In 1993, Sudan began complaining that Egyptian technicians, engineers, military troops and entrepreneurs were setting the stage for international metals and petroleum companies to exploit the riches.
Official Sudanese media claimed at the time that Egypt had begun prospecting for manganese and that metals experts, shadowed by armed guards, were seen surveying the area, which Khartoum deemed provocative.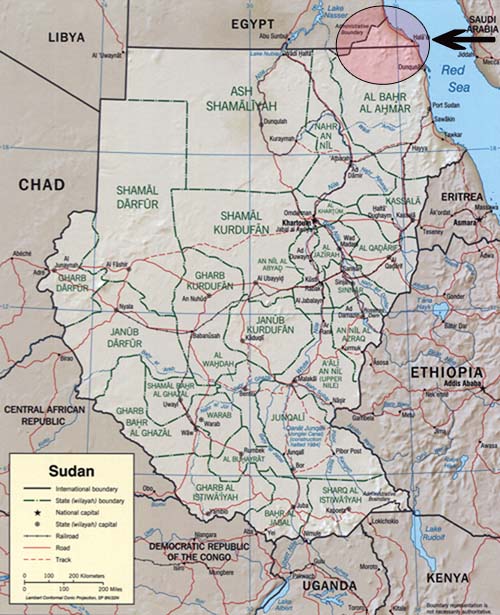 Political map of Sudan (mapsorama.com)
What further angered Sudan were Egyptian media reports that Egypt had signed an agreement with Japan and Germany to export 15,000 metric tons of ferromanganese bars worth $75 million and aimed at producing high-quality steel.
Another batch of 20,000 metric tons were meant for use at an Egyptian plant in the Sinai.
Egypt has a thriving iron and steel industry and a large domestic market but also exports its metals production.
Ironically, the Halayeb mines had been shut down two decades earlier when Egyptian authorities under the late President Anwar Sadat believed they were no longer a source of marketable quantities of the metal.
But manganese exports in early 1993 were one measure taken by the government of President Hosni Mubarak, the successor since Sadat's assassination on October 6, 1981, to ensure Egypt's sovereignty over the triangle.
Since 1899, the disputed territory remained under a shaky status quo imposed by the British colonial powers whereby territorial sovereignty was exercised by Cairo while sovereignty over the residents was imposed by Khartoum.
Controversy over the region began to intensify when Canada's International Petroleum Co. sought concessions from Sudan in 1991, thereby triggering an outburst from the state-run Egyptian General Petroleum Corporation, which regulates oil activities in Egypt.
The Canadian company had apparently been unsuccessful in a previous attempt to find oil in Egypt and looked to the Sudan, with a nod from Ottawa.
Further exacerbating matters, President Mubarak, in December 1992, insisted Cairo would make "no concessions" over Halayeb and accused the Sudanese junta of sponsoring "terrorist operations" in North Africa in conjunction with Iran -- a charge denied by the Khartoum government.
So why is the fuss being revived over Halayeb and what does Sudan expect to gain from controlling the mineral-rich triangle?
Manganese, known as the chemical element Mn, is essential to iron and steel production, notably since it reportedly enhances the manageability of steel at high temperatures. It is also an alloying agent for aluminum.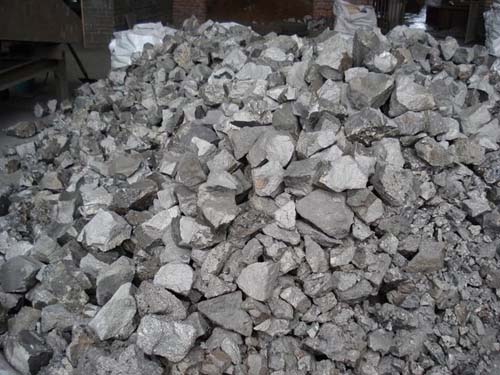 Ferromanganese (bestongholding.com)
It is also used as an additive in unleaded gasoline, helping to boost octane rating and reduce engine knocking, and, is available in alkaline batteries.
South Africa, Australia, China, Brazil, and India are major players in the manganese mining business.
Sudan, once considered a potential breadbasket for the Arab world, is an African country rich in natural resources with a fast growing economy.
It shares the waters of the Nile River with Egypt and several other African countries, many of which have recently called for revision of the treaty specifying each nation's allotment of that vital resource.
A military junta headed by Al Bashir since 1989 has run Sudan, and the fundamentalist-leaning ruling party has imposed a strict Islamic legal code on the country.
Southern Christian secessionists have engaged in a tug-of-war with the central government in the north, while the western region of Darfur has been the scene of major guerrilla battles pitting government troops and tribal proxies against local rebel groups.

SUBSCRIBE TO & FOLLOW WORLD POST