Diana Moukalled isn't easily daunted by challenges: her career is a testament to Lebanese women who can run programs and production at a TV network, produce and host documentaries, report from the field, and be wives and mothers.
"Seeing the world through the camera, the idea that you're not just writing," is what turns on this multi-tasker who has covered some of the world's hot spots and framed her reports in the most eloquent on-air presentations.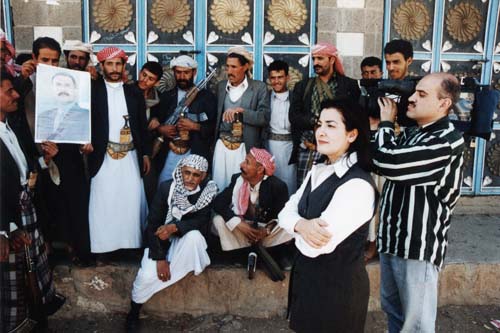 Diana Moukalled on location in Yemen (courtesy of Moukalled)
While it's tough reconciling work for a politicized TV station (owned by the family of slain former prime minister Rafik Hariri) with her country's sectarian divisions, she still breaks taboos and sheds light on very thorny issues.
She produced and hosted About Latifa and Others, a documentary focused on the lives and deaths of battered Lebanese women at the hands of their husbands, and that emerged from the story of a colleague's sister who was killed by her spouse.
"I talked to him (Latifa's brother) and went to the NGO Kafa and asked if he minded if I did a story on her, and he agreed," Moukalled said. "As I began working on the topic, I found a number of other cases that begged coverage."
Laws governing the matter show Latifa was caught in a Catch-22 for 10 years thanks to a religious court -- religious courts determine matters of marriage and divorce in Lebanon -- and couldn't get a divorce and be free of her husband until she gave up all her rights.
But that didn't satisfy the abusive husband who chased her where she'd moved with her two children and beat her to death.
"There are scary instances and the issue is that Parliament's position, or news that's being leaked from parliamentary committees debating draft legislation to protect women and to make family violence a crime, is scandalous," Moukalled noted.
In a bid to campaign for anti-violence legislation, Moukalled documented another spousal abuse murder case for the film, and the story of a third woman who survived the violence but who was ignored by the police and courts.
Women's and human rights groups in Lebanon have accused religious authorities and parliament of dereliction of duty by turning a blind eye to such cases and letting criminals go unpunished.
What else does Moukalled consider newsworthy and what is news today in light of unfolding Arab revolutions often covered only by citizen journalists through social media?
"Stories from Syria that power was cut off from a hospital and several babies in incubators died of suffocation," she said, adding that her station's focus remains primarily local news. "I saw it on Facebook and don't know how authentic it is, but it showed there was something wrong."
Another news example is when Lebanese General Security forces arrested Zeid Hamdan (Twitter handle @ZeidHamdan), a young man who posted a song on YouTube that was considered slanderous and defamatory of Lebanese President Michel Suleiman.
According to Moukalled, traditional media took at least two days to publish or broadcast news of Hamdan's arrest. The song was uploaded Aug 29, 2010 but didn't catch the security forces' attention until this summer.
Juggling local and foreign news is her daily struggle.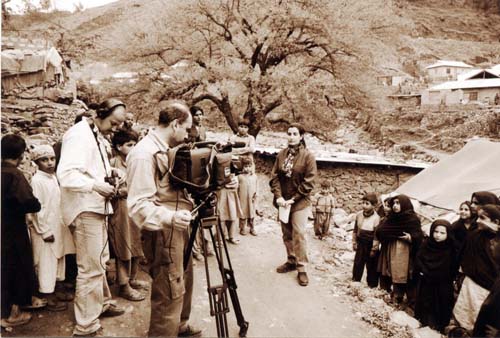 Moukalled in Kashmir (courtesy of Moukalled)
"Somalia's situation is appalling but often doesn't appear until the end of the newscast," she admitted.
As the 10th anniversary of the September 11 terrorist attacks on the U.S. approaches, Moukalled remembers her interview with former President George W. Bush at the White House.
Asked whether Bush had a grasp of issues relating to Lebanon, she replied: "Honestly, I was thinking of Michael Moore and his movie on 9/11 and the look on his (Bush's) face in the children's classroom after the World Trade Center buildings were hit. There was something a bit empty. There was a void in his eyes. He didn't fill the shoes of a president of the United States. I like Obama much more."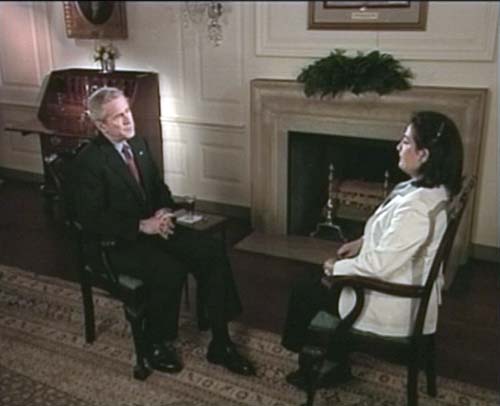 Moukalled interviewing then President George W. Bush (courtesy of Moukalled)
She takes it all in stride and smiles despite reports her financially-strapped employer, the Future TV Network, may merge its terrestrial and satellite stations, lay off countless employees, and further slip in the ratings.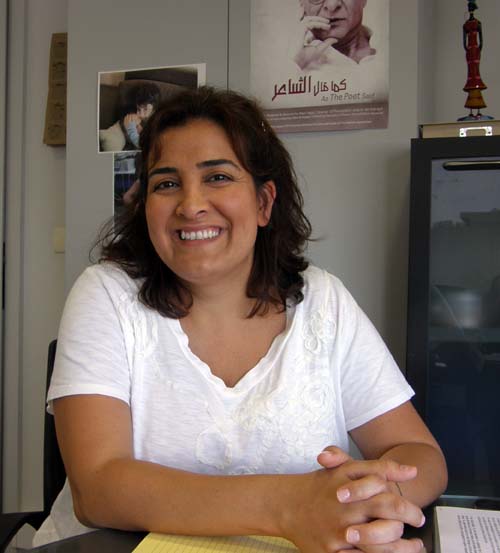 Diana Moukalled (Abu-Fadil)
"The two main channels (Future TV and Future News TV) will close and a third will emerge. It'll be a new creation," she said, but wasn't sure when that would happen.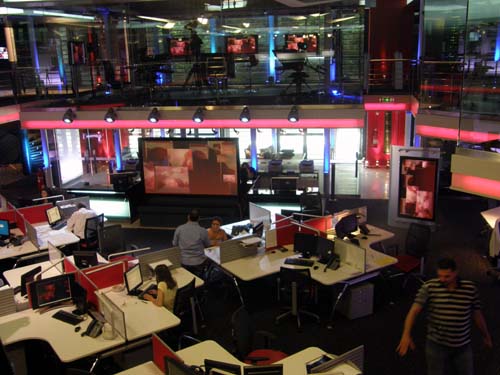 Future News TV newsroom (Abu-Fadil)
It would affect some 300 full-and part-time editorial and technical staff at the news channel. Some haven't been paid in months.
Sharp cutbacks have led to resignations, layoffs, and a tight squeeze on the budget.
A memo from Moukalled in November 2010 read:
Dear Colleagues,
We've recently received bills for international and local telephone calls that were too long and illogical in terms of time and numbers. I'd like to inform you officially that international calls from the floor are forbidden without prior permission and justification, and that spending a long time on and private local calls are absolutely unacceptable. Kindly abide by the aforementioned or you'll be held responsible. Diana Moukalled, director of programs and production.
That notwithstanding, she's just finished a three-episode series called "Adwaa 'al Zolomat" (Lights on Injustices) about Salafi Jihadists that was shot in Iraq, Jordan and Egypt and that should air shortly.
She remains dedicated to the network where she's made her mark over the past 18 years.
SUBSCRIBE TO & FOLLOW TRUMP'S FIRST 100 DAYS
How will Donald Trump's first 100 days impact YOU? Subscribe, choose the community that you most identify with or want to learn more about and we'll send you the news that matters most once a week throughout Trump's first 100 days in office. Learn more