France may be in a slump, with a hyper-kinetic president intent on structural reforms to counter mounting deficits, but it remains the number one international destination for visitors offering more delights than can be fathomed on a 20-day visit.
AFP quoted Tourism Minister Hervé Novelli as saying cash-strapped foreign tourists were snubbing France this summer, with hotel bookings dropping nearly 30 percent in June and July.
It's hard to tell there's a recession from the scores of people jostling for space to see the Mona Lisa at the Louvre Museum or queuing to ride to the top of the Eiffel Tower.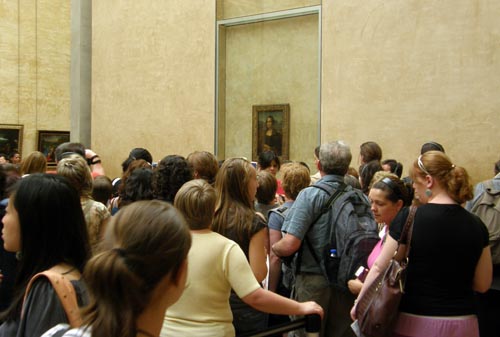 Jostling to see the Mona Lisa at the Louvre (Abu-Fadil)
Tickets for the permanent Louvre collections are €9 ($12.79) and provide full-day access, except for temporary exhibitions in the Hall Napoléon. They're also valid for the Musée Eugène Delacroix.
Like most sites in France, there are ranges of fares, and seniors and young people get a price break. The first Sunday of every month is also free at many museums.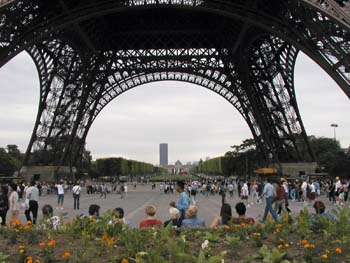 Tourists cross Eiffel Tower base (Abu-Fadil)
Free walking tours provide some of the best sightseeing, with Montmartre's Place du Tertre acting as an open-air gallery attracting artists and art lovers alike.
Euro Disney sales may have dropped since the beginning of the firm's fiscal year, attributed to lower visitor spending and fewer hotel bookings, according to AFP, but the destination outside Paris remains a powerful magnet for tourists from the continent and beyond.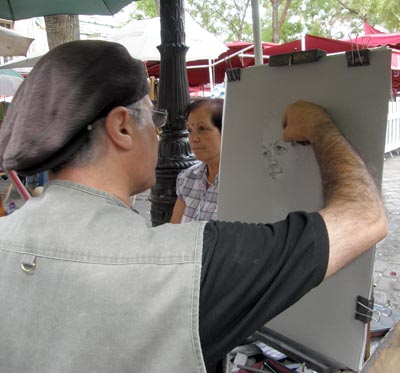 Place du Tertre artist in Montmartre (Abu-Fadil)

They still flock to the theme park, or the resorts around it in the Ile de France region, some 35 minutes from the French capital.
The Marne-la-Valée-Chessy end-of-the-line train station disgorges countless passengers onto buses heading for Euro Disney, and the stop before it draws crowds of bargain-seeking locals and foreigners to the Val d'Europe outlet mall.
Elsewhere, the long lines at Versailles palace are exhausting and the wealth therein overwhelming, which may explain why Marie-Antoinette's callous remark about her poor people eating cake led to the guillotine.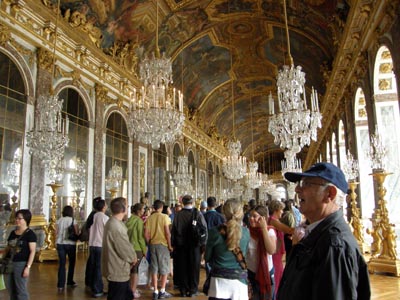 Versailles's hall of mirrors (Abu-Fadil)
The Economist Intelligence Unit's country forecast for France in 2009-10 identified the possibility of a more prolonged recession and greater political instability.
Bad news in a country noted for riots by lower income citizens and unemployed youths, as well as paralyzing strikes by powerful unions accustomed to greater entitlements and benefits than their U.S. counterparts, when demands are not met.
Despite the gloom, French and foreign visitors are keeping the tourist economy's wheels oiled in familiar and unfamiliar places.
A Coke costing €5.60 ($7.96) at sidewalk cafés is steeper than a coffee, but is available for €2 ($2.84) in metro station vending machines or stores. And people still drink a lot of them.
For more discriminating palates, endless varieties of excellent wines from across the country are a better buy, and definitely more suited to fine cuisine.
But the ultimate is a taste of the bubbly.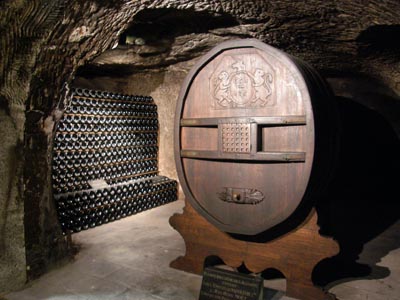 Champagne cellar at Moët et Chandon (Abu-Fadil)
A tour of the Moët et Chandon cellars in the Champagne region includes a presentation describing the process, a visit to the "caves" stocking chambers galore of bottles once enjoyed by Napoleon Bonaparte, a flute of the grape to savor -- with the requisite handout on responsible alcohol consumption -- topped by containers of Dom Perignon (James Bond's favorite), and passage through an impressive gift shop, for a mere €14 ($19.89) per adult.
For those unable to go to Epernay, there's always the animated website.
Still in the region is the town of Reims, whose Notre-Dame cathedral -- not to be confused with Paris' -- is listed as a World Heritage Site by UNESCO.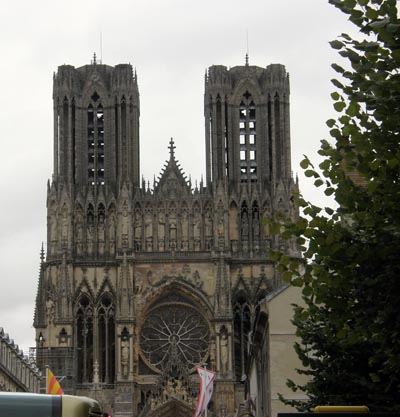 Notre Dame cathedral of Reims (Abu-Fadil)
This masterpiece of Gothic art dates to the 13th century. Following the baptism of King Clovis, the cathedral was the site of 25 royal coronations.
A short walk from there, seafood aficionados can delight in a pot of "moules à la champenoise" (mussels drenched in cream and champagne sauce), accompanied by French fries -- really Belgian in origin -- and delicately digested with a bottle of white wine, or champagne.
History and battle buffs can trek to Provins, a Medieval town also listed as a World Heritage Site by UNESCO. It's remarkably well preserved and tourists are entertained by live shows of knights in armor, damsels in distress, dark villains and jousting matches for €12 ($17.05).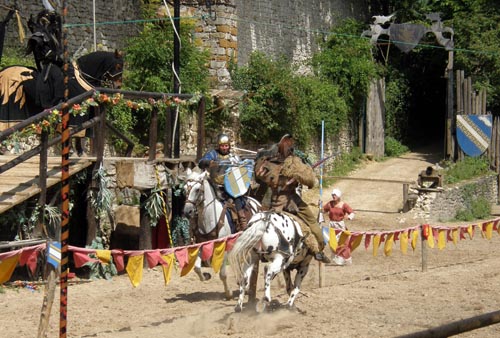 Jousting match in Medieval Provins (Abu-Fadil)
Romantics will want to visit the charming village of Giverny, where impressionist Claude Monet settled in 1883 and created one of the most captivating gardens, inspired by the beautiful, and richly colorful countryside. His renditions of water lilies, ephemeral weeping willows and famous Japanese bridge are an ongoing inspiration

Claude Monet's garden at Giverny
The Musée des Impressionismes is a must and houses a breath-taking collection of paintings at €5.50 ($7.81) for adults.
Short of going there, browsers can enjoy a Monet paintings video on YouTube.
Further afield (northwest) is Normandy, noted for its WWII landing beaches and the Mont St. Michel islet connected to the mainland by a narrow strip of roadway.
Its imposing gothic abbey, charming winding streets, shops, restaurants, little hotels and commanding magnificent vistas are memorable.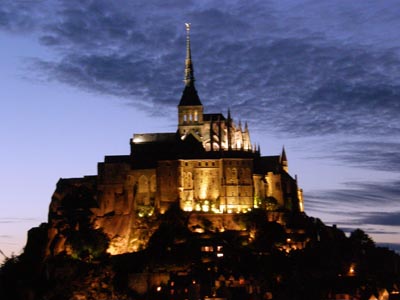 Mont St. Michel (Abu-Fadil)
But before venturing there, visitors are advised to pass by Avranches, a town housing the manuscripts, or the Scriptorial, recounting the Mont St. Michel's history.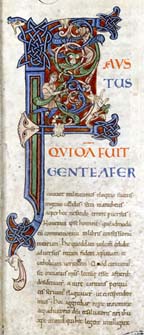 Scriptorial manuscript in Avranches
Mozying around Normandy, haute couture lovers can visit the museum and garden of the late Christian Dior in Granville.
His chic designs draped the bodies of Princess Grace (Kelly) of Monaco, superstar Sophia Loren and countless other glitterati.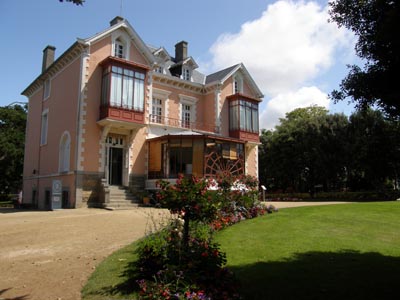 Christian Dior's museum & garden (Abu-Fadil)
Again, no trip to the Atlantic coast/Channel is complete without a platter of delights: oysters on the half shell, mussels, crayfish, lobster, fries and wine.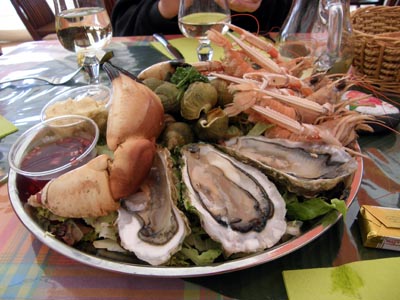 Normandy seafood delight (Abu-Fadil)
Yes, it all adds up. But frugal savings, cashing in travel and hotel points and doing one's homework on deals can help one enjoy holidays even when when the economy is in the doldrums.

Follow Magda Abu-Fadil on Twitter: www.twitter.com/MagdaAbuFadil