A new worldwide organization is bringing together editors from different platforms, engineers and developers in news media in a bid to foster more sustainable professional journalism.
"GEN will be different from other press associations because we will be a network and not a pyramidal structure," said Bertrand Pecquerie, CEO of the newly launched Paris-based Global Editors Network. "GEN will develop a more horizontal relationship with its members. All our activities are based on the concept of mutualization and cooperation."
GEN CEO Bertrand Pecquerie (Abu-Fadil)
Unlike similar associations, GEN is a non-profit organization supported by participants' fees to its events, as well as funding of traditional and digital services.
These services include The Editors' Lab that puts together editors, start-ups, developers and engineers, to provide new tools to the community of news providers.
"Different media will share new ideas and development costs for specific operations and applications," Pecquerie explained. "They cooperate with GEN, which acts as 'project coordinator,' for innovative journalistic tools, specific developments within current content management systems, new applications for tablets, and virtual events."
The Lab will also be proactive about technological issues to help save money, compared to stand-alone developments; to make money with a new mix of news/advertising/paid-for models; and to create innovative tools for users, viewers and readers.
Other services will include an Editors' Institute that will provide certification of training programs, and, a business-to-business platform called the Editors' Marketplace.
"The most important goal is to empower editors in chief and senior news executives during this shift from traditional news to digital news," he said.
To help promote these goals, GEN recruited experts for its board such as David Cohn, the founder and director of Spot.US, an open source project to pioneer "community powered reporting" that is funded by various groups, including the Knight Foundation.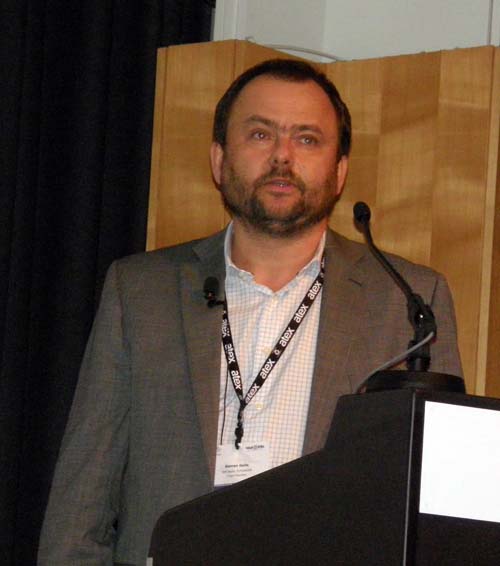 Although the current board is heavily weighted in favor of males -- Pecquerie said more women would be included in the coming year -- two female members carry considerable weight.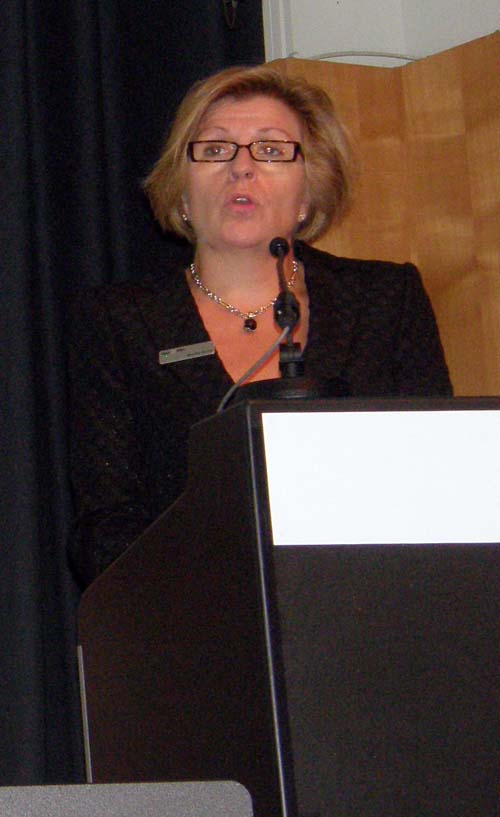 From 2003 to 2011, Pecquerie was director of the World Editors Forum (WEF), the organization for editors within the World Association of Newspapers.
Another noted female board member is Sylvie Kauffmann, editor in chief of the French daily Le Monde.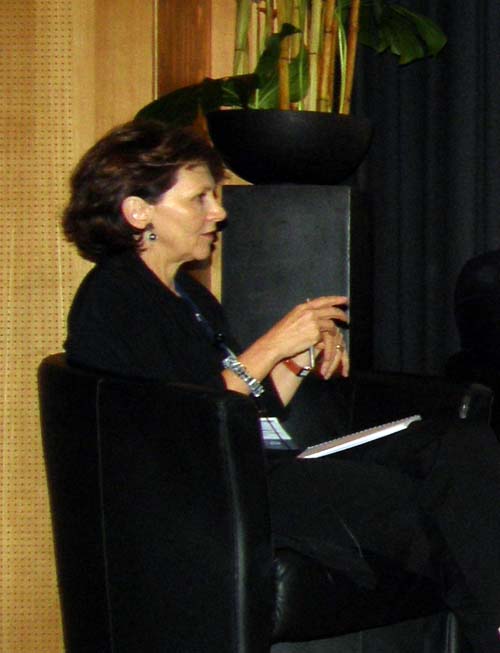 Sylvie Kauffmann (Abu-Fadil)
GEN's president, Xavier Vidal-Folch, is deputy director of the Spanish daily El Pais. He also served as president of the World Editors Forum before taking on the GEN mantle.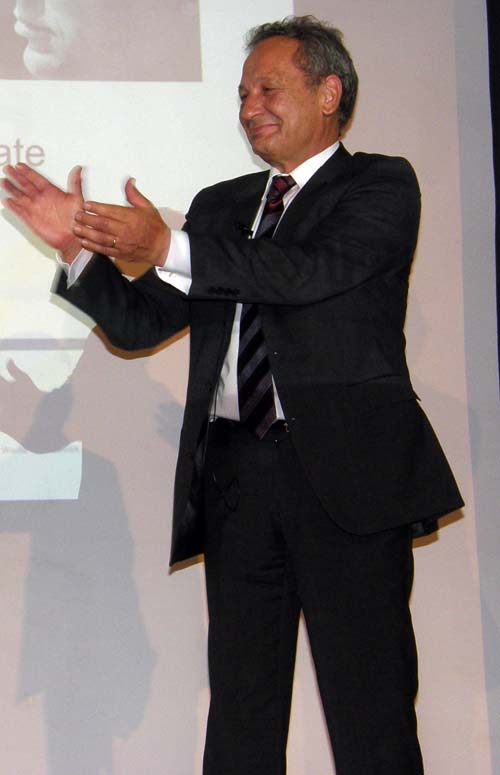 Xavier Vidal-Folch (Abu-Fadil)
GEN is a spin-off from WEF. During the last WEF board meeting in February, 8 editors who attended that gathering decided to create the new association.
Asked what steps GEN was taking to merge developed nations with emerging countries, Pecquerie said the association would focus on news media from developing countries for two reasons: ethics and business.
"It is not acceptable for the GEN board members to be assimilated in a club of rich countries, and the board reflects this approach with members from Nigeria, Morocco, Peru, and Argentina," he explained.
He added that GEN would offer editors from emerging countries free services, notably the possibility to attend the annual summit.
Funding would come from foundations and media groups with newspapers and TV stations being asked to pay for one participant from their respective companies and another editor from an emerging country.
GEN is organizing newsroom strategy and geopolitical study tours to update editors about innovations in mobile news and new platforms and to help them meet trendsetters around the globe.
The first study tour is scheduled for June 6-9 in Cairo and is entitled "After the Arab Spring, Who Will Run Egypt and the Arab World?"
Pecquerie, meanwhile, said that to maintain its credibility, GEN would be financially independent from suppliers or sponsors but may charge those who can afford it an annual membership fee of 200 Euros (US$288.62).
Otherwise, would-be members can join by bringing their friends and associates on board.
"We say 'please give us four contacts (emails) of colleagues' and it will pay your membership," he said, adding that all efforts are geared at expanding the GEN network.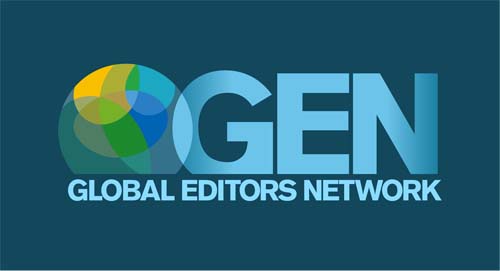 GEN logo (courtesy of GEN)
According to his business plan, out of 100 new contacts, it is more profitable if eight pay for a service like a conference or webinar, than GEN cashing in from 20 traditional members.
GEN's strategic partners and sponsors include international foundations, multimedia groups, IT companies, CMS suppliers, telecommunications firms, advertising groups, consulting groups, and, press and journalism associations.
So what resources does GEN offer that didn't exist before and what gap does it aim to fill?
"Because of digitization and easy access to broadband services, we need to think of the future of journalism together: for instance, a broadcast editor will bring new ideas to a print editor, and vice-versa," Pecquerie said.

Engineers and developers will also bring fresh ideas to a community not always familiar with databases, content management systems and the world of news apps.
"Too often, editors see new platforms as just another way to repackage their traditional content," he said, noting that GEN officials consider that every platform needs specific content and targets specific audiences.
That's why the organization's main focus is on cross-media, not just multimedia, strategies, and why it defines itself as a silo-breaker.
The old "vertical world" of press associations, where consultants and speakers tell an audience of editors what to do and how to do it, is over, Pecquerie concluded.

SUBSCRIBE TO & FOLLOW TRUMP'S FIRST 100 DAYS
How will Donald Trump's first 100 days impact YOU? Subscribe, choose the community that you most identify with or want to learn more about and we'll send you the news that matters most once a week throughout Trump's first 100 days in office. Learn more