Finding people to challenge editors is one of several tips John Robinson offered in praise of ideas by new media thinkers promoting transparency in reporting and the power of new technologies to change how journalism is done.
Today editors need "guts to do the nontraditional things" by considering new approaches to newsgathering and dissemination, as well as being open to new ways of knowing the community they're meant to serve, he said.
Robinson, who recently resigned as editor of the News & Record in Greensboro, North Carolina, told the Nieman Journalism Lab that editors should cultivate intimacy with their communities, carve time for engagement into reporters' schedules, admit mistakes openly, respect the audience's intelligence, and respect the value of the niche.
He may as well have been addressing the 18th World Editors Forum (WEF) in Vienna last month where media honchos from around the globe met to discuss "Taking Publishing to the Next Level."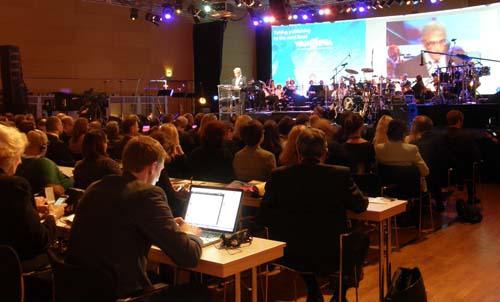 WAN-IFRA-WEF Vienna Conference (Abu-Fadil)
Participants tackled issues like building communities around publications, paywalls, post-Wikileaks trends, innovations, restrictions on press freedom, and ethical coverage during revolts.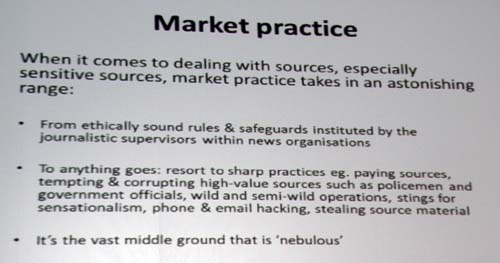 After Wikileaks, the next step for newspapers (Abu-Fadil)
This year's Trends in Newsrooms 2011 focuses on various salient matters like the evolving newsroom, with case studies from Switzerland, the U.S. and Russia.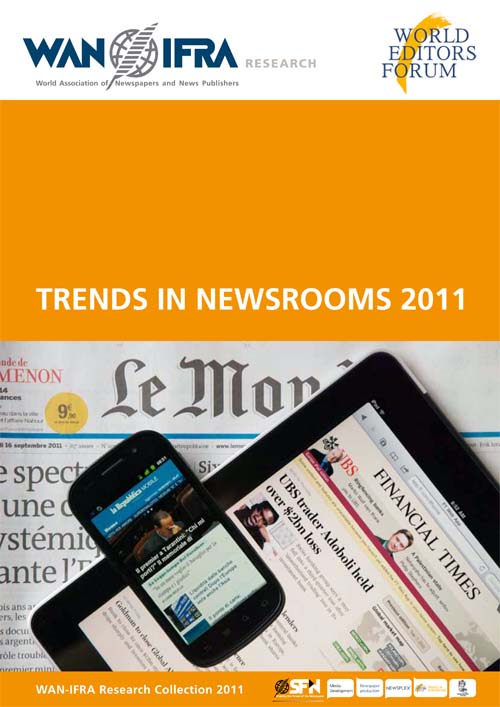 Trends in Newsrooms 2011 (courtesy of WAN-IFRA)
The example cited by John Paton of Connecticut's Journal Register Company rings a familiar bell for proponents of crowdsourcing and "digital-first" models.
"Investors don't buy into myth. They buy into math," he said. "If you want investors to take a long-term view of our industry or our companies then you better give them a long-term plan that works."
He preaches "Open Content" and "Open Newsroom" - a great idea adopted in the Czech Republic but that later faltered -- arguing that shared content equals influence, and influence in the new eco system equals engagement.
But not everyone is buying into that type of openness or convergence that requires journalists to multi-task and feed several platforms.
"We don't have a fully integrated model," admitted the editor-in-chief of Austria's Der Standard daily, Alexandra Foderl-Schmid, who said her paper was successful because of its focus on commentary and analysis as well as production of special editions covering topics of interest to its readers.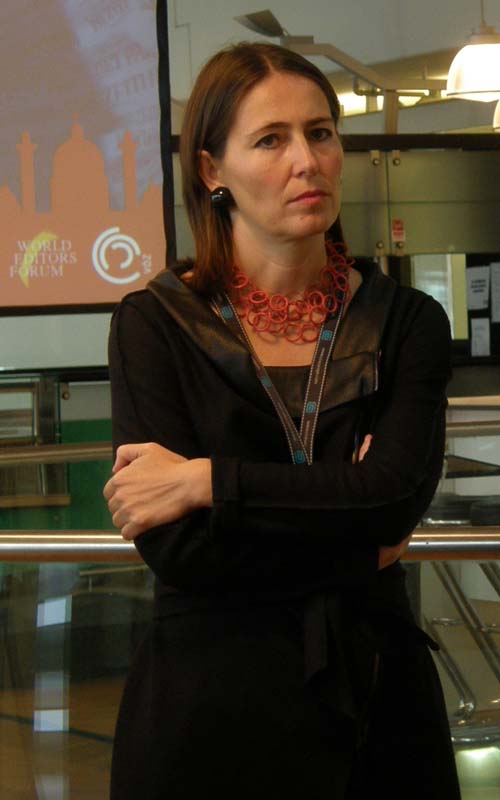 Alexandra Foderl-Schmid, Austria's Der Standard editor-in-chief (Abu-Fadil)
The paper maintains separate print and online staffs.
Another major question posed by Trends in Newspapers 2011 is whether tablets are the ultimate delivery platform.
It said National Public Radio in the U.S. and the Economist magazine in Britain were making interesting use of multimedia with their apps, notably with audio content.
"The Economist, for example, always includes an audio version of its entire issue," reads a caption under a picture of the two organizations' sites.
In a sidebar on the smartphone, the not-to-be-forgotten little brother, the book said the market for such a device continued to expand and that more people were using their phones to read news, thereby requiring developers to take a more innovative approach to app design.
A chapter on the quest for the digital business model examines paywalls and whether online subscriptions are beneficial.
The New York Times launched a metered paid online content model in March 2011, which publisher Arthur O. Sulzberger, Jr. avoids calling a paywall, it said, adding it was more "porous" since it allows access via links to articles sent by social network subscribers (without paying).
"I was one of the few in the newsroom who thought it was a bad idea. I was really worried that our audience, which we had worked so hard to attract, would shrink," said Jim Roberts, the New York Times' assistant managing editor, particularly since the paper had incurred losses in revenues and readership in recent years.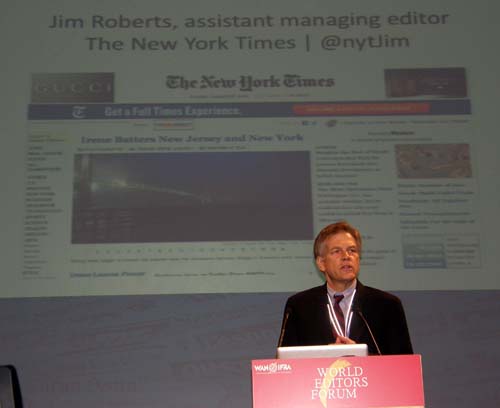 New York Times' Jim Roberts (Abu-Fadil)

But the experiment has so far been successful, he added.
Another trend in newsrooms has been "making the most of social media," although "publishers are still finding their way towards what works best."
Curating one's way through a torrent of tweets, or making sense of content on Storify, can be challenging, but is essential if journalists and editors are to remain connected and in tune with the news.
New ways of telling the story is a useful chapter in the book, with references to numbers crunching, data journalism, crowdsourcing and gamification, where news and video games meet.
Finding, tracking, and displaying data beat plain boring text, so newsrooms have been channeling their energies into making information they produce more visually appealing and interactive.
Wikileaks' flood of published cables, the phone hacking scandal in Britain, trends in managing online comments sections, and providing ombudsmen are good case studies in a chapter on ethical challenges for newsrooms.
Aljazeera Transparency Unit Screen Shot
SUBSCRIBE TO & FOLLOW TRUMP'S FIRST 100 DAYS
How will Donald Trump's first 100 days impact YOU? Subscribe, choose the community that you most identify with or want to learn more about and we'll send you the news that matters most once a week throughout Trump's first 100 days in office. Learn more