Any lover of chamber music would undoubtedly appreciate Qatar's Museum of Islamic Art, or MIA, (http://www.mia.org.qa/english/index.html), given its exquisite exhibits, magnificent displays and minute attention to detail aimed at featuring the religion's values and bridging cultural gaps.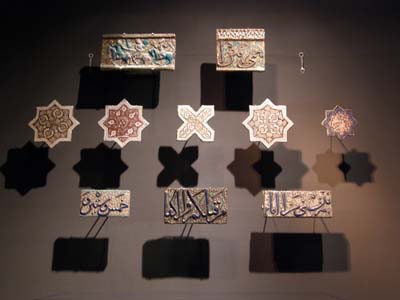 Mosaics with inscriptions (Abu-Fadil)
The analogy can't be escaped, when one sees the choice and finesse of the works that highlight the brilliance of the artists who drew inspiration from their faith, much as intense composers like Bach, Haydn and Mozart did in their rich religious repertoires.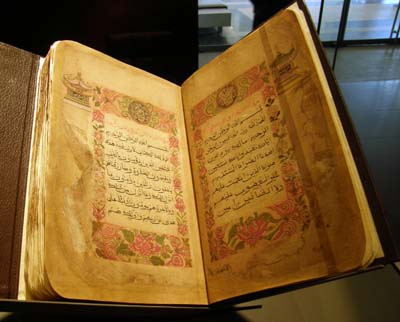 Pages from a Quran (Abu-Fadil)
Repetitive, highly structured baroque notes blended into intricate patterns woven into musical tapestries resemble the displays of hand painted Qurans (Islam's holy book), bronze pottery, terra cotta filigree candle sticks, carved wooden doors, blown glass lamps, as well as instruments used by mathematicians and scientists in Islam's golden era.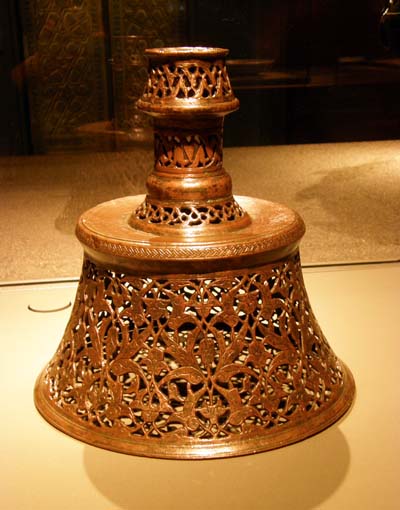 Filigree candlestick (Abu-Fadil)
The $300 million museum is the brainchild of the country's emir, Sheikh Hamad bin Khalifa al-Thani, and his wife, Sheikha Mozah bint Nasser al-Missned.
Sheikha Mozah, UNESCO's Special Envoy for Basic and Higher Education since 2003, is an active member of the United Nations Alliance of Civilizations (http://www.unaoc.org/) that convened its second forum last month in Istanbul, Turkey, to forge new partnerships and generate ideas aimed at building trust and cooperation among diverse communities and religious faiths.
The MIA is a testament to education, art appreciation and cross-cultural communication. According to the museum's website, the vision for the MIA "is rooted in the belief that education is the founding stone for the future of any prosperous society."
Since education is multi-faceted, the MIA's first in a series of international temporary exhibits was dubbed "Beyond Boundaries: Islamic Art Across Cultures" that featured at its entrance a very prominent Madonna and child by Gentile da Fabriano (c. 1370 - c. 1427), an Italian Gothic painter.
By the 1420s, da Fabriano was said to be working in Florence, where he painted a masterpiece depicting the Adoration of the Magi with pseudo-Arabic script in the Virgin Mary's halo.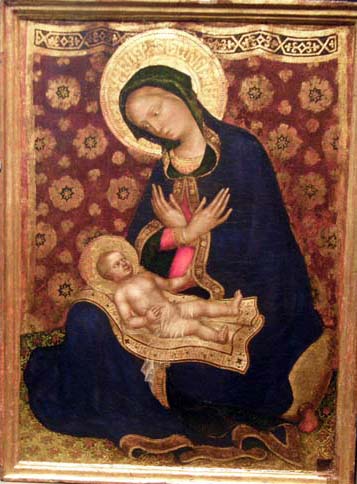 Madonna col Bambino c1370-1428 (Abu-Fadil)
According to Sheikha Mayasa, the emir's daughter who chairs Qatar's Museums Authority, the "Beyond Boundaries" exhibit reflects the Islamic world's cultural diversity and reaffirms the notion that beauty knows no religious or political borders.
The MIA's permanent collection includes manuscripts, books, ceramics, metal works, carved wood works, carpets, textiles, and, examples of scientific inventions in Islam like astrolabes and battle-proven battering rams.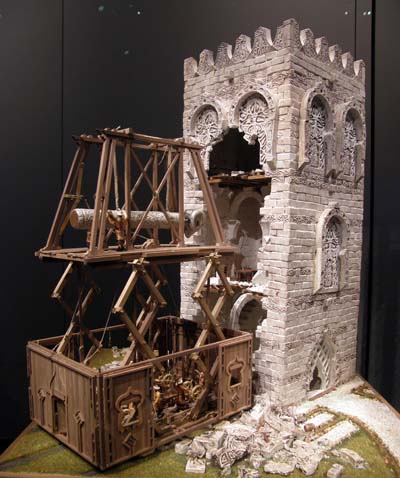 Scale model of battering ram (Abu-Fadil)
The museum, which opened with much fanfare and fireworks to over 1,000 invited guests in November 2008, (http://www.youtube.com/watch?v=LTnjqiF6gyY), was designed by renowned Chinese-American architect I.M. Pei who was lured out of retirement to complete the four-year project.
It was built on an artificial island 60 meters (197 feet) from the Doha corniche.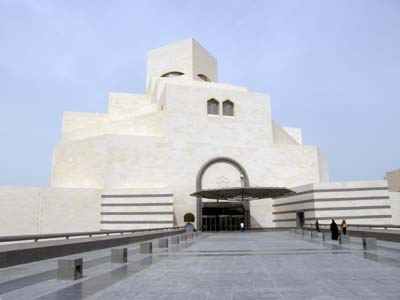 Qatar's Museum of Islamic Art (Abu-Fadil)
By his own admission, Pei knew little about Islamic art and embarked on an extensive trip across the Muslim world to learn about it, adding that it was one of the most difficult jobs he had ever undertaken.
"The interior design clearly takes as its point of departure the architecture, but so, too, it was conceived with respect to the variety of Islamic art to be displayed, ranging from jewels to large carpets," he said.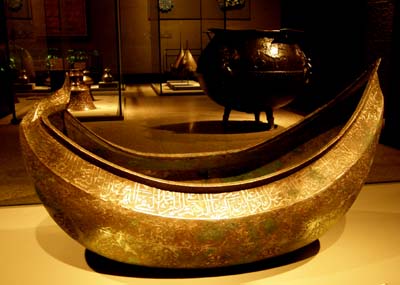 Persian engraved brass kashkul (Abu-Fadil)
Nonagenarian Pei, noted for his glass pyramid at the Louvre's entrance in Paris, and Washington, DC's distinctively pointed National Gallery of Art's East Wing, turned the equally angular structure into a repository for over 1,000 of the finest Islamic art works in the world.
The MIA's airy atrium boasts a double stairway connecting a refreshingly spacious main floor with decorated patterns inspired by geometric Islamic designs akin to Mozart's highly structured allegros to the upper levels.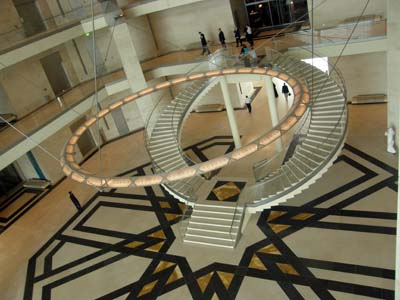 View down toward atrium (Abu-Fadil)
An elaborate halo-like structure of filigree metal overhangs the lobby to provide lighting.
For avid photographers, like this writer, the pleasure of viewing all the treasures within was doubled by the ability to take pictures through display cases' non-reflective glass.
According to curator Oliver Watson, Qatar's emir began collecting Islamic art for himself in the early 1990s, then gifted his entire collection to the state and ordered the construction of the museum to house the unique holdings.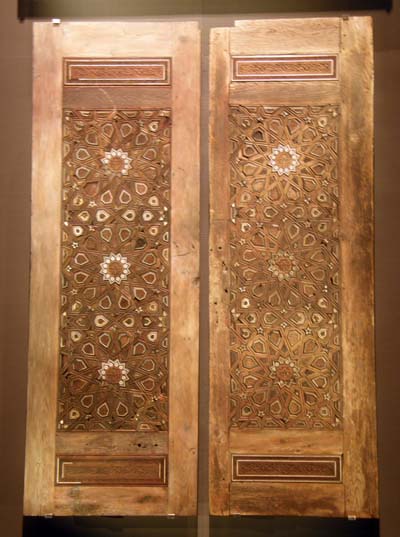 Carved wooden doors or window shutters (Abu-Fadil)
An active acquisitions policy has followed, he said.
The collections cover a geographical area from Spain to Central Asia and India with a time span from the 7th to the 19th centuries.

3-D rendition of Book of Secrets (Abu-Fadil)