Journalist Faisal J. Abbas this month became the first Saudi Arabian to win a "Cutting Edge Award" for his professionalism and efforts to narrow cultural gaps through his Huffington Post blogging and traditional media writing.
The award was in recognition of Abbas' "continuing efforts both through his blogging and in the press to encourage standards of excellence and counter the dissembling that would otherwise increase levels of misunderstanding," said William Morris, secretary general of the Next Century Foundation that presented the blogger with the prize.
The occasion was the 5th London-based International Media Awards hosted by Lord Stone of Blackheath.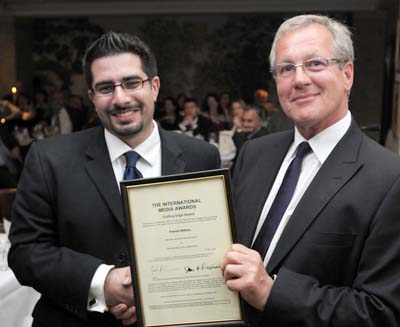 L-R: Faisal Abbas receives his award from Lord Stone
The Next Century Foundation, that works to support peace initiatives across the Middle East, established the International Media Awards in 2005 to recognize journalists whose work has contributed to a better understanding of conflict zones -- the Arab-Israeli conflict and the Middle East region as a whole.
Lauding Abbas, two-time Pulitzer Prize winner and Washington Post columnist Jim Hoagland said: "Those of us who have followed Faisal's insightful and honest work are very pleased, although not surprised, at this deserved recognition of what he has accomplished in such a short time."
The awards recognize the work of journalists whose high standards of analysis and reporting have helped break down barriers and promote understanding.
They also recognize the efforts and courage of individual journalists and bloggers who are often placed at risk when reporting from areas of conflict or political repression.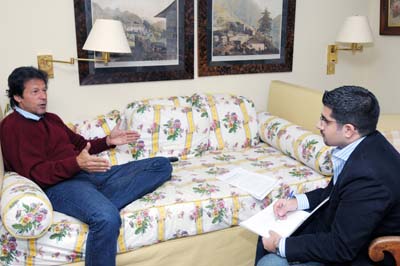 Faisal Abbas interviews Pakistani cricketer-cum-politician
Umran Khan
Asked why he decided to start blogging and how different it's been from his traditional journalistic work, Abbas told me: "I resisted blogging for a long time, thought it was just a phase that will pass, but now I am convinced it's here to stay."
He said it was a direct result of the democratization of communication brought on by new technology and that he was heartened by the Huffington Post's three negatives: no deadlines, no limits and no censorship.
"I've never loved hearing the word no so much in my whole life," he added.
Veteran ABC TV Middle East correspondent and Boston University professor Bob Zelnick said what makes Abbas' work unique is his "zest for understanding the national, religious and human complexities of our era."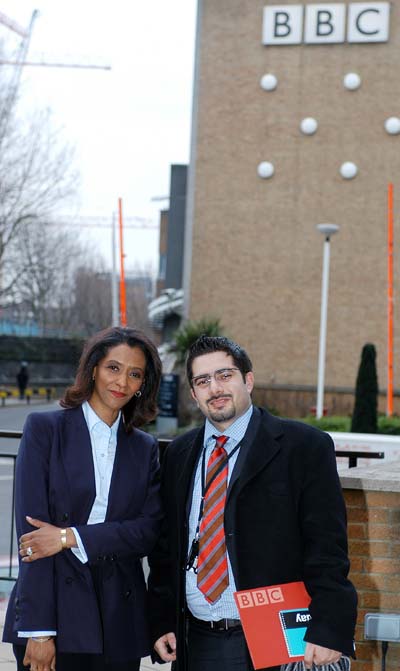 BBC anchor Zeinab Badawi & Faisal Abbas
Zelnick described the 27-year-old Abbas as intelligent, well informed, observant and perceptive, and said his view was unclouded by bigotry or cant.
He further noted that if Abbas was indicative of the young men and women who will inherit the profession, the future looks very bright indeed.
The young journalist was attracted to his career by what he thought was the ability (or illusion) that one could help in making a change.
"I think every real journalist is driven by this ambition. It's what keeps us going," he explained.
His first full-time job was at age 18 while still in college in Beirut with an ambitious Lebanese TV station called Zen, the Arab world's first youth-oriented outlet.
The station, that has since closed, was part of the Future TV network owned by the family of slain former Lebanese prime minister Rafic Hariri and was the ideal platform for young reporters.
Working in Lebanon was an eye opener for the teenager where he saw "the extreme case of democracy, i.e. chaos," as he described it, and where political involvement in the media also ruins it for journalists.
His role models have been American Seymour Hersh "as an example of what an investigative reporter must go through to get a story," and, in the Arab media, Future TV's Diana Moukalled, who was Abbas' boss and now is that network's all-news channel's production and programming manager.
After graduating, Abbas worked briefly in Saudi Arabia, which he saw as a gold mine of stories for reporters. Although news coverage of that traditional society has improved in recent years, he said it still had a way to go.
Abbas later moved to London to another job where he was delighted at how easy it was to talk to anyone. "In most Arab countries, you have to know someone that knows someone."
London City University journalism professor Adrian Monck said Abbas was an "important voice in Middle Eastern journalism," and pointed to his piece "An Open Letter to President Obama" published earlier this year in the Huffington Post.
Monck said it demonstrated "his writing bridges cultural divides and offers real and valuable insight."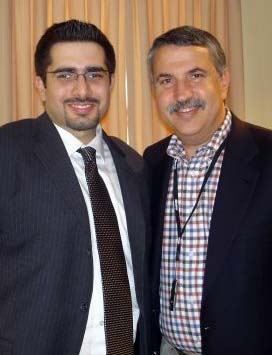 Faisal Abbas with New York Times columnist
Thomas Friedman
A comment about the prizewinner from Saudi reader Marwan Al Marisi on the Al Arabiya news site said Abbas deserved more. "If only Arab news organizations realized your worth."
Abbas, who majored in marketing and got a minor in communication arts in Lebanon, is finishing an MA in Marketing Communications at London's Westminster University. He hopes to work on a book or get a doctorate in the coming years.
"But most of all, keep writing stories. I love being a journalist," he said.
(Photos courtesy of Faisal Abbas)