The other day, wandering through the pharmacy, I found myself looking at a giant four-foot tall green razor, the latest model from Venus. And, as was the intent, it made me wonder if I should toss my perfectly functioning reusable purple razor for a new, lime-colored one.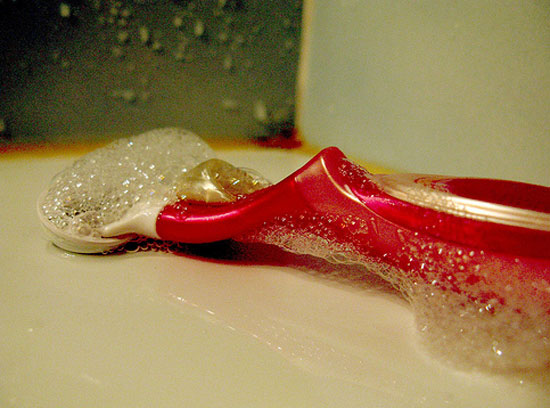 Photo: via Flickr
Disposable design is perhaps the biggest landfill culprit, and the biggest challenge we have as a society when it comes to slamming the lid on waste. According to the Environmental Protection Agency, we toss 2 billion disposable razors each year. This little worthless piece of plastic is made for just a few swipes on the stubble--and then dropped right in the bin.
This is, of course, a nice little exercise on supply and demand for the disposable razor companies. For the reusable razor companies, it's a bit trickier. To keep up those profits, they still need to encourage you to go disposable with the reusable, and taking into account the giant razor Venus has prominently featured in pharmacies around the world, they are doing a good job of it. So what should we do?
1. Make Your Reusable Razor Last
First, if it ain't broke, don't throw it out. Resist the urge to upgrade the color when the old razor still has a million more swipes in it. On that note, it's also best to push the blade as far as you can.
2. Sharpen Used Razors
The greenest option? Well other than becoming a hairy beast, you could sharpen your used razors with the nifty Razor Saver.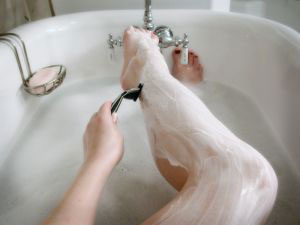 3. Try a Recycled and Recyclable Razor
While reusable razors are still the best bet, if you have a dire disposable emergency, a quality choice is the Preserve Razor Recyclable, which is made of made from 100 recycled plastic and is also recyclable.
Photo: via Mr Cheap Stuff
4. Don't Go Electric
It's better to stick with the hand-powered: You'll cut down greenhouse gas emissions and save on the kilowatt hours.
5. Green Your Shaving Cream
Finally, pay attention to what you are using to lather up. If you can't get away with just water, how about just a bar of soap with natural ingredients that doesn't come in a bottle or a pressurized can (often not recyclable). You can even make your own shaving cream.
More From TreeHugger and Planet Green on Shaving
TreeHugger Forums • View topic - GREEN Shaving
Top Five - Personal Care
TreeHugger Picks: Dissin' Disposables
Make Your Own Shaving Cream
More From Mairi Beautyman on Huffington Post
Could You Live Without a Refrigerator?
The Octuplets and their Massive Carbon Footprint: 30,400 Disposable Diapers and Counting
The Top Five Most Popular New Year's Resolutions And How Being Green Can Help You Keep Them
Five Comics Giving (Anti) Environmental Messages
Obama, Bring on the Green White House
Five Ways to Green Your Yoga Workout
SUBSCRIBE TO & FOLLOW THE MORNING EMAIL
Start your workday the right way with the news that matters most. Learn more