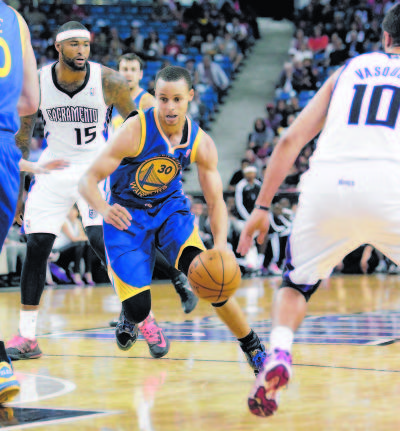 AP Photo/Rich Pedroncelli
Two years ago he came into the league as one of the top sought out NBA Assistant coaches. Now as the head coach of the Sacramento Kings, Mike Malone is off to a good start. Facing his former team for the second time this preseason. The Kings beat the Golden State Warriors 91-90 in the final seconds of regulation.
In their first match-up the Warriors bested Malone and his Kings but tonight it was the Kings and good ball movement that finished the game. Isaiah Thomas scored 21 points to spark the comeback in the fourth and John Salmons contributed 14 points which included hitting a 3-pointer with 7.6 seconds left to give Sacramento a 91-89 lead.
"We were down by 17 points and we never quit," said Mike. "John hit a big, big shot and I couldn't be prouder of our guys. A win like that shows character. We held that team to 9 points in the fourth quarter."
It was a collective effort in shutting down Golden State's offense. Stephen Curry was separating himself from the pack making four 3s in the third quarter. His 14 points helped outscore the KIngs and led the Warriors into the fourth up 81-70.
"Energy! We brought stops, we kind of settled down on turnovers and got out running," Thomas said. "We wanted to play harder and at one point they were up by 17 or 19. No matter what it was, we slowly got back into the game and executed down the stretch for the win."
Isaiah was definitely the key to shutting Curry down in the fourth. Trailing by 14 points the Kings rallied back with good defense, something that Malone specialized in with his former team. DeMarcus Cousins fouled out midway through the fourth finishing with 11 points and 9 rebounds.
"Our defense starts on offense and we started taking care of the ball a little bit better," said Mike. "We started guarding the 3-point line much better. That team is lethal and I was there for two years. I've seen what Steph [Curry] can do and if you let him get off on the 3-point line, it could be a long night. So we took the fourth quarter away and did not let them get the opportunities they had in the first three quarters."
Being down by by two, David Lee was fouled with 1.3 seconds left. He made his first free throw but missed his second, that would've tied the game. The Warriors were 3 of 19 from the field in the fourth with five turnovers. They were out rebounded down the stretch and forced to brick most of their shots.
"We didn't have our best shooting quarter that fourth quarter," Lee said. "But it shouldn't have mattered. It should have been out of reach."