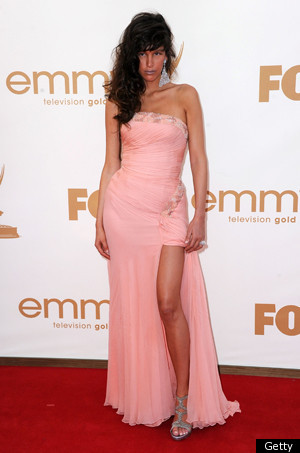 The entire celebrity-driven media world should be collectively thanking the entertainment gods for the arrival of the delightful, delicious and divine red-carpet disaster that is Paz de la Huerta. And I swear, I say this in the kindest and most flattering way possible -- as I am completely head over heels for Paz.
Finally, there is someone interesting hitting up the red carpet. Even if this unconventional bombshell has a hired glam-squad, clearly she doesn't follow their formula to the letter. For better or worse, Paz definitely knows how to keep it interesting for herself while keeping the rest of us thoroughly entertained.
I must be completely honest: I have had the pleasure of watching Paz's ascent to Hollywood starlet, as this young vixen grew up in my stomping grounds of Soho, New York. Like Paz, most of the privileged kids who were born and raised in the graffiti-painted, luxury-boutique- and gallery-strewn streets of Soho (e.g., designer Zac Posen, actress Stella Schnabel, film director Chiara Clemente) usually end up doing something in the creative field, but very few have the sort of middle-finger-a-blazing attitude possessed by Ms. de la Huerta.
I can still remember a few summers ago, at an art opening for the brilliant artist Francesco Clemente, the entire room went quiet with whispers of, "Paz is here... Paz is here..." I thought this was odd, as Paz had always been a fixture on the art and fashion scenes of New York City. But on this particular occasion, there was definitely something different about her, and totally worth noticing. Paz seemed to have a fresh glow and a new element of mystery coupled with confidence that I believe is inherited when one comes into one's own. And as sure as the stars would have it, at every movie premiere, gallery opening or fashion show since, Paz de la Huerta's arrival never seems to go unnoticed. And this was never more evident than this pas weekend, when she slinked and vamped her way onto the red carpet at the Emmy Awards. I absolutely loved every inch of the way she looked. It was as if she had gotten dressed in the back of a dark limousine with all the windows covered and then suddenly she was ejected through the sun-roof onto the red carpet. Clearly Paz really didn't give a damn what anyone else thought about her outfit, hair or make-up and appeared to be thoroughly impressed and pleased with her doings.
No matter what any of us may think of young Ms. de la Huerta's fashion sense, her acting skills, or even her deliciously curvy body that has also come under scrutiny all over the Internet, Paz de la Huera is here, and I, for one, am really pleased. I personally don't plan on missing a single red carpet that she graces or destroys, not one episode or premiere party for HBO's Boardwalk Empire, or any cheesy, self-produced, artsy-fartsy sex tape that she releases (did I mention there's a faux-sex tape?). Whatever Paz de la Huerta is doing, I want to know all about it. And judging by her constantly rising star, it is crystal clear that I'm not the only one. Paz is here!