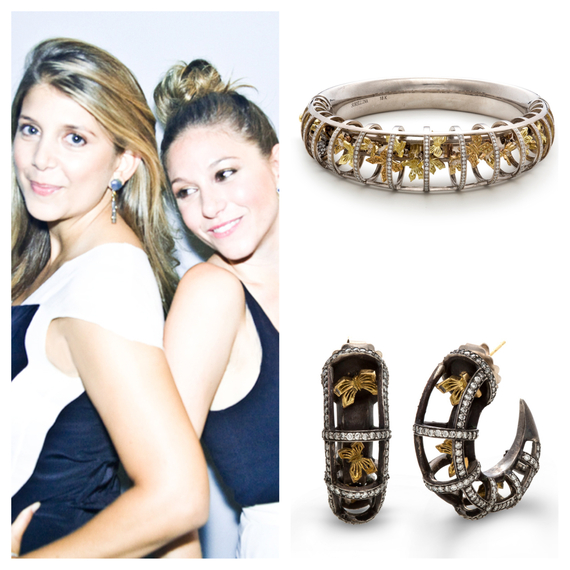 Kim and Nicole Carosella, Puccini Cage Bracelet and Hoops
Sorellina is a fine jewelry design house based out of Williamsburg, Brooklyn, founded by sisters Kim and Nicole Carosella. The sisters create bold and modern statement pieces with a sublime nod to the Victorian Era. Believe it or not, the sisters' first collection was born out of the melted down1980's style jewelry belonging to their mother. Since then they have become known for creating exquisite pieces filled with raw sapphires, vintage diamonds and one-of-kind gemstones.
While Nicole appears to be the one with the design chops and inspirations, Kim definitely adds a great deal of vision, branding know-how and real world expertise to the collection.
I recently caught up with the sisters in their elegant Brooklyn dwelling/showroom for our interview and was immediately charmed by the Carosella sisters outgoing personalities and beguiling accessories.
1) What do you two love most about designing jewelry?
KS: Creating mini sculptures that can become family heirlooms. Using precious materials that enhance a woman's beauty; and creating something that makes people happy.

2) How would you both describe the Sorellina woman?

NC: The Sorellina woman is passionate and has a lust for life. She is an independent, modern-day woman that appreciates and enjoys the rich culture of a big city. Her innate style is her own - she has refined taste coupled with an unabashed affinity for the unexpected. She is a style maven with a clear, cool and daring poise. While we have a very specific vision of her in our minds, we think the quality that stands out most is confidence.

3) Who would you say is your brand's muse? And why?

NC: Florence Welch has become a muse, for sure. Several pieces were designed with her mind, mostly from our Victoria snake collection. She embodies our brand and is the quintessential Sorellina woman because her style is completely her own. When she wears our jewelry, she brings her own twist. That's what we want: women that wear our jewelry and make it their own.

4) Who would be the ultimate person you would like to see wearing your jewelry?

NC: Tears of joy would stream down our faces if Cate Blanchett wore our jewelry. She has been our ultimate since day one.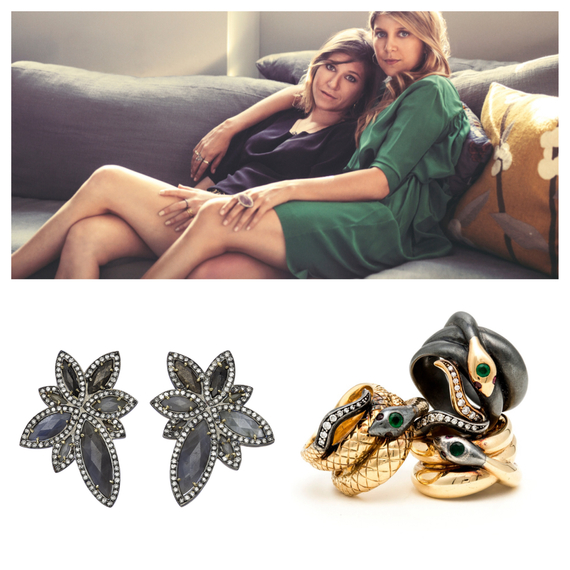 Carosella Sisters, Axl Fiore Marquise Earrings and Victoria Serpente Rings
5) How did you gals choose Brooklyn as your brand's headquarters?

KC: After living in Venice, CA for a year, I was itching to get back to New York but I didn't want to completely lose that laid back California vibe. I felt like Brooklyn was the perfect compromise of the New York mentality is a more relaxed setting. When I told Nicole my plans to move to Williamsburg, she didn't hesitate on making the move too. Now, we live in the same building. We can't imagine living anywhere else.

6) Can we expect to see the Sorellina brand expand beyond jewelry?

KC: Nicole would love to take on the entire world of design but for now, our focus is on establishing Sorellina as a vintage inspired fine jewelry brand.

7) What are some of the advantages of working together as sisters?

NC: There are so many advantages to working together but I would say the openness and honesty between us is something we are both so grateful for.
8) What are some of the disadvantages of working together?

KC: The biggest disadvantage is that because we are sisters, we can take the other for granted at times. Sometimes, we forget to tell each other how much we appreciate one another, because we assume it doesn't need to be said. For the sister teams out there, applaud one another's accomplishments!

9) What keeps you both going when times get tough in the business?

KC: It may sound cheesy, but we believe in what we are doing. We believe in our designs, American craftsmanship and are passionate about creating pieces that stand the test of time and become family heirlooms.
NC: Also, we happen to have an incredibly supportive group of family and friends who are always there to remind us that there are ebbs and flows in any industry and that it is important to celebrate even the smallest accomplishments.

10) Wine or spirits? And why?

KC: When you own your own business, we think both are very, very necessary! Our favorites include Prosecco, Old Fashions, Negronis and Rose.
Photos courtesy of @Sorellina