The best thing about gritty, sometimes sketchy, disparaged cities is that, for the traveler, they don't put on airs, hike up prices or otherwise become obnoxiously pretentious. Disparaged cities just try harder. And that is a boon to tourists.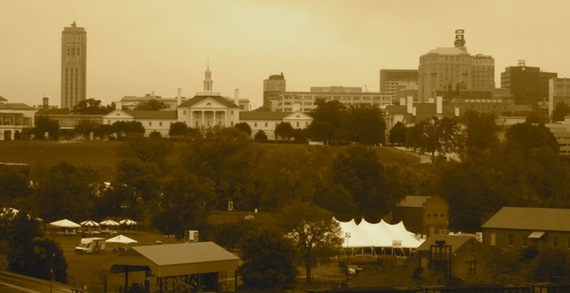 If you've been reading my blog posts here, you'll know that I'm a big fan of formerly depressed, now "emerging" cities, particularly if said cites have singular historical significance and incredible restaurants. Richmond, Va., that little-bit-Philly-little-bit-New-Orleans decidedly southern yet close to north city, has this in spades. Yes, Richmond's got broken storefronts and skeptical suburbanites, but there's a vibrant, youthful, Brooklyn-before-it-got-upscale vibe here, and it's worth at least a few days to explore.
Here are the Top 10 Things to Do In Richmond, Va.
(And yes, there are many more - consult Visit Richmond for numerous ideas)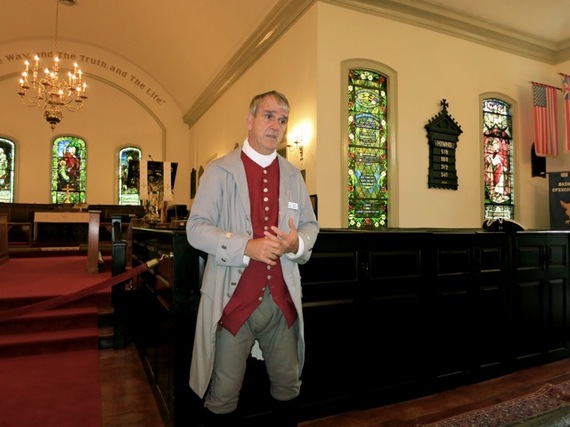 1. Visit St. John's Church. "Give Me Liberty or Give Me Death!" It was a sentence that spurred a Revolution, and immortalized one man -- John Patrick Henry. George Washington, Thomas Jefferson and Richard Henry Lee were in attendance at St. John's Church on March 23, 1775 when Henry thundered his fateful words, inspiring them to take action. Sit in the church pews, and Ray Baird (or an alternate guide), wearing Patrick Henry garb, takes you back in time to the Tea Party revolt when British soldiers with guns appeared on our shores. It's a thinking-person's tour, timely in any political climate and should be a mandatory first stop in Richmond. Wander the church grounds and cemetery for free -- to see the graves of Edgar Allan Poe's biological mother (who died when Poe was a year old), and George Wythe, the first law professor in the USA. Open Mon-Sat 10-4, Sun 1-4, tours on hour and half hour (last one at 3:30), $7,closed January. Complete reenactments take place every Sunday from Memorial Day to Labor Day.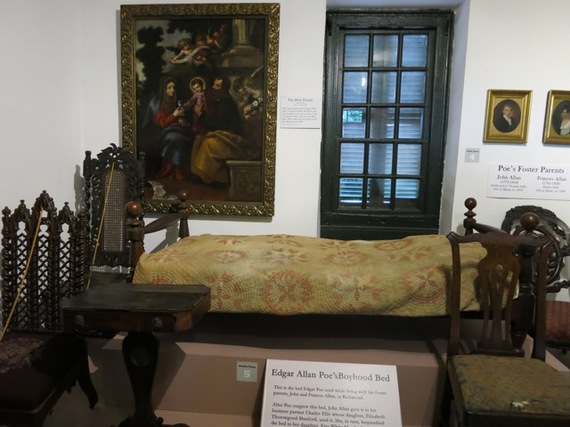 2. Visit the Poe Museum. Born in 1809 (the same year as Abe Lincoln and Charles Darwin), Edgar Poe arrived in Richmond as a baby -- abandoned by his father, his 24-year-old mother deathly ill from typhoid. When she died, the Allan family adopted him -- endowing him with the middle name that would identify him through life and death. This museum features his boyhood furniture, elaborately stitched clothing, portraits of the many women in his life, first copies of his published books, handwritten poems, his notes on Milton and Shakespeare, and many decidedly un-sinister photographs of the handsome young man.
Take a 45-minute audio tour, and if you'd like, smooch his bust in the outdoor courtyard. Lipstick marks attest to the fact that Poe remains a beloved cult figure. Tues-Sat 10-5, Sun. 11-5, $6.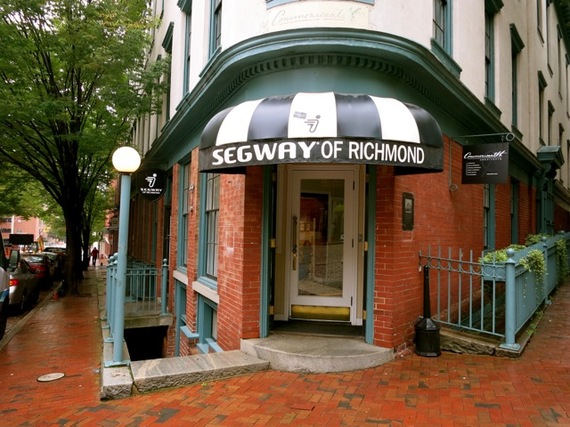 3. Take a Segway of Richmond Tour. The best way to see a large swath of Virginia's capital city is via Segway and Segway of Richmond offers a good variety of tours. If this is your first time in Richmond, take the popular Richmond Landmarks Tour, which rolls down sidewalks of cobblestone streets, through the Canal Walk, to Monument Avenue, the State House and other historic sites. Or opt for a tour of the Hollywood Cemetery -- the second most visited cemetery in the country where three U.S. presidents (Tyler, Monroe and Davis) are buried.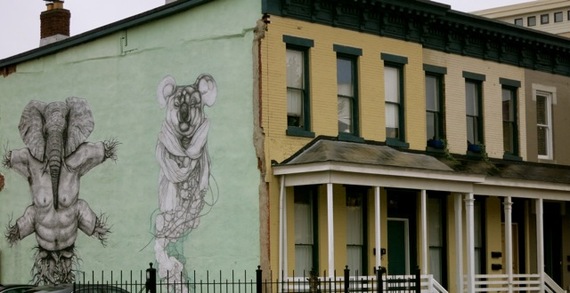 If you've been there done that, the Downtown Public Art Tour brings you to the best murals and sculptures in neighborhoods where the bold and talented are slapping up some fabulous work. Check website for tour times, rates from $50-$68 per person.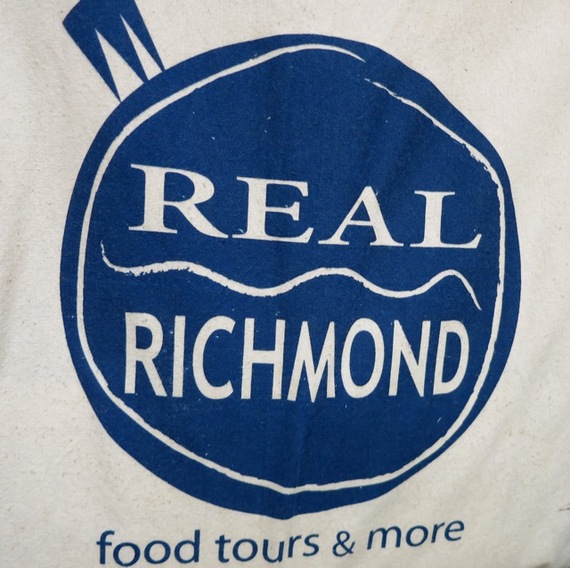 4. Take a Real Richmond Food Tour. Real Richmond runs a series of ten neighborhood tours that rotate throughout the year. Maureen Egan, author of the Insider's Guide to Richmond, and Susan Winiecki, editor of Richmond Magazine, lead groups on a culinary exploration of Richmond's neighborhoods, "taking to the streets to show you the inside scoop on what's going on in Richmond today, seasoned with River City's lively history and impressive architecture." One example -- The Wards: The Art and Soul of Richmond -- covers the gentrifying Arts District and the "Harlem of the South" Jackson Ward Neighborhood.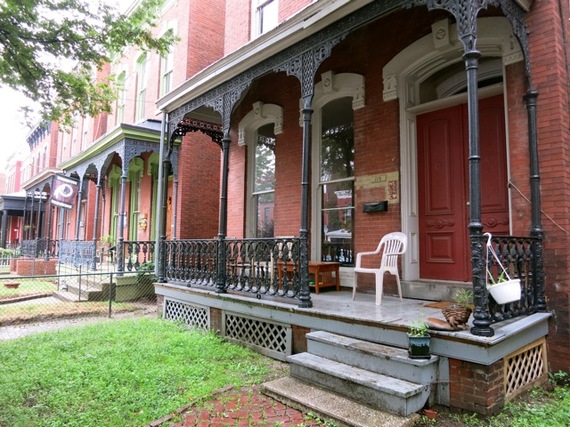 Home to free blacks, immigrants and the working class pre-Civil War, this neighborhood claims the largest concentration of Antebellum houses with wrought ironwork second only to New Orleans.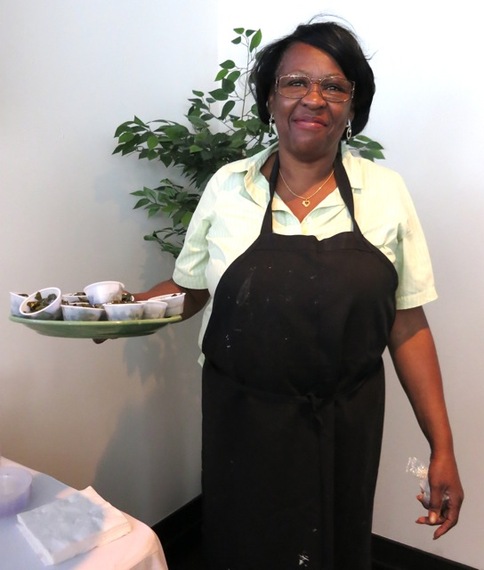 You'll meander on sidewalks heaved up by roots of old trees to places like trendy coffee shop, Lift -- bright green, funky and indicative of the establishments that are re-wiring, and "lifting" blighted neighborhoods from gloom. Onto the old furniture store turned gastro-pub Popkin Tavern and Southern-cooking, soul-food mecca, Mama J's (where chef/owner Velma Johnson makes the most superb catfish nuggets, yams, and incredible, pork-free, vegetarian collard greens).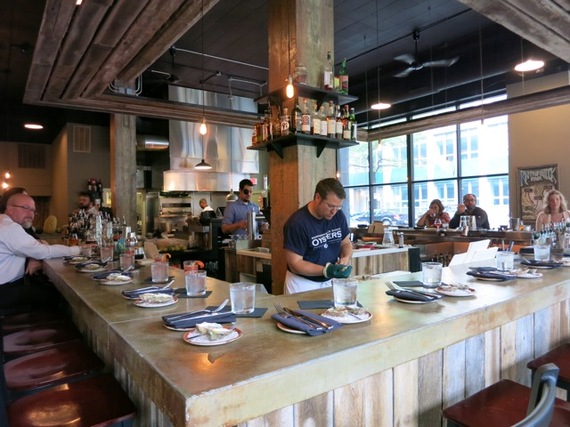 Next to Chesapeake oyster specialist Rappahannock where you might find Chef Dillon Fultineer shucking those bi-vales at the front of the bar, on to experimental Latin influenced Saison, and ending at just renewed Lemaire Restaurant at the Jefferson Hotel. Most public 1.5 mile neighborhood tours last roughly 2 ½ to 3 hours and cost $50.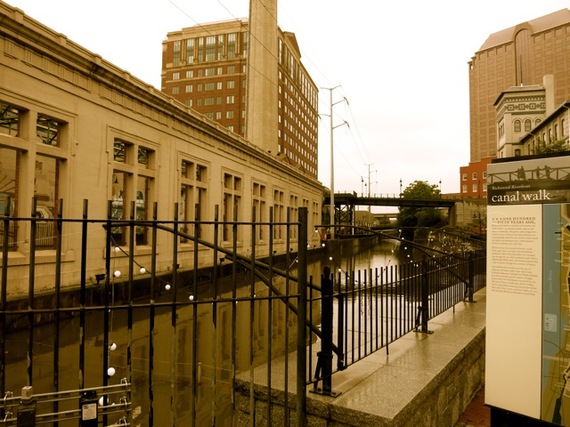 5. Stroll the 1.25-Mile Canal Walk. Initially conceived by George Washington, informational plaques document 400 years of Richmond history.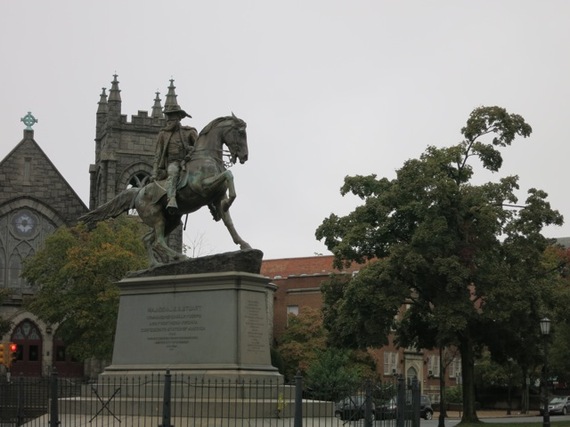 6. Check out the monuments, mansions and grand institutions on Monument Ave. This is the south's answer to Gilded Age conspicuous luxury and the only street in America listed on the National Register of Historic Places.
7. Dine and shop in trendy, funky Carytown; "A Mile of Style" in the renewed, reinvented section of "The Fan," it's where fun-loving locals send out of town friends.
8. Whitewater raft with Riverside Outfitters. Yes, astoundingly, there's whitewater right in Richmond. In fact, you'll begin miles out of town, float and splash through calm and rapid streams to end up at 14th street. It's a blast in season and just another way to view Richmond from yet another perspective. Flatwater kayaking tours, $50, whitewater rafting trips, $70.
9. Tour the Virginia State Capitol. Designed by Thomas Jefferson, it has been home to the General Assembly, the oldest legislature continuously operating in the Western Hemisphere since 1788.
10. Stay historic at Linden Row Inn without paying a fortune. The Linden Row Inn is regarded as one of the country's best surviving row of Greek Revival architecture today. According to historians, Edgar Allan Poe (who lived across the street), first courted his life-long love, Elmira Royster, in the garden where Linden Row now stands. On the National Historic Register, Linden Row Inn was the brainchild of artsy, affluent Mary Wingfield Scott, who bought up these seven homes in 1949, connected the balconies and first rented to artists before turning the property over to Historic Richmond Foundation in 1980. In 1988, the Inn underwent a major renovation and in 2003, bathrooms were updated to luxury standard. Elevators may be creaky, floorboards warped and slanted, some curtains frayed, but rooms are charming and clean, with much more luxurious appointments than you'd expect at this price-point. Rooms $119-$125 per night, Parlor Suites $209 night include Continental Breakfast, complimentary shuttle, free wi-fi, free YMCA fitness pass.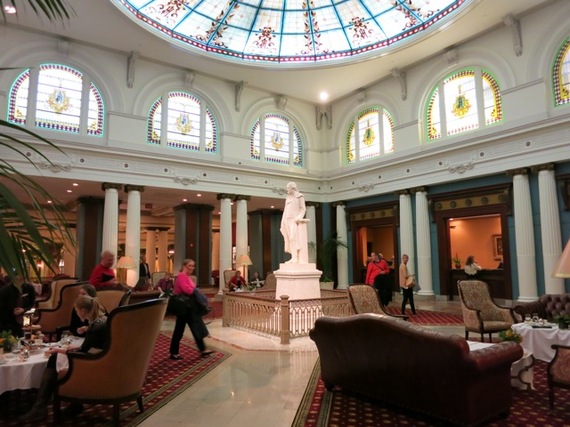 If you're feeling flush, stay at the Five Star Jefferson Hotel. The premier destination hotel in Richmond built by Tobacco magnate, Major Lewis Ginter, it it once sported alligators in the Courtyard fountain.
For much more on where to eat in Richmond and other Northeast and Mid-Atlantic destinations, check out GetawayMavens.com.
Follow Malerie Yolen-Cohen on Twitter: www.twitter.com/malerieyolen