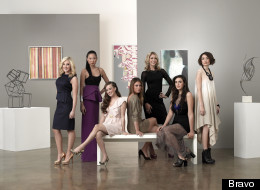 Welcome to "Gallery Girls," episode six! Each week, six interns/inexplicable "gallery owners" look sad, but then a week comes along where a character contains an entire Russian novel of misery inside of her. This week: Amy.
Amy strongly believes that giving people things = friends for life. She gets all As in this department, until the moment when she goes too far and yells out her answers, resulting in a solid F. This happened last week in spades. In one scene, Liz told Amy she gives too many compliments and Amy's immediate reaction was to shout: "I LOVE YOUR SWEATER! NO, I REALLY DO!"
Amy went on a strange sort of rampage last week in which she showed up to an important work appointment shamefully late for a CEO, forget an intern. She said it was impossible to get from the Upper West Side to Chelsea, which is patently false. Guess what? It's possible! People do it literally every day. Literally hundreds of people, guys.
The tail end of that bender involved Amy "delegating" her own work to Kerri, the intern who joined the office after her. This was sort of like a first grader making the new kid do all her homework. You just can't do that. She's in the same place as you! If anything, that kid needs help, not more work.
Sure enough, all Amy did was get in trouble; it was actually hard to watch. We want her to succeed, we really do. She feels realer than the rest, ironically due to her continual lack of success.
But let's rewind. To start last night: Liz told her mom that Bobby, Liz's boyfriend, whom Bravo's really pushing on us, has to give her (Liz) a 13-carat engagement ring. Liz also told her mom: "Just kidding!" but it seemed like she wasn't. At least if Bobby decides not to get her the 13-carat he has a piece of defense footage he can play in a court of law. Angela said "I love hearing good things about myself, so I won't question [Eli's obviously insincere flattery]." Claudia let us know her name is pronounced Cloud-eee-ah.
When Sharon Horowitz -- the beautiful, tiny, expensively dressed art dealer who seems legitimately busy but has still allowed herself to be roped into this reality TV circus -- sat down with Amy, it did not go the way we hoped. Sharon brought up Amy's list of "delegated" tasks that Amy has no authority to delegate. Amy did a sort of, "I don't know what you're talking about!" eyebrow furrow (she did know). When pressed, she admitted her mistake by saying that Kerri (delegatee) took the note seriously, instead of as a joke, which Amy gave her no indication it was. (It wasn't).
Amy got fired. Instead of immediately enrolling herself in a boot camp called HOW TO SUCCEED, Amy told us this: "I've learned that I'm done interning." Reader, this is not the lesson of the Case of the Delegated Tasks. Nope, not even close.
Later in a car with a former model/Warhol muse Baby Jane Holzer -- whose presence was never truly explained -- Amy waged phase one in the Give People Things campaign. Angela bullied her into agreeing to drive the Brooklyn girls around in Miami during Art Basel. Amy is from Miami, Art Basel is in Miami, and broke gallery owners who cry constantly about not being able to pay bills inevitably fly wherever "the scene" is, ergo: Amy became the chauffeur to this motley crew. This was the second of two back-to-back painful moments for any well-wisher of Amy's. The first happened when Amy let slip that she once dated Eli, who had been artificially brought into the conversation, probably via a Bravo script writer.
"Ew," said Cloud-eee-ah.
"We all make mistakes," sniffed Angela/Babysitters' Club Cloud-eee-ah.
Instead of sticking by her one true love, Amy betrayed him by pretending that she found her perfect kiss with Eli "gross." She even pretended during the private camera session! It was just her and her God and us, and we all know how she actually feels about Eli, don't we?
Chantal performed a strange magic performance where she was simultaneously angry at Cloud for not being "focused" and also angry at Cloud for being focused. It was weird! Cloud wanted to host a pop-up exhibition in Basel that Amy, eye on the target, had suggested she help these new friends of hers put on. Chantal was all, no, it'll be hard work, why aren't you more focused on working hard? Totally weird.
Then Miami arrived and all the Brooklyn girls wore long ridiculous sheets and were suddenly civil with each other again. They created a plot arc for this show about nothing by pretending it would be a problem if they didn't host the pop-up exhibit because of some mysterious e-mails invites that were sent out to all the people they don't know in Miami. Amy pretended to have secured spots for the pop-up thanks to her diligent spot-securing work. (What about the fact that you're on a reality show? Doesn't that help in getting a restaurant to lend its services?)
Everyone was excited by how nice Amy's home was and pledged to be better friends with her. Also, Liz found her father. As we've been told, he's proud of her to other people but not to her face, and this probably has something to do with her stint in rehab. But, actually, just to propose something: a lot of parents are like that. Except for Rory Gilmore, pretty much everyone always feel like their parents aren't proud of them. Of course, we don't claim to know all the inner dynamics at work, but at least Liz's Bravo storyline requires that people constantly tell her they overheard her dad saying how proud he is of her. This time around, the task fell to Eli.
Liz's dad has a truly insane art collection in an expansive warehouse in Miami's new up and coming art district. He has been collecting "since before it was cool to like art," according to Liz. Which is...........hard to date.
Soon after, Cloud-eee-ah compared the Brooklyn girls and the Manhattan girls to the Bloods and the Crips. During this scene, she wore a floppy beach hat and drank a mimosa.
And then: Eli ran out of hair gel?
FIN
Here's a slideshow of what you missed at Art Basel:
Superman and the Birds, 2002 by Ghada Amer Print "At first glance, Superman and the Birds appears to be a simple pattern--lines of a repeated image of the super hero jumping into the void--that is broken by scattered, colorful birds. A second viewing reveals the optical illusion of the piece: the fact that the pattern is overlaid with the image of two women kissing while they open their legs to one another. By combining the three references--super heroes, birds in flight, and female pleasure--Amer implies that there is freedom, power, and even heroism in sexual freedom."

Reply to Hayter, 1999 by Louise Bourgeois Print "Printmaking was an important part of Bourgeois's practice beginning in the 1940s, when she worked at Atelier 17, an intaglio workshop begun by William Stanley Hayter, for whom this work was named. Hayter was a British artist regarded as one of the most significant printmakers of the 20th century and known for his innovative work in the development of viscosity printing. From 1994-95, the Museum of Modern Art in New York mounted an exhibition entitled The Prints of Louise Bourgeois, for which they published a comprehensive catalog. This lithograph was included in the exhibition and is also part of MoMA's permanent collection."

Into the New Sea (Nomad), 2009 by Xaviera Simmons Photograph "Into the New Sea (Nomad) depicts an empty field of wheat punctured only by the sinuous curve of Simmons's body, which is draped in a striking red shawl that recalls a traditional African outfit. In motion, the artist appears mid-glance, leaving the viewer to construct their own theories as to why she is there and what she may be looking at."

The Divine Gas, 2006 by Chiho Aoshima Print "This work embodies both the sweet and the sinister elements that run through Aoshima's work. The image depicts an overgrown girl essentially "passing gas," an emission Aoshima transforms into a beautiful landscape of billowing lavender, and is based on a mural of the same title commissioned by the Institute of Contemporary Art/Boston's Sandra and Gerald Fineberg Art Wall."

Where all Harmonies are Tuned, 2011 by Marcel Dzama Print "Like most of Marcel Dzama's drawings, this print of old-fashioned circus performers is reminiscent of antique illustrations from the 1900s. However, the simple rendering and elegant composition belie the dark subject matter. The work is like a bizarre dream set to the music that lines the background: an opera of sexual aggression, lust, and murder."

amour vivacité ardeur fantaisie, 2011 by assume vivid astro focus Print "This piece, exclusive to Artspace, is a digital remix derived from two earlier wallpapers fabricated by assume vivid astro focus. The first wallpaper - entitled butch queen realness with a twist in pastel colors 4 - was used in a 2005 installation at Tate Liverpool and is the source for the little boy with flowers on his head in our image. The second, called Rickiminicensces, was reproduced on the cover of avaf's monograph published by Rizzoli in 2010. Similar works were also remixed for a collaboration between avaf and Commes des Garçons, the fashion brand, in 2011 and can currently be seen gracing the Company's marketing materials worldwide. The title of this work, like most by avaf, is an acrostic play on the letters "a" "v" "a" and "f." The combinations of these letters frequently appear as names of performances and installations, as well as on the signatures of emails and correspondences between the collective and the outside world."

Performance Sketches (11) by Ragnar Kjartansson "This Performance Sketch is a photograph taken from Ragnar Kjartansson's elaborate performance piece The End - Venezia, developed for the 2009 Venice Biennale. Kjartansson set up a painting studio in the Palazzo Michiel dal Brusa by the Grand Canal, where each day for six months he painted a portrait from life of a slim young man, fellow Icelandic performance artist Pall Haukur Bjornsson, wearing only a black Speedo. In the performance Kjartansson plays the role of the cliché artist, with slicked back hair and a beard, smoking cigars and drinking beer, while his subject languishes like a blasé Dorian Gray. The piece is both reverent of art and the artistic process, while also mocking the fantasy of the Bohemian artist and his muse."

Notes From A Limerent (preparing to play Taiwan) production still, 2011 by Kalup Linzy Photograph "Soap operas, so named because of the products associated with their early sponsors, are open-ended narratives that relate weekly or daily dramas set in familiar interiors. Kalup Linzy's performance pieces subvert this traditional narrative structure to address issues around race and sexual identity and to generally poke fun at outmoded stereotypes. This photograph depicts Linzy, in character, be-wigged and in drag, sitting in front of a mirror. It's impossible to discern what follows next but whether singing a slow, drawn-out Billie Holiday number or relating the latest trials of rural life to the neighbor next door, it's sure to entertain."

Poppies (Study #4), 2010 by Kristin Oppenheim Drawing "Kristin Oppenheim's Poppies series references classic still-life imagery. Pleasantly nostalgic and lovely to behold, these watercolor and acrylic paintings become almost silent backdrops for everyday dramas: domestic conversations, family scenarios, and morning rituals."

STARS DONT STAND STILL IN THE SKY, 2011 by Lawrence Weiner Sculpture "Whimsical and bold, Lawrence Weiner's sculpture STARS DONT STAND STILL IN THE SKY employs the bright colors of Pop art and Weiner's signature use of language and instructions. The blue arrow, red star, and yellow tags playfully depict a kind of navigational sign. "Stars dont stand still in the sky" and yet where they're going is left to interpretation: "wheresoever," "whensoever," or "howsoever." Artspace is proud to be working with Lawrence Weiner on this exciting project, the first in a series of limited edition sculptural commissions with top contemporary artists."

Untitled, 2009 by Peter Doig Print "Doig's use of unusual colors and abstract depiction of figures on what appears to be a canoe or shallow bottom boat gives this image an other-worldly quality. A cross is emblazoned on the mast and a flag-bearer leans forward as if charging ahead, while the central figure defiantly holds what might be a sword. In the background, an empty orange landscape gives way to mountain green. The canoe is a recurrent theme in Doig's

MONEY CREATES TASTE, 2007 by Jenny Holzer Sculpture "Holzer's famous Truisms, such as "Abuse of Power Comes as No Surprise," the piece "Protect Me from What I Want" and the title of our work, "Money Creates Taste" have appeared on posters, condoms, benches and electronic LED signs. Her work is also featured on a 65-foot wide wall of light in the lobby of 7 World Trade Center. Money Creates Taste is a work that questions consumerist impulses. In this object - a spoon for eating - Holzer inscribes the title on the curving part of the spoon, a word play that is representative of her famous pithy social judgments, formally known as Truisms."

Soundsuit #1, 2009 by Nick Cave Photograph "Suggestive of both African ceremonial costumes as well as Parisian high fashion, Nick Cave's Soundsuits - named because of the sounds they make when worn - are created from scavenged materials such as beads, old bottle caps, rusty iron sticks and hair. They combine Cave's interests in fashion, culture and the intersection of politics. By concealing their wearers' race, gender and class, Cave's works allow individuals to escape or transcend prescribed identities."

Ocean Without a Shore, 2007 by Bill Viola Photograph "Presented as a series of encounters at the intersection between life and death, the work documents a succession of individuals slowly emerging out of darkness and moving into the light. The figure in the composition must then break through an invisible threshold of water in order to pass into the physical world. Hauntingly eerie and magnificently ghostly, Viola's figure is a modern day Orpheus emerging from the underworld back to life."
Follow Mallika Rao on Twitter: www.twitter.com/mallika_rao