I have a good Parisian friend who spends much of the year traveling for work, but, fortunately for him, he loves hotels -- well, who wouldn't, if they are nice hotels. Isn't it the best to have your sheets and towels changed twice a day, and 24-hour room service?
I asked my friend where he has been staying in London when he goes there for business once a month. He told me he stays at Blakes Hotel on Roland Gardens. This is a guy who I met many years ago in New York City when he was holding court in a luxurious suite at the Plaza Athenee in New York City and later became a regular at the now defunct but then luxurious Mayfair Regent Hotel. I just couldn't believe this guy who loves five-star hotels would appreciate Blakes, which started out as a bohemian hideaway for actors, royalty and those needing a place to have their little indiscretions. You see, I was not aware that Blakes had made a luxurious transformation over the years guided by Blakes creator, creative director and designer, Anouska Hemple, the former actress who is now referred to as Lady Weinberg after her marriage to tycoon Sir Mark Weinberg.
I stayed at Blakes in the 80s not long after its opening in 1982, when my brother opened the lovely Morton's on Berkely Square. He arranged for me to stay at Blakes Hotel, which at the time was THE hotel in London for hipsters. All that I remembered was how the shower barely drizzled water out of the miniscule shower head and how I bumped my knees when moving around the tiny room. Sure the crowd that frequented the bar downstairs was trendy enough, but I didn't care. I wanted more comfort. I didn't dare say anything to my brother because the room was being paid for by him and I was lucky to have a nice roof over my head and a decent mattress upon which I could lay my head.
I vowed I would never stay there again. Then I met the handsome older brother of Italian friends of mine. He came to LA with his brother, and after he left, I followed him back to London where I checked myself back into Blakes Hotel, as he lived only a few doors down the street. Very convenient. Blakes didn't look so bad to me at that moment in time for many reasons. But, it still wasn't on my list of favorite hotels in London. I was a Connaught, Claridges kind of girl.
In May, my Parisian friend Corentin, thinking we should meet, gave my phone number to the sales and marketing director of Blakes, the very stylish and incredibly charming Cheryl Howard, for her trip to New York with the 29-year-old, sophisticated and handsome General Manager of Blakes, Marco Cillia. We had dinner together at one of my favorite restaurants in NY, Sant Ambroeus and during dinner, they began to tell me about Blakes today and said that I should come and stay there to see how the place had changed over the years. I was hesitant remembering that shower. (As I always have said, the two most important rooms in a house are the kitchen and bathrooms. In a hotel room, it is the bed and the bathroom that are most important.)
Okay, what did I do? I decided to be adventurous and made a reservation to stay at Blakes when I was most recently in London. It was only going to be for a few nights, so I thought: how bad could that be? But just as I used to do as a little girl when I went swimming, before I plunged head first into the swimming pool, I dipped my toes in, one at a time. First, I went to Blakes for dinner while Corentin happened to be in town. This way I could get a preview of what to expect. (I fortunately had that luxury because I was staying with friends for the first week that I was in London. You can read about that house in my last blog.
Well, boy was I in for a major surprise, and a pleasant one at that, The whole hotel had been refurbished by Blakes' mamma-at-large who gave birth to Blakes in 1982, Lady Weinberg.
When Anoushka Hempel created Blakes, it was a very bohemian home away from home for artist, writers and actors. Now she has refurbished it keeping the feel of a bohemian hideaway, but a luxurious one. She decorated every room differently and spared no expense to make the rooms extraordinarily plush.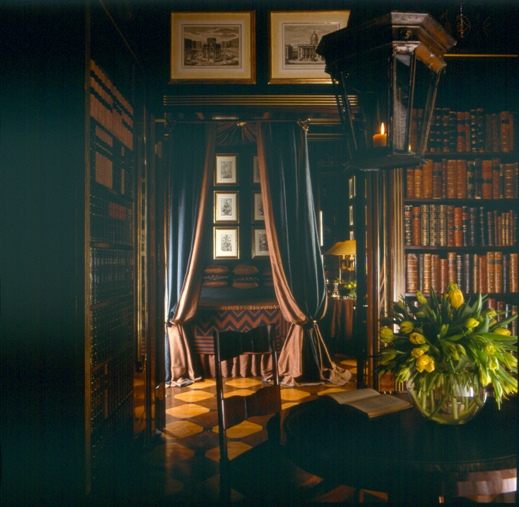 It is a real decision when trying to choose a room at Blakes. Each room has a different personality. Should I stay in the Library suite, which has the feeling of an old English Gentleman's Club with inlaid wood floors, dark leather club chairs, a four poster bed and ancient books in the bookshelves, or do I want something fresh, clean and modern like the Corfu suite. I can feel the breeze of the Mediterranean through the white billowing curtains framing the windows. My friend was staying in the Library suite. My mouth dropped open when I saw it. I had absolutely no idea that Blakes had such a major face lift! But wanting that modern bathroom, I chose one of the newer rooms on the top floor.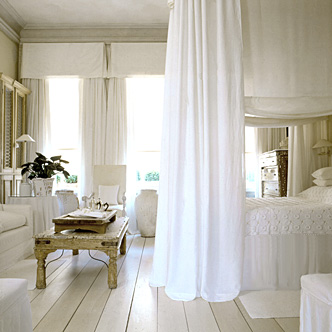 The top floor is just being finished and the bathrooms were 100 times better than that first bathroom I experienced. In fact, the shower was the best I have ever had in a European hotel. For once there was water pressure, something always lacking even in the best of hotels.
My dinner that night at Blakes was superb. Truly one of the best I had in greater London. The fois gras ravioli were an oxymoron in themselves, light yet elegant. Who knew fois gras could be light? I followed that with black cod with a ginger miso sauce that was scrumptuous. Everyone seems to be doing it lately, but this piece of fish was perfectly cooked and the sauce was there to give the dish an added pizazz not overpowering it. Neville Cambell, Blakes Executive Chef has been at Blakes for 25 years. He is the most underrated chef in London.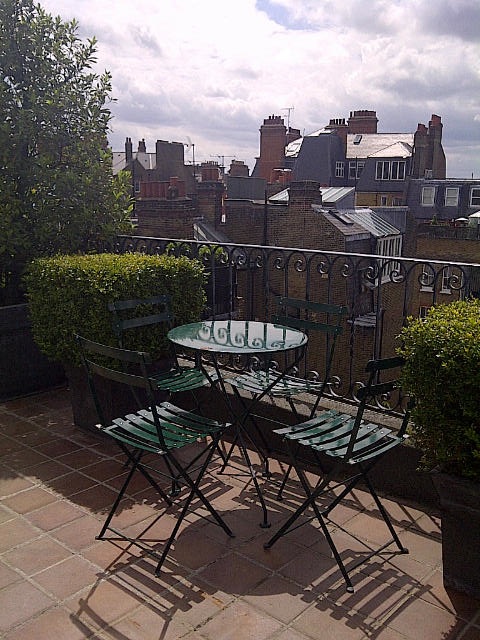 The fifth-floor outdoor terrace
I had a real English breakfast with a girlfriend of mine on my last morning at Blakes. Actually it was more like brunch; it being Sunday we did it late and leisurely and drank buck's fizz (champagne and fresh orange juice) while enjoying the view on the wonderful terrace high atop the rooftops and gardens of South Kensington. It was the most perfect English breakfast with excellent farm-fresh bacon, sausage, and eggs, mushrooms and beans -- yes, beans. This is English breakfast par excellence. I asked for some toasted whole wheat bread and marmalade. The bread is from my favorite French bakery, Poilane.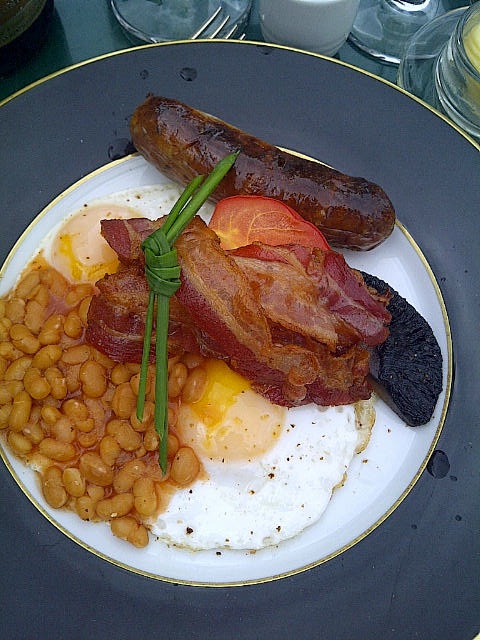 English breakfast par excellence
The first two mornings, I only ordered coffee and fresh juice, as I needed to have an appetite for lunches I organized those days. The coffee is delicious and served in beautiful antique silver coffee pots. The china is rimmed with real gold. Blakes was never like this in the old days!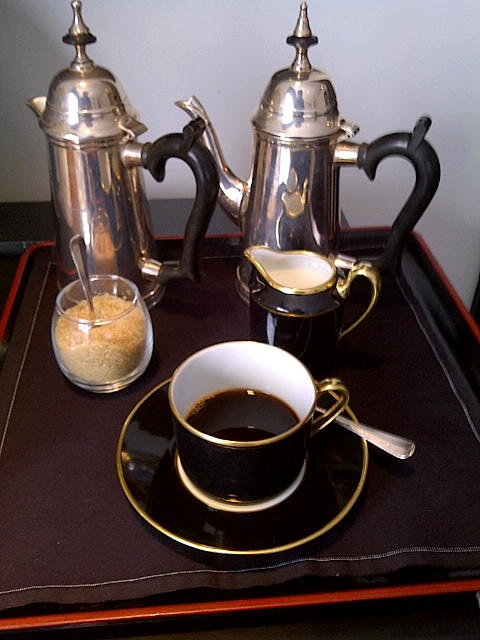 The staff at Blakes is like one big family only more discreet. Though it seems to be a laid-back kind of place, the service is just the opposite. This is the service of a five-star hotel. No matter what the request, the staff can handle it, and handle it promptly. It is no wonder that Blakes has attracted the likes of Robert De Niro, (he was staying there when I was there), Lady Gaga, Gwyneth Paltrow, Mickey Rourke, The Beckhams, and some who sneak in late at night to check into one of Blakes' sexy rooms just for the night.
Blakes Hotel
33 Roland Gardens
London, England
Tel: +44 207 370-6701
www.blakeshotels.com
SUBSCRIBE TO & FOLLOW LIFESTYLE
HuffPost Lifestyle is a daily newsletter that will make you happier and healthier — one email at a time. Learn more