It is really unconscionable that I have taken this long to write about a restaurant that I have been frequenting since the day I moved to New York City. I guess I am one of those people who have taken it for granted that Mezzaluna will always be there ready to satisfy my hunger on nights when I don't feel like going out or cooking for that matter. It is the one place where I know I can always find authentic Italian cooking seven days a week, including holidays, for lunch, dinner and late into the night, long after the other restaurants on the Upper East Side have closed for the night. A place where I can show up by myself or in a group on a moments notice, and be warmly greeted and accommodated. Mezzaluna is truly a restaurant where everybody eats and has been eating for 30 years and will for another 30 or more I am sure, and this is why.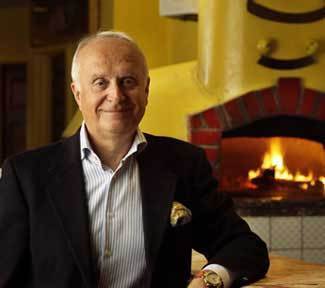 Aldo Bozzi, the founder of Mezzaluna
Aldo Bozzi, the elegant Italian businessman and former president of Alfa Romeo in North America created Mezzaluna because at the time, there was not one place in New York City where he could find Italian food worthy of his sophisticated palate, not that the food at Mezzaluna is sophisticated in the true sense of the word. It is Italian food the way Italian food should look and taste. To create these flavorful dishes, Mezzaluna uses only the freshest and highest quality Italian ingredients from the pungent virgin olive oil that Aldo produces on his land in Tuscany, to the dried pasta handmade especially for the restaurant in Naples.
Aldo wanted Mezzaluna to feel Italian, so the tiny restaurant was designed by Florentine architect Roberto Magris. Everything from the tables, chairs, flatware plates, glassware and the 19th Century bar and credenza from the 1700s were brought from Italy. In place of tiles on the walls, 77 Italian artists created their vision of a mezzaluna, the Italian chopping knife. Before being permanently installed on the walls, these paintings were displayed in Florence. Each work of art earned the artist 20 meals at Mezzaluna.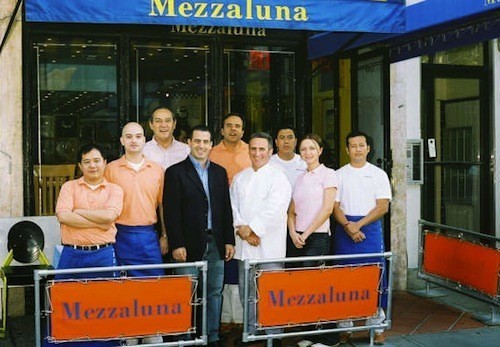 The Mezzaluna family of waiters, managers and bartenders
Mezzaluna as a concept spawned more Italian restaurants in New York City and beyond than any other restaurant besides Elaine's that I can remember. Serafina, Baraonda, Bella Blu, Ciros, and others were started by former staff members of Mezzaluna. Mezzaluna set the stage and has been copied the world over. But nobody does it better than the original on Third Avenue in New York City.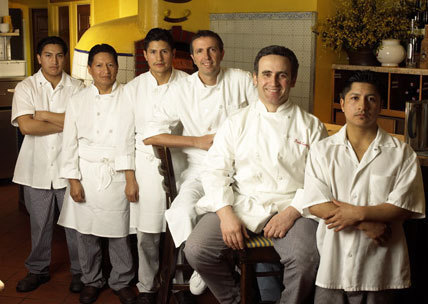 Paolo Casagranda, Executive Chef-co-owner with his loyal kitchen staff
You have to realize that when you see New York restaurateurs and four star chefs such as Jean Georges Vonderighten, Daniel Boulud and Eric Ripert eating in Mezzaluna on a regular basis, the food must be truly worthy.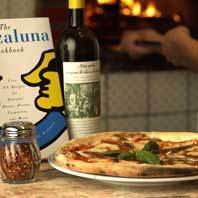 Mezzaluna's famed pizza and a bottle of Aldo's fabulous Tuscan Olive Oil and Mezzaluna Cookbook (all for sale in the restaurant)
They come back for the delicious salads like the Insalata Mezzaluna, a salad of arugula, radicchio, celery, mushrooms, baby raw artichokes, or the Tropicale, frisee, avocado, hearts of palm and shaved parmigiano; and the traditional carpaccios featuring thinly sliced raw meats and fish all lightly seared. They come for the pastas, such as the Penne Bizanzio, tomato sauce and basil mixed with cubes of mozzarella which has been on the menu since day one along with the Scuie Scuie, homemade black linguine with shrimp and a spicy tomato sauce, or the ravioli which change daily, oh and that rich lasagna, better than mamma could ever make! They come for the sixteen varieties of pizza using only Italian flour, San Marzano tomatoes and Italian mozzarella all cooked in the wood burning oven. The oven is where the special fish of the day is cooked to order, served as it would be in a great trattoria anywhere in Italy. Well, Mezzaluna is a great trattoria and pizzeria rolled into one.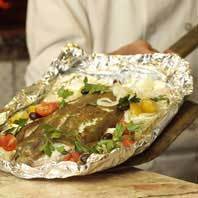 Oven roasted fresh fish of the day
Mezzaluna is where ladies lunch and come back for dinner with their families in tow. It is where the waiters call the clients by their first names because they have been working there forever and know everyone who comes to eat. The three G's, Gianni, Gian Carlo and Giulio, (the managers), Carlos, Nicky and chef-co-owner Paolo Casagranda among the others are who we have all come to know as our family at Mezzaluna. Don't be shy, come by for a plate of pasta and a glass of one of the terrific wines offered by the glass or bottle and, if you dare, the best tiramisu in the city. I think you will be back again and again to your new home away from home, just like the rest of us.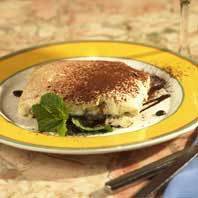 Tiramisu (don't leave without tasting it!)
Mezzaluna (Open 7 days a week for lunch and dinner and delivers!)
1295 Third Avenue (Between 74th and 75th Street)
New York, NY
Tel: 212 535-9600
Photo assistance by Ann Lawlor
SUBSCRIBE TO & FOLLOW THE MORNING EMAIL
The Morning Email helps you start your workday with everything you need to know: breaking news, entertainment and a dash of fun. Learn more