There is a hot and sexy young star in Hollywood. The fourth generation of the famed Venetian Cipriani family, the handsome, well dressed sons of Giuseppe, Ignazio and his younger brother, Maggio, have a new brand, Mr C. The first of their ventures officially opened on June 1st in Los Angeles in what was the Beverly Crest Hotel on Pico and Beverwill. Pico you say? Yes. Convenient to 20th Century Fox Studios and the offices of famed Hollywood agents William Morris/Endeavor and CAA in Century City, this will no doubt become their new commissary once the restaurant opens next Wednesday.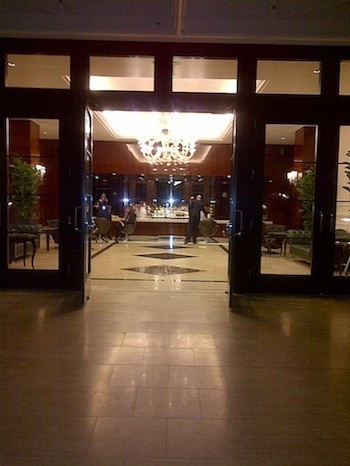 Welcome to Mr C
The rooms are luxurious and spacious. Leather sofas, wood floors, Italian sheets, marble bathrooms with thick plush white towels, terraces overlooking the hills of Beverly or if you face South, all the way to the ocean and beyond. All reasonably priced.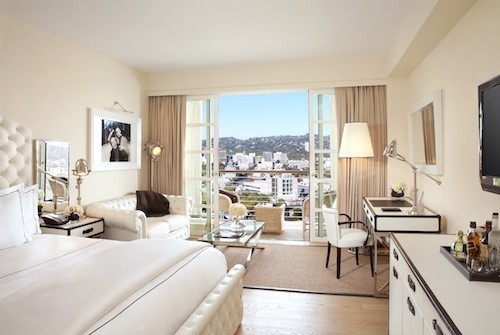 Normal bedroom at Mr C (not bad!)
Upon entering the hotel you walk under the gorgeous Venetian Chandelier and bump right into the long beautiful bar where you can have your welcome peach bellini and if hungry one of the traditional Venetian bar snacks while you are being checked in. I imagine that this bar and the lobby lounge will become a destination spot for many sweet young things and those that may covet them. That should make for excellent people watching! The restaurant will have Cipriani classics as well a section for all things grilled and a pizza menu. Oh, and just wait for the pool to open. It should be quite the scene.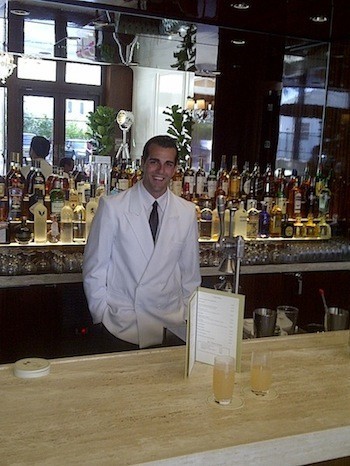 Peach Bellinis at the bar
The hotel has a great vibe and I look forward to returning.
(I will of course write again once they have had a chance to get their sea legs. So stay tuned.)
Mr C
1224 Beverlywill Drive
Los Angeles, California
Tel: 310 277-2800
Follow Mara Gibbs on Twitter: www.twitter.com/Chewru