This past weekend, Virgin Mobile's FreeFest took over Maryland's legendary Merriweather Post Pavilion. The annual outdoor concert is held in conjunction with the RE*Generation initiative to benefit charities that fight youth homelessness in America. Remarkably, it is free to the public, with an initial batch of tickets distributed online and the rest made available to those who volunteer at local shelters or at the show itself. In past years, the event has succeeded in raising over $300,000 for the cause and logging over 55,000 hours of volunteer work. On Saturday, fans flocked to see this year's bill, which boasted a range of sought-after acts from Cut Copy to Cee Lo, Big Sean to TV On The Radio, and DeadMau5 to Patti Smith.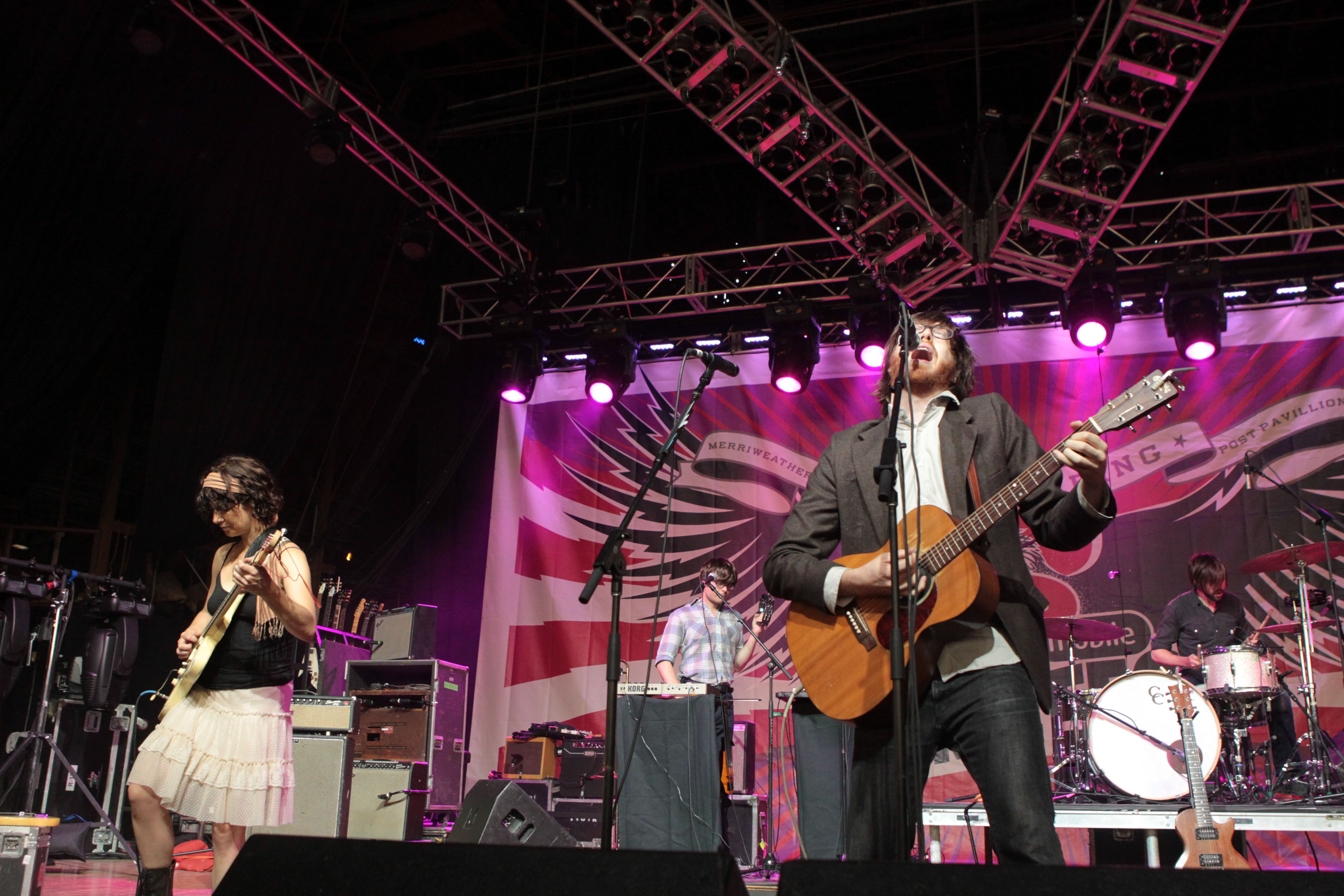 Okkervil River belt it out for a growing crowd
The festival organizers make the most of the space, expanding the venue's capacity greatly by spreading out into every corner of the grounds. By midday the area was already filling up with people anxious to begin the day's festivities. One of the main stage's first bands was indie stalwarts Okkervil River, who delivered a rollicking set of songwriter Will Sheff's literate, folkish anthems. After this rousing performance, I made my way across a landscape dotted with concession stands and sideshow attractions -- a Ferris wheel, a skateboard mini ramp, a duo of acrobats on a trampoline -- to a second stage, set up in the pavilion's vast parking lot. Here Australian electro-pop outfit Cut Copy had the crowd pulsing to hits from this year's excellent album Zonoscope. As the afternoon wore on, I ventured to yet another stage, dubbed the "Dance Forest", which hosted the day's most kinetic acts, including a rip-roaring set of funky dance punk from the ineffably named !!! -- complete with some unhinged choreography from singer Nic Offer -- followed by a masterly DJ set from LCD Soundsystem's James Murphy. By this point evening was falling and the event was at full tilt, so I circled back to the main stage for two of the day's most anticipated acts. First indie-rock superstars TV On The Radio hit the stage, blasting through their memorable catalog, a good many in the crowd shouting every word along with frontman Tunde Adebimpe. Finally, the Black Keys took over with their signature fuzzy blues-rock sound that alternated between sinister and sweet, but captivated all the while. As they closed their set, I joined the first wave toward the exit, but not without leaving behind plenty of fans at the other stages, committed to seeing the night out till the bitter end.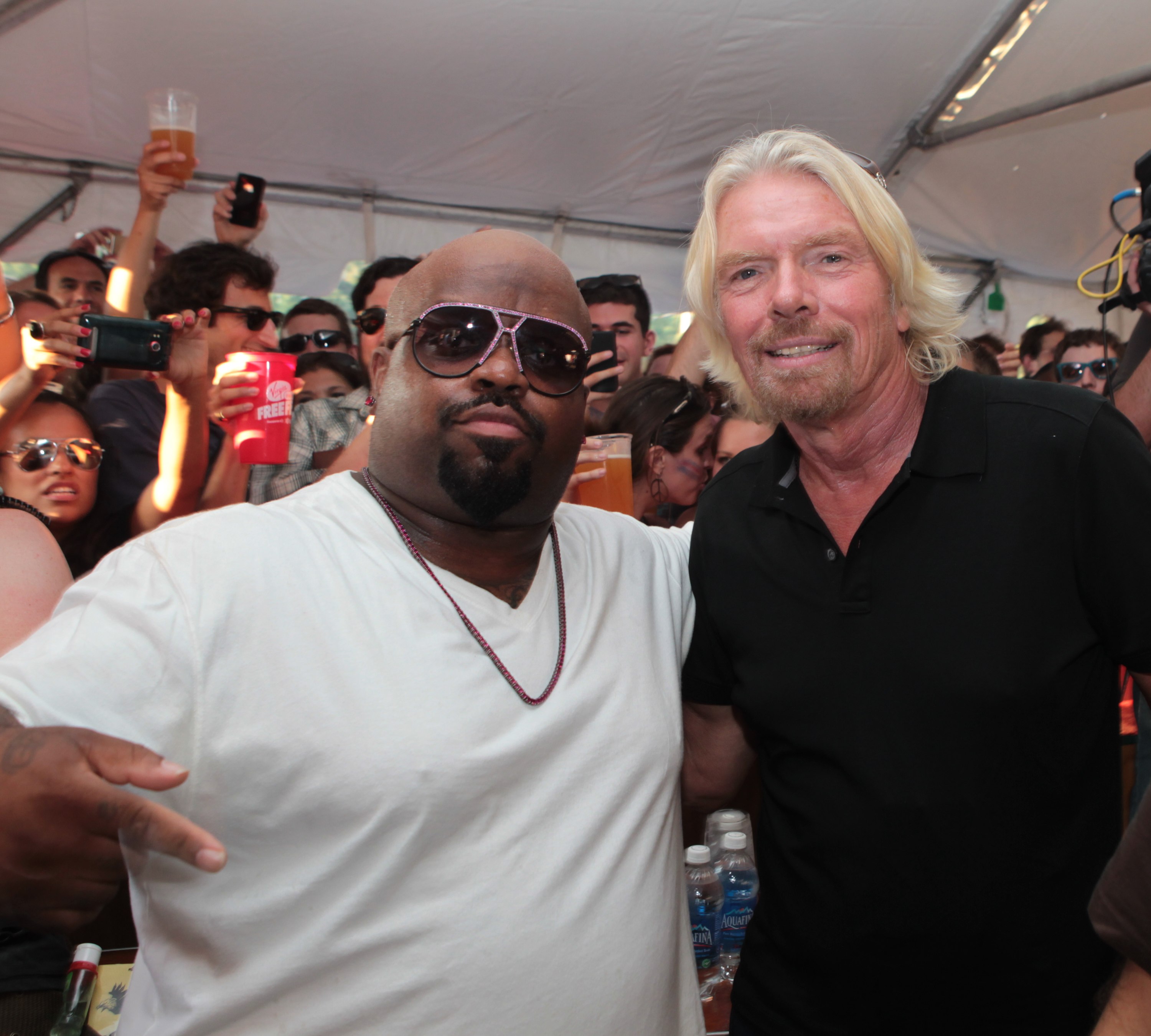 Cee Lo Green and Richard Branson guest bar-tend for charity
Amid the day's frenzied activity, I sat down with Virgin Group founder and chairman Richard Branson to discuss the motivation behind the festival, the cause it stands for, and his involvement with the event.
You are a man with a lot of irons in the fire, and a very busy schedule. Why is it important that you take the time to show up at this event in person?
Well all over the world there are different Virgin enterprises, and people working enormously hard to make them a success. With this particular one, for the last four days, this place has been like a river, it looked absolutely impossible that we were going to have a festival. People have worked enormously hard to make it happen, so it's important for the sake of the staff to come and say thank you. On top of that, I come to represent the cause of fighting youth homelessness in America. And, it's fun!
With so many charities to choose from, how did you decide on youth homelessness?
Well, as you say, there are a lot of causes in the world, and the majority of my time is spent working on not-for-profit causes -- I just came from Jamaica yesterday where we launched an entrepreneurship college, to try to encourage entrepreneurship there, and I'm going to New York after this as part of the Global Commission on Drug Policy to urge governments to treat drugs as a health problem and not a criminal problem. Anyway, we have young companies in America like Virgin Mobile, and they were actually the ones who opened my eyes to the fact that there are a couple million kids living on the streets in this country. I've since spent quite a lot of time at some of the centers, and met the kids for myself, and generally speaking it's through no fault of their own they're on the streets, it's disjointed families and other reasons out of their control. We can make an impact because a small amount of money goes a long way -- if you can open a center in an area you can give people a roof over their heads, give some kids some dignity and a chance to stand on their own two feet.
What is the extent of Virgin Mobile's involvement with the cause?
There are individuals at Virgin Mobile from the top down, who've literally gone and spent a week on the streets to try and live and breath it, to understand it, and I think all the staff throughout are committed to it. I'm writing a book at the moment, it's called Screw Business As Usual. Basically it's to try and encourage all businesses to champion causes, because you can't rely on governments to do it, and to show how highly motivating it is for all the staff and the customers if you do that, so to try to argue that it actually makes business sense to do it. Businesses are not just moneymaking machines, they should make a difference in society. A lot of businesses are moving that way, but if we could actually get all businesses doing it on a global basis, I think a lot of the problems in the world could get addressed quite quickly. I've been a business leader since I was fifteen, and forty-five years on I'm still doing it, and maybe in twenty years time I'll still be doing it, whereas politicians are only there for maybe four years in a particular job, so I think business leaders can take more responsibility.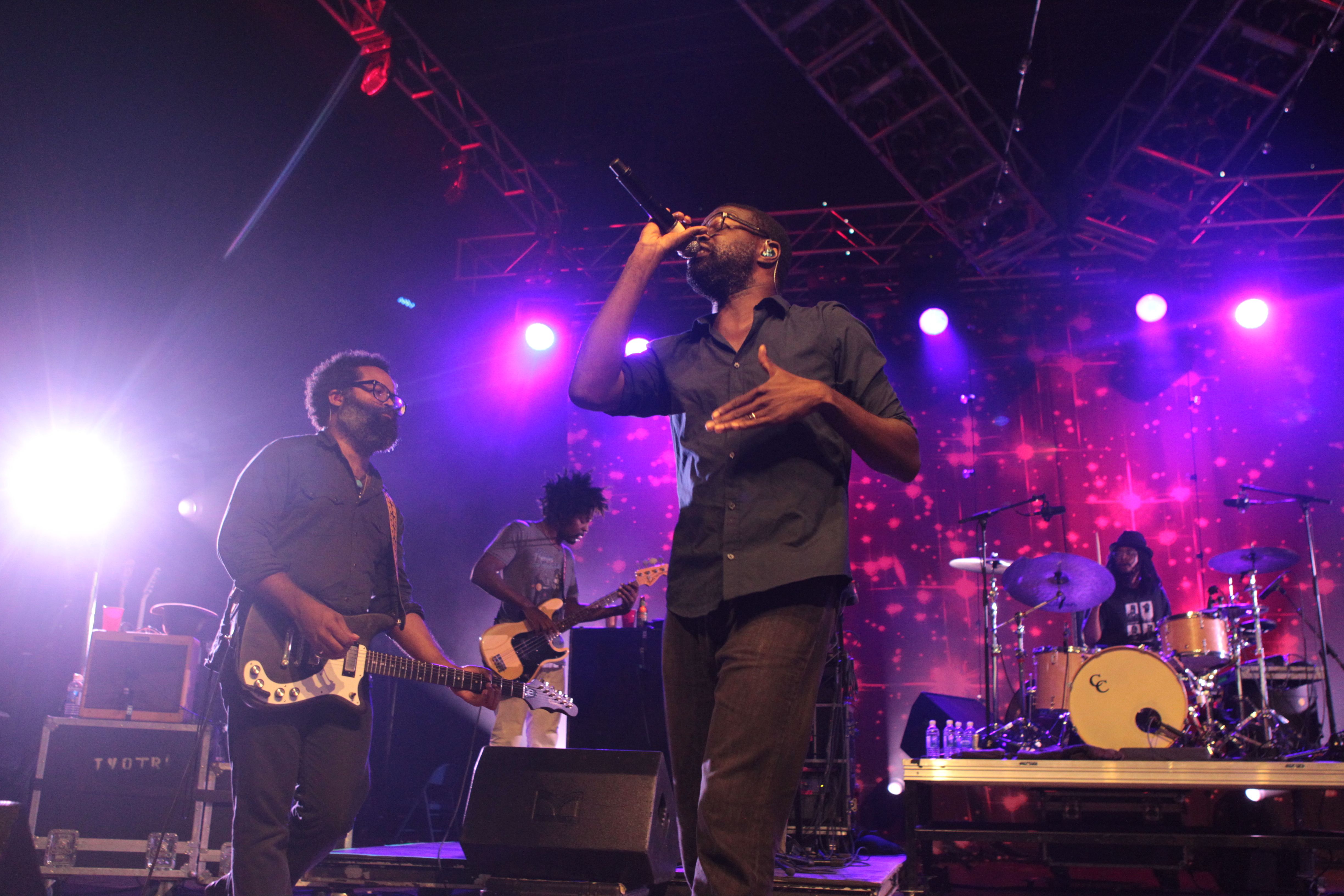 TV On The Radio bring the house down
How do you envision the festival progressing in the years to come?
Well we introduced the FreeFest three years ago, because of the recession, and there are still a lot of people out of work, so we've kept it as a free festival. I would love to keep it that way indefinitely, it's so popular with everyone who comes. The bands are willing to play for a little less, and because it's free there's no problem filling it up, so we don't have to advertise -- it's really not as stupid a business decision as one might think. We get sponsors, like Kyocera for instance, because it's got that feel-good factor. It raises a lot of money for good causes as well, because people donate, especially since they haven't had to pay for a ticket. So hopefully we can keep it free in the future.
The festival always manages to book bands of the moment. With all of your projects how do you keep up with current trends in music?
Well I ran quite a big independent record label for many years, and lived and breathed music, I was out every night discovering new bands. It was tremendously exciting, we signed everyone from the Sex Pistols to the Rolling Stones, it was great fun. But to be honest, I think I have lost touch, it's strange to be doing interviews where I'm terrified that I'm going to be asked questions about the bands! Fortunately we've got great people in charge, who are very much in touch, and coming to these festivals educates me a bit. The Grace that I used to know was Grace Jones, but it's lovely to see a new Grace [of Grace Potter and the Nocturnals] that I think could become a great superstar. I was just watching her on stage, she's a beautiful girl, delightful personality, great records. One of the many reasons it's good to be here!
SUBSCRIBE TO & FOLLOW THE MORNING EMAIL
Get top stories and blog posts emailed to me each day. Newsletters may offer personalized content or advertisements. Learn more