It's dark. It's unsettling. And it's one of the finest operas of the post-war period. Benjamin Britten's 1954 The Turn of the Screw perfectly captured the ambiguous sexuality and perverse supernaturalism of Henry James' 1898 novel, pitting an innocent governess against the uncertain subconscious of a pre-pubescent boy.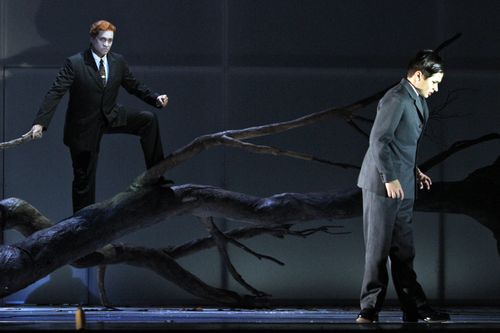 Many in L.A. thought The Turn of the Screw was a curious choice to cap off an opera season--which usually ends with something big and Italian instead of small and psychological. But the sheer brilliance of this production, closely following the triumphant Turk in Italy, will leave fans remembering 2010-2011 as a reduced-in-scope, but superb adventure for L.A. Opera.
After the financial problems engendered by last year's ambitious Ring cycle and other out-sized productions, LAO may have learned that yes, "small can be better."
An innocent governess arrives in a remote mansion to take care of two pre-pubescent children, Miles and Flora. The children's guardian is off on business, and leaves strict instructions not to be disturbed. At first the little darlings seem entirely angelic. But soon the governess learns that Miles has been expelled from school for reasons which have never been made clear. She begins seeing the ghosts of the deceased valet, Peter Quint, and the equally deceased former governess, Miss Jessel--both of whom likely molested the children. Do the children see the ghosts? Do the ghosts still have a grip of their imaginations? Or do the ghosts exist only in the present governess's fevered mind? And by the way, what are her feelings for Miles?
By hinting at much--obsession, horror, the destruction of childhood--but revealing almost nothing of what has actually occurred to the children or what is in their minds, James created a canvas on which the audience can project all its own fears and shadows.
The score, a masterwork by mid-20th century composer Benjamin Britten, equally teases and torments, hinting at "the drowning of the ritual of innocence," and near-pagan rituals among the children. Audiences squirm during exquisite ambiguities like the "Malo" sung by Miles, who may or may not be delighting in his own naughtiness.
Even those who do not normally enjoy Britten or 12-tone dissonance will find the atonal melody line well-suited to the grim tale. This opera works musically because a tonal, even melodious orchestra moves dramatically beneath the spare, atonal vocal overlay. It's especially spooky that only the spooks and children get to sing with classic tonality.
Production designers Jonathan Kent and Paul Brown brilliantly take up where James and Britten left off, bringing the setting from Victorian England to a kind of postmodern 1950s. The sets, imported from Glyndebourne opera, are chillingly spare: A huge set of French doors cants and spins on a hoist above the stage, gigantic dead branches descend and ascend, and a merry-go-round of furniture and gravesites appear and disappear. Director Francesca Gilpin keeps the mood exactly right--taking us right to the edge of the abyss without throwing us into it (as does happen in some productions).
The star of opening night should have been internationally-known soprano Patricia Racette, who turned in a dynamic musical performance, and did a good job conveying the innocence of the Governess, if not her ambiguous menace.
But Racette was nearly overshadowed by 12-year-old Michael Kepler Meo, a boy soprano who proved riveting both as an actor and a singer--perfectly capturing the sometimes-fearful, sometimes-strutting Miles in all his ambiguity and purity of tone. Remember that name: Meo already has a considerable career underway.
Tenor William Burden created a totally-creepy, but completely fascinating Peter Quint. His seduction arias, in which he paints himself as everything mysterious and wild in the boy's imagination, were stunning in their execution. You wanted to applaud if it had not been entirely inappropriate to applaud.
Soprano Tamara Wilson, emerging from her drowning (or does she?) in the lake, was equally effective as Miss Jessel--a haunted and haunting ghost you definitely would not want appearing suddenly in the bed beside your little girl. Top-notch performances were turned in by Ashley Emerson as the not-so-innnocent Flora and Ann Murray as the obtuse (and perverse?) housekeeper, Mrs. Grose.
On opening night, the L.A. Opera orchestra was in top form, with company Music Director James Conlon maintaining the tense drama of the sound without a hint of melodrama. Magnificent.
This review originally appeared in the Los Angeles Downtown News. "The Turn of the Screw" continues through March 30. Ticket information at www.laopera.com. More opera and theatre reviews from Marc Porter Zasada can be seen at www.laopeningnights.com.
SUBSCRIBE TO & FOLLOW THE MORNING EMAIL
Start your workday the right way with the news that matters most. Learn more