A brilliant new production of Eugene Ionesco's The Chairs, now at A Noise Within Theater in Glendale, reminds us that genuine classics do not lose, but acquire meaning over time. Given the illusions we now imbibe on a daily basis -- VR, reality TV, social media friendships, action heroes playing politicians -- a solid "Theatre of the Absurd" tale from the 1950s seems less absurd every day.
Surely you can learn more from something that didn't make sense in 1952 than anything from Hollywood that pretends to make sense in 2011.
The Chairs works best on the unprepared. If you don't already know the plot from some tedious college course, I won't give it away here. Okay, just the set up: an old man and an old woman sit in a decaying house above a stagnant lake. They reminisce (or perhaps not) and attempt quite unsuccessfully to tell the story of their lives before setting up chairs to host an evening of oratory for a variety of guests. The old man has some kind of message to deliver to the world, and since the play occurs fifty-odd years before the invention of the blog, he has hired an orator to deliver it. The play is a meditation on the fearful power of illusion, on the terrors of human irresponsibility -- and trust me, We Who Are Obsessed With the Plots of Our Own Lives need to see it, along with We Who Need an Audience to Validate Our Existence and We Who Are Encouraged to Construct Heroic Tales About Ourselves Every Ten Minutes.
In short, all citizens of the City of Dreams should go and have our personal delusions slapped around.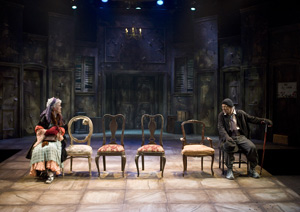 I have to say that A Noise Within, the classical theater built on Shakespeare and Molière, has recently shown the most creativity and passion staging more modern works -- including over the last few years, superb productions of Playboy of the Western World, Waiting for Godot, Night of the Iguana, and The Rainmaker.
The often strangely withdrawn onstage persona of ANW co-founder Geoff Elliott is perfectly suited for the role of the old man, riven by a magnificent mix of insecurity and pomposity, an old man who "might have been a general," but has instead become "General Factotum."
Deborah Strang plays the magnificently co-dependent old woman with a fierce dedication. Here's an old woman utterly wedded to illusion with a passion that has carried her through a lifetime of nonsense and repetition. The old man calls her Semiramis, after the legendary Assyrian queen who fooled everyone by impersonating her own son -- most apt.
As others have noted, Elliott and Strang have played off each other in various roles for some 20 years -- and that easy onstage chemistry shows. It is a kind of music, when players actually play off each other like this... instead of mugging for an audience, as so often happens in L.A. theater.
Director Julia Rodriguez-Elliott has made the wise decision to create as much humanity as possible in what might otherwise be cartoon characters -- evading a common failing in "Theatre of the Absurd" productions. She and the actors get us to really sympathize with the old man and the old woman, who may not, after all, quite exist. (Note that despite an error in the playbill, she is the sole director -- not that husband Geoff doesn't help create the necessary illusions.)
The production design by Stephen Gifford, as pleasantly dark as an Edward Gorey sketch, perfectly captures the balance of misery and comedy which makes all Ionesco work.
As for the "many other characters" listed in the playbill, well, they too are wonderful -- and the climax of the play, one of the most interesting in modern theater, delivers an exquisite, and beautifully comic-tragic level of nonsense.
This is the last production to be staged in ANW's current home in Glendale -- the creaky, drafty, and perhaps ghost-ridden old Masonic Lodge audiences have either loved or tolerated as they climbed heavily up to the third floor auditorium. Next season, ANW moves to a fancy new $13 million home in Pasadena, where one hopes the City Fathers will be more appreciative... and the ghosts will follow.
Meanwhile, do not miss this superb theatrical experience.
(Special Note: ANW will be staging readings of two more Ionesco one-act plays, The Lesson and The Bald Soprano on Wednesday night, May 18, at 7:30 p.m. Admission is free.)
Remaining performances of The Chairs:
Thursday, April 28, 8pm
Friday, April 29, 8pm
Saturday, April 30, 2pm
Saturday, April 30, 8pm
Wednesday, May 11, 8pm
Thursday, May 12, 8pm
Friday, May 13, 8pm
Sunday, May 15, 2pm
Sunday, May 15, 7pm
Thursday, May 19, 8pm
Friday, May 20, 8pm
Saturday, May 21, 2pm
Saturday, May 21, 8pm
WHERE:
A Noise Within
234 South Brand Blvd.
Glendale, CA 91204
TICKET PRICES:
$46 (Friday and Saturday evenings, Sunday matinees)
$42 (Wednesday, Thursday and Sunday evenings, Saturday matinees)
Group rates and special rates for school groups available
SUBSCRIBE TO & FOLLOW THE MORNING EMAIL
The Morning Email helps you start your workday with everything you need to know: breaking news, entertainment and a dash of fun. Learn more