It is a very sad and emotional time for South Africans and those outside South Africa who spent many years supporting the anti-apartheid struggle, the negotiations process and the establishment of the first non-racial democratic government. I spent more than a decade of my life on this process, working with Mandela, the Mass Democratic Movement and the ANC who led the new government. There is a history here which I think most Canadians are unaware of, where Canada played a very important role, punching well above its weight in the international arena, and where there was a very close alignment at all levels between the Canadian Department of Foreign Affairs, the Canadian International Development Agency (CIDA) and the International Development Research Centre (IDRC). Many extraordinary Canadians were part of this process, and it revealed what Canada can do when it focuses on a clear goal and mobilizes all the policy and development levers at its disposal.
I began working on South Africa while at the IDRC in 1987. At that time, the President of IDRC, Ivan Head obtained approval from the IDRC Board to allow IDRC to explore working with the anti-apartheid movement. This permitted us to start supporting a range of processes bringing the exiled ANC members and the internal Mass Democratic Movement together to develop plans for transition. The Department of Foreign Affairs was keen to use IDRC to engage directly with the ANC, as it did not want to be seen as officially working with the ANC, which was not the only player in the anti-apartheid movement. While our early work was successful, it did result in my being banned by the apartheid government from entering into South Africa.
This changed only when Nelson Mandela was released from prison in February 1990. The then Canadian Prime Minister Brian Mulroney began holding discussions with Nelson Mandela and offered Canadian assistance to help the ANC develop an economic policy and research capacity. At the request of the then new President of IDRC Keith Bezanson, I assembled a team of leading international economists led by Professor Gerry Helleiner from the University of Toronto who teamed up with South African economists linked to the ANC and its political allies. We met with Nelson Mandela on July 19th, 1991 and I got to see firsthand how Mandela was able to step outside his own constituency and see a bigger picture. In this case, Mandela had his own vision on economic policy, he favored addressing the inequalities created by apartheid, but felt South Africa must attract foreign investment and was not in favor of nationalization of key economic sectors of the South African economy, a policy position held at the time by the leadership of the ANC. The mission report which was published with a forward from Nelson Mandela had an impact on economic thinking in a critical movement in South Africa's history; it was followed up by many investments by Canada in building economic policy and research capacity.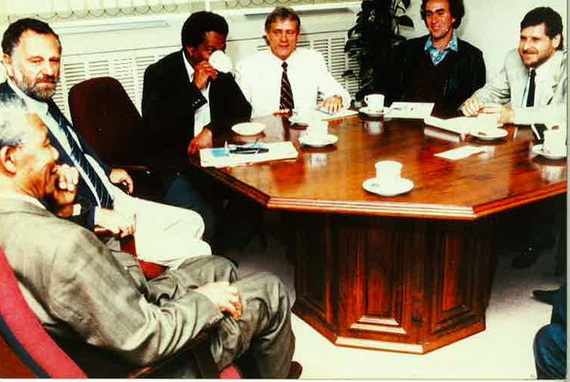 Photo : Mandela Meeting at ANC Offices with IDRC Economic Policy Mission 1991
In parallel to this work, IDRC began supporting the ANC and the Mass Democratic Movement in negotiations which were taking place at the local and national levels. We had teams of experts from Canada and South Africa supporting these negotiations, from local government restructuring to back-stopping the multiparty negotiating forum called CODESA. While there was considerable violence on the streets, it was an exciting time as everyone could see change was afoot. The pressure at that time was considerable; we could not produce the research reports fast enough. Whatever was produced was used immediately in negotiations.
In early 1992 I had moved to South Africa to set up a major program for IDRC and CIDA to support the transition process. I remember meeting Mandela at his home with Keith Bezanson in Soweto in April 1992 where he was very appreciative of Canada's assistance and felt that we brought a unique approach that was critical during this sensitive period in South Africa's history. However, he did not at that time look very relaxed and we could sense tension between him and Winnie Mandela who was also present. It was announced a few days later that they were separating. At the same time, violence was escalating; much of it perpetrated by the apartheid government and its security apparatus. It reached a peak almost a year later when Chris Hani, the popular head of the South Africa Communist Party, was assassinated by white extremists hoping to ignite a race war. It is important to remember that South Africa came very close to civil war and that Mandela's leadership skills were tested most during this period.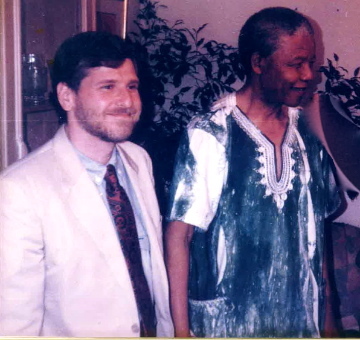 Photo: Meeting Mandela at his home in Soweto, 1992
During this same period, IDRC delivered the CIDA funded Program on Governance led by Al Johnson, former President of the CBC and longtime senior public servant. This was a wide-ranging effort from advising on the constitutional process; to training the top three levels of the future ANC-led government. It also led to twinning provincial administrations in South Africa with those in Canada. Al Johnson brought unique practitioners knowledge to this program, which trained hundreds of South Africa officials. I still to this day run into South Africans whom were part of this Program, they found this extremely helpful as they took on new responsibilities.
In 1993, we were then asked by the ANC to help restructure the science and technology infrastructure that had been used by the government to support its military and security apparatus and to bolster apartheid. One of the institutions was the South Africa Atomic Energy Corporation, which had only just agreed to dismantle the nuclear weapons that it had produced. We brought together a high level team of experts from outside South Africa whom we combined with experts from within the country that were part of the ANC political alliance. The team was led by former IDRC Vice President Jim Mullin, and this process culminated in the first real negotiation on restructuring the science and technology system. When we went to Nelson Mandela's home to discuss the report, he took away the message on the need for reform but also on the importance of sustaining investments in science and technology. I will always remember when the meeting was over and I was leaving his home, looking out my rearview mirror as I left his driveway and seeing him alone waving goodbye, as if I were a family member.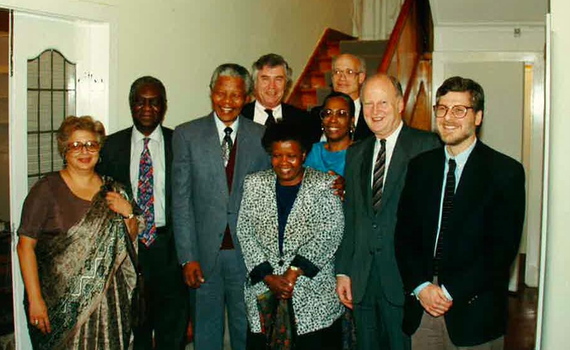 Photo: Mandela meeting at his home with IDRC Science and Technology Mission 1993
A similar exercise was requested by the ANC and its partners to review its environmental policy; in this case a former IDRC Vice President Anne Whyte led the team. When we presented the report to Nelson Mandela who was then President of South Africa, he committed to address environmental sustainability in the reconstruction and development plans for the new government.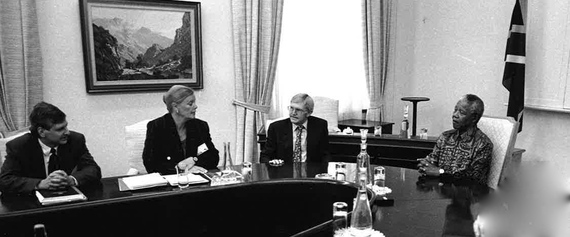 Photo: Mandela meeting in his Cape Town Office with IDRC Environment Mission, 1995
After elections in 1994, IDRC and CIDA provided wide-ranging support in restructuring the apartheid administrative structure. This included everything from helping draft the Constitution to preparing Government Green Papers, White Papers and Cabinet documents for a range of Government Departments. We became intimately involved in the reconstruction efforts and provided support to the new Ministers as they found it difficult to navigate the apartheid bureaucracy that they had inherited.
One of the most unusual meetings I had with Nelson Mandela was when the former IDRC Chair and Canadian Minister for Foreign Affairs Flora MacDonald visited South Africa in 1995. During our conversation, Mandela without any briefing notes proceeded to offer an analysis of Canadian politics, and then given Flora's background, the Conservative Party's impressive record on South Africa, beginning with Prime Minister Diefenbaker staring down South Africa and preventing it from rejoining the Commonwealth in 1961, to the records of former Prime Minister's Joe Clark and Brian Mulroney. I remember being amazed at his very precise knowledge of Canadian politics and our contribution to South Africa.
With IDRC and CIDA investments, we had assembled in Johannesburg a significant team of people, including many leading experts that played an important role. Mandela was always a big fan of our work. When interest in the Canadian government began to diminish in South Africa, IDRC decided to close its office in South Africa, it was Nelson Mandela who phoned the then Prime Minister Jean Chretien to tell him this was a mistake.
I have continued to visit South Africa two or three times a year for much of the past decade. On one visit a few years ago, I joined Jay Naidoo (former head of the South African trade union movement and Cabinet Minister under Mandela) in visiting Nelson Mandela and Graca Machel at their home in Johannesburg. I was saddened to see how much he had aged and it was a reminder of the time had passed since his release from prison twenty years earlier. South Africa still has many challenges but the transition process was largely a success and it would not have happened without the leadership of Nelson Mandela. I feel that the efforts we collectively made to support him and the ANC did play an important role in this positive outcome. It is something for which Canadians should feel proud while we mourn the passing of this truly great leader.