Taking a Stand Against Anti-Gay Bullying (VIDEO)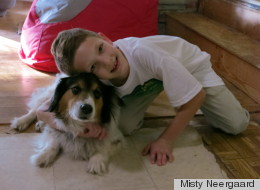 I am Marcel Neergaard, and I am 11 years old. This year I was homeschooled for sixth grade because of severe bullying. If I had gone back to public school, there is a great possibility that I would have taken my own life. That possibility would have grown if a certain bill introduced in my home state of Tennessee had passed into law. This bill was known as the "don't say gay" bill. Though that bill never became a law, Oak Ridge's own representative, John Ragan, introduced a new version of the Classroom Protection Act. It is the "don't say gay" bill, just more homophobic. While he crafted this horrifying bill, he received an award. I wrote a petition to take a stand against this.
During my first year in middle school, I experienced severe bullying. I was called terrible names that were quite hurtful. At that time, I had just realized that I'm gay, and the bullies used the word "gay" as an insult. This made me feel like being gay was horrible, but my parents told me otherwise. Their support was tremendous. But as powerful as their love was, it couldn't fight off all the bullying. I don't want anyone else to feel the way I did. No one deserves that much pain, no matter who they are. This was my reason for writing the petition.
John Ragan's Classroom Protection Act will do harm to LGBT students across the state. It promotes a system that does not educate students about gays, because no one but counselors, nurses and principals can talk about being gay. This also means that if a student were to talk to a teacher about being bullied because he or she is gay or possibly gay, the teacher would be required to say something like, "That subject is inappropriate for your age group." If the student managed to find an "appropriate" person, that counselor, nurse or principal would have to tell the student's parents that their child may be gay. What happens if the family is homophobic? Even if the family is supportive, every student deserves the right to come out to family members when he or she wants.
I am against a man receiving an award for trying to destroy all safe places for LGBT students. John Ragan is receiving his honor from StudentsFirst, whose actions are contrary to their name. My petition asks StudentsFirst to rescind the award to John Ragan as educational "Reformer of the Year" and to start supporting Tennessee's Dignity for All Students Act. They could also support federal anti-bullying legislation like the Safe Schools Improvement Act and the Student Non-Discrimanation Act. I know that Chris Sanders at the Tennessee Equality Project would be happy to work with StudentsFirst in creating effective anti-bullying laws.
WATCH:
For more info on the petition, click here. To see the "We Stand With Marcel" Facebook page, head here.
Need help? In the U.S., call 1-866-488-7386 for the Trevor Lifeline, or call 1-800-273-8255 for the National Suicide Prevention Lifeline.
Below, view a slideshow of 18 other amazing LGBT kids or allies who, like Marcel, are much braver than we were when we were their ages.
18 LGBT Kids And Allies Who Are Way Braver Than We Were At Their Ages
Jacob Rudolph, a high school student in New Jersey, comes out as LGBT during a school assembly in January.

Six-year-old Coy Mathis, a transgender girl whose Colorado school refused to let her use the girls' bathroom, has helped shed light on transgender youth issues and helped ignite a debate over anti-discrimination laws.

Leo Washington, a Hollywood Hills High School football captain, was inspired by NBA center Jason Collins to come out and tell his story.

Katy Butler, an openly lesbian Michigan teen, started a campaign to get the Motion Picture Association of America to change the R rating of the film "Bully" to PG-13 so that teens could view it.

Jazz, a 12-year-old transgender girl, makes a speech on behalf of trans youth at the GLAAD Media Awards in April.

In May, Ted Chalfen, a high school student at Fairview High School in Boulder, Colorado, publicly discussed being gay and thanked his class for its support during high school graduation speech.

Tony Zamazal, a Texas transgender teen, won the right to wear a dress and heels to prom in April.

Devon, a 19-year-old trans girl who was voted homecoming queen, speaks out on the Katie Couric show in February.

Analouisa Valencia, an out lesbian teen beauty queen ran for Miss South Carolina.

In May, 18-year-old Riley Roberts gave an impassioned speech before the Nevada Assembly about his two mothers and why gay marriage should be legal in the state.

When Calliope Wong, an applicant to Smith College, was rejected for being transgender, she spoke out and helped to get the school to begin discussions about reconsidering their admission policies.

Constance McMillen's prom was cancelled because her high school didn't want her to attend with her girlfriend. The Fulton, Miss., student stood up to the discrimination and received $35,000 from a discrimination settlement, filed by the ACLU and was also honored as the Grand Marshal of New York's Gay Pride parade in 2010.

In March, Matthew Lannon, a sixth grade student, gave a beautiful pro-gay marriage speech in front of the Rhode Island Senate judiciary committee.

Damian Garcia, a transgender student at Saint Pius High School in New Mexico, helped garner attention for transgender youth issues when his school refused to let him participate in his commencement ceremony in a male graduation gown.

Cody Tubman became a Middleborough, Mass. high school's first transgender prom queen.

Emma Delsohn, an out lesbian basketball player and songwriter who attends an all-girls Catholic high school in Southern California, encourages other lesbian, gay, bisexual and transgender (LGBT) youth to come out.

James Spencer, a transgender teen at Clarke High School in Canada, spoke out against his school when he was barred from using the men's restroom. On a brighter note, Spencer received support from his schoolmates.

Gay 11-year-old Marcel Neergaard started a MoveOn.org petition in hopes of seeing education organization StudentsFirst rescind an award they presented to Tennessee Rep. John Ragan as "reformer of the year." Neergaard, who spent 6th grade being home schooled after bullying became so intense at his former school that he contemplated suicide, did not think that StudentsFirst should honor the man who sponsored the anti-gay "Classroom Protection Act," which included an amendment requiring school officials to inform parents if they have reason to believe the child might be gay. After less than a week the petition received over 50,000 signatures and StudentsFirst not only took back Ragan's award, said they did not support the "Classroom Protection Act."