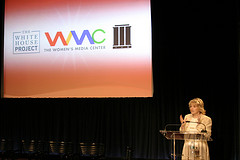 The Paley Center for Media in New York City was the location for a three-hour forum entitled "From Soundbites to Solutions: Bias Punditry and the Press in 2008 Election." Pat Mitchell, President and CEO of the institution that was formerly known as the Museum of Television and Radio, welcomed an audience of over 200 people to what she labeled as a "most important forum." Mitchell cited that the largest public archive of media was on the premises, and sardonically noted, "We don't have an archive of sexist soundbites from this year's election, but maybe we should."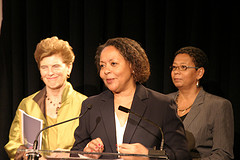 The moving forces behind the forum were The White House Project, The Women's Media Center, and The Maynard Institute for Journalism Education. The president of each organization gave a brief summary of their respective missions. To start the ball rolling, Carol Jenkins (WMC) spoke about their campaign "Sexism Sells - But We're Not Buying It," which allows visitors to register their complaints about the coverage of women. Jenkins voiced how "pundits" had become embedded into the election conversation, and suggested that it was time to "sort out the sound bites and get to the solutions." She said that the WMC would be issuing a report with "action items."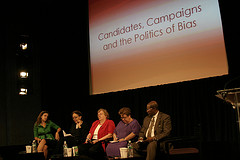 Pollster and political strategist for Democrats and progressives, Celinda Lake, gave insight based on facts. "We saw generation trumping gender," she said. "Obama never won women over 60 or lost women under 30." Class was a major divide, and voters felt the media had been hardest on age.
In concert with aghast listeners, Christiane Amanpour exclaimed, "I am almost hyperventilating listening to this." Reflecting on the fact that there are more women in parliaments in foreign countries, she said, "Thatcher never had these issues. The difference is quite large."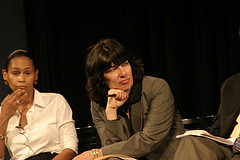 Pointing to female leadership in Israel, Pakistan, and Rwanda -- where half the cabinet is women, she said, "People out there are making massive strides with less bitterness." Amanpour also lamented the lack of accountability and standards in the American media, holding up the rules and industry regulations of the BBC as a contrast.