New York -- On Sunday, September 21, Women for Obama held a press conference on the steps of City Hall. Arriving early, after navigating the security point guarding the government edifice (referred to by one official as "the house of the people"), I had a chance to interview some of those who had been invited to attend.
In contrast to the narrative that has been promulgated about disgruntled Hillary supporters, the women I conversed with had moved on without trauma. Martha Baker, a consultant on work/family issues, was sporting a button that announced Hillary Supports Obama, So Do I. "He's our candidate," she told me. One of the forces behind the Women For Parity website, which began as "Hillary Voices," she referenced viewing "the campaigns through a women's issues prism."
Carol Greenman, a retired medical administrator and Hillary turned Obama advocate said, "I'm scared to death of another Republican administration." For her, the major questions were the future of the Supreme Court, and how life would be for her five grandchildren in a country that could be shaped by McCain-Palin ideology
Grandmothers, ranging in age from 62 - 77, were out in force. Worried about the path that faces the younger generation, members of Grandmothers Against the War and the Granny Peace Brigade were quite vocal about their apprehensions.
Diane Dreyfus, a retired architect and activist (Code Pink) since 2001, was wearing a "We Will Not Be Silent" shirt with Arabic, Hebrew, and English writing. Asked about Sarah Palin she shuddered, "She's frightening. If she can gut a moose in five seconds, imagine what she can do to health and welfare."
Actress Kathleen Turner, a featured spokesperson, related to me her commitment to the Obama candidacy. She pronounced her mission as, "Whatever I can do." Chair of the Planned Parenthood Federation of America Board of Advocates, Turner has testified before Congress on Title X (family planning program), and on the Equity of Prescription Insurance Contraception Coverage Act.
Behind those charged with addressing press and supporters, was a phalanx of women with a set of diverse signs...Nurses for Obama, Latinos for Obama, Put Children First, and Don't Vote Race -- Don't Vote Gender -- Vote Intelligence.
Letitia James, Councilwoman from Brooklyn, served as the emcee. "We will deliver New York State for Obama with a commanding mandate for change." She spoke about the necessity for an urban agenda, and taking the fight to the battleground states. Later she confided that the people in her districts were zeroed in on "meat and potato issues." She also voiced a concern about "special interests hijacking the government." Although her district gave a win to Obama in the primary, she had supported Hillary.
The first woman Puerto Rican member of Congress, Nydia M. Velázquez, (who has Brooklyn, Queens, and Lower Manhattan within her district) gave an impassioned speech. Velázquez serves on the House Financial Services Committee and is the Chairwoman on the House Committee on Small Business. It was therefore not surprising that she stressed, "We must rescue Main Street." She talked about women who work three and four jobs and have no health care. In response to McCain's claim that women don't need legislation to ensure "equal pay for equal work" but rather more education, she informed the crowd that in the United States "more women have advanced degrees than men." Pointing out that 10 million children in the nation "have no healthcare" she intoned, "This is the moment. The choice is clear. We stand for change." Delivering some of her comments in Spanish, she was answered with cries of, "Sí se puede."
Congresswoman Yvette Clarke, representing Brooklyn, showed why she won her seat with 89% of the vote in 2006. Delivering her comments with a deft comedic flair, she deadpanned, "Without our voices in the mix, people are going to wake up and think they were in the worst reality show produced in America." After the applause subsided she continued, "We want to spread the news to women. This is not about the flim-flam. We have powerful women in the Democratic Party that have been doing the work. Women are going to make the difference in this election. McCain is missing in action on women's issues. We're taking the country back. This country stands for working families."
Kathleen Turner then took the microphone to discuss her battle with rheumatoid arthritis, and to underscore how fortunate she is to be able to fight the disease with the doctors and medication she needs. She shared her distress "about the women who aren't covered by insurance" and are not able to access the resources they need. "This," she declared flatly, "is not acceptable."
On-site was Dawn Smalls, who before joining the Obama team had served as a regional political director for the Clinton campaign. When I asked her how she thought things were going in the post-Palin afterglow, her response was succinct. "Obama is going to be the best candidate. We will get that across."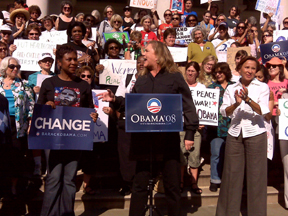 SUBSCRIBE TO & FOLLOW POLITICS
How will Trump's administration impact you? Learn more