Women over 60 have lived through six amazing decades. Throughout our lives, with a curious and adventurous nature, we have challenged the status quo and celebrated our independence and freedom. Many of us have had to build enormous emotional reserves to manage and survive difficult times. As I have seen time and time again in the Sixty and Me community, we are resourceful, resilient and tough minded, but also questioning, sensitive and often insecure. If you try to find a common denominator, you might identify a quality that can be best described as bohemian. For our 30-year old sons and daughters, it might be hard to see us as eclectic, bold and adventurous, but, trust me, we are! To understand our adventurous, bohemian nature, it is useful to reflect on the icons that shaped our generation. One icon in particular embodies our passion and verve -- the VW Bus!
Like the VW Bus, we are Enjoying Retirement but Still Full of Life
Like many women in their 60s, the VW Bus is enjoying "retirement." Despite, or perhaps because of, this fact, the VW Bus brings back vivid memories of how our lives were shaped in the 1960s. Understanding why the VW Bus is so significant sheds light on the story of the men and women of the Boomer Generation. It underscores their values of independence and freedom. It also represents my generation's insatiable desire to live life fully and with passion. We want everything to be controllable, substantive, individual, colorful and fun. It represents possibility in its most physical form -- the lure of the "open road" and the potential for self-discovery. It offers the possibility to take your home with you. It provides the ability to find and demonstrate who you are through the vehicle you drive.
To Boomers and VW Buses, Life is One Big Road Trip
The rear engine Volkswagen bus dates back 63 years to 1950, when the company pioneered the "minivan" category. You can even thank the VW Bus for the iPhone and iPad you have in your pocket. Legend has it, in 1975, Steve Jobs sold the one he owned to raise the $1,300 he and Steve Woziak needed to set up Apple Computer's first production line. The friendly VW Bus has been featured in countless cameo appearances in films and TV shows and is the stuff of legend, fantasy, sexuality, drugs, drink and rock and roll. The VW van is so deeply embedded in popular culture, that it will likely live on forever in the imagination of the Boomer generation.
It's the Journey that Counts, and we have the Memories to Prove it!
The VW Bus is magical; it has a charm that no other vehicle has ever achieved. Every memory of the VW Bus is also unique. Perhaps you remember being a child, scrunched in the back with your brother and sister, bouncing along on a cross country adventure. Or, you may remember your life as a hippie, riding in a paisley painted van, crammed with friends and hitch hikers on a cross country mecca to San Francisco. When you see a picture of a VW Bus, you can't help but want to share your story and your experiences. You want to recall the color and year of your vehicle, its name, where you went, where you stopped and what happened next. The VW Bus is a story and smile generating machine!
Everyone's VW Bus Story is Unique. What's Yours?
Last summer, I rented a converted VW Bus called "Ermintrude" for a weekend on the Isle of Wight. It looked fabulous with its lime green paint and red and white striped pop-up roof. It was so much fun! So, I asked the 39,000 members of Sixty and Me if I was the only one who fantasized about buying a second hand VW Bus and driving across Europe. Their replies were so fun and represented everything that I love about my generation!
Veronica R: I want one! I would be in my element. I would be so happy living off grid. Nothing could make me happier.
Randi C: I bought a Minnie Winnie and drove it all around the country putting 11,000 miles on it -- by myself. Got a little lonely at times but had some great adventures.
Judy H: My dream is to join up with other women and just spend my days driving as far as I want, stopping as long as I want, and painting all of it!
Sue B: The gypsy in me loves to pack up every 4-6 months and find somewhere new. The parent/gramma in me says stay put.
Toby S. For me, it's buying a small refurbished AirStream and exploring everything within driving distance (I mean everything!)
Glenys D: Nothing would make me happier.
Nancy H: On the top of my Bucket List.
Eileen D: I went trekking across the U.S. in my hippie van. It was a tremendous experience. After that, I felt as if I could do anything!
Ximena X: I did have adventures with my "beauty", a round trip from Argentina, down to Chile, Peru, Ecuador and Colombia!
Jacqueline G: Love love love road trips!
Connie C: Did Route 66 from Chicago to its end in Santa Monica. The most fabulous road ever!
Lin M: Drove the Rockies with my best friend (both in our 60's). Brilliant and would do it again.
Mary B: Yes I've done trips across deserts on silk routes in Western China and Uzbekistan, plus in Western Territory, Australia
Diane M: It's my dream!!
Millions of women (and men) younger than 60 crave the gypsy lifestyle. Unfortunately, most have other priorities and only a few have realized that life is short and the road waits for no one. If you are one of the lucky few young people who still find the time to hit the road, keep your eyes peeled for a lime-green VW Bus -- it may just be your grandmother.
Did you ever own or ride in a VW Bus? What was its name? What color was it? Where did you travel? What is your most powerful memory? Please add your comments below or in the Sixty and Me Forum for women over 60.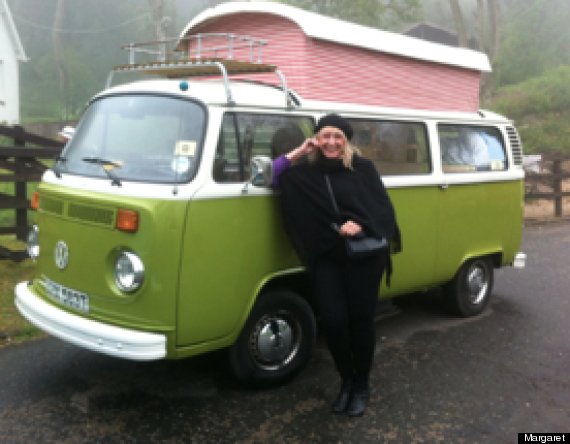 Earlier on Huff/Post50:
Late Blooming Celebrities
Doesn't it seem like Betty White has been around since David torpedoed Goliath with a slingshot? Our favorite golden girl is only 90 though. Even though Miss Betty White began her career in the 1940s on radio, and later appeared on late night talk shows and game shows (including Password) in the 50s and 60s, she wasn't a household name until, at the age of 51, she began playing "The Happy Homemaker" Sue Ann Nivens on The Mary Tyler Moore Show (1973-1977). She continued her rise to fame as the lovable, naïve Rose Nylund on The Golden Girls from 1985 to 1992. In 2010, at age 88, she became a superstar after her hilarious appearance in the Snickers Super Bowl commercial. What soon followed was a grassroots effort that got her a hosting gig on Saturday Night Live, giving her that final "cool" status. We love you, Betty White! May you live to be 150!

Heavy metal vocalist Ozzy Osbourne has been famous for over 40 years as lead singer of the English band Black Sabbath. His wife, Sharon, however, did not become a household name until their family reality show The Osbournes premiered on MTV in 2002. By then, just barely 50 years old, Sharon had become a media darling, which opened up many doors. She went on to become a judge on America's Got Talent and has been co-host of the CBS daytime show The Talk since it debuted October 2010. I caught up with Sharon in 2002 at a White House Correspondent's Dinner after party and asked how she liked being a newborn celebrity. "I love it," she said with a big smile, "but I just wish it had happened when I was younger."

Regis was comedian Joey Bishop's sidekick on the ABC television show The Joey Bishop Show from 1967 to 1969 and hosted his own local talk show -- A.M. Los Angeles -- from 1975 to 1983. But his name wasn't exactly on the tip of our collective tongues until he became a daytime staple with Kathie Lee Gifford in 1988 Live with Regis and Kathie Lee when he was 57. His vibrant, caustic, yet fun-loving personality pushed him over the top sometime after the show began to gain in popularity with daytime viewers. Hosting the night-time game show, Who Wants to be a Millionaire in 1999, catapulted him up to superstar status because of the show's initial popularity ("Is that your final answer?" became the catch phrase of the early aughts). Philbin left Live in 2011 because of contractual issues. But who knows where the 80-year-old entertainer might show up again? Why isn't he sitting next to David Letterman every night as his sidekick? Just sayin'...

Frances Bavier appeared in vaudeville, later transitioned to the Broadway stage and appeared in more than a dozen films. But it wasn't until she claimed the coveted role of everybody's favorite "Aunt Bee" on The Andy Griffith Show in 1960 that she became a household name at the tender age of 58. Bavier continued the role through 1970 and retired from acting in 1974, moving to North Carolina. She succumbed to heart disease and cancer on December 6, 1989. The actress was buried in Siler City, NC. Her headstone references her Mayberry name and reads: "To live in the hearts of those left behind is not to die." (Here is a rare interview that Carolina Camera Reporter Bill Ballard got with Francis Bavier after she retired to North Carolina.)

Abe Vigoda captured the role of Salvatore Tessio in the film The Godfather in 1972 at the age of 51. His next big role came in 1975 when he signed on to play Sgt. Phil Fish on the television series Barney Miller. Strangely enough, false reports of his death made him a household name. In 1982, People magazine referred to Vigoda as "the late" Abe Vigoda, even though he was performing in a stage play in Calgary. Being a great sport, he laughed off the error. Vigoda was "dead" again in 1987 when a reporter for a television station in New Jersey referred to him as "the late Abe Vigoda." She corrected her mistake the following day. As a result, there have been many running gags about his death including skits and appearances on Late Show with David Letterman, Late Night with Conan O'Brien, and even on The Today Show. Vigoda joined Betty White in the Super Bowl XLIV Snickers commercial in 2010, although he didn't get as much attention for his efforts. In case you're wondering, as we post this piece, the 91-year-old actor is still alive! ... Or, is he?

Can you imagine getting your big break at the age of 64? Even though this screen and television actor appeared in over 100 films, it wasn't until he played the feisty landlord Fred Mertz on the television sitcom I Love Lucy that he achieved his greatest fame. This motion picture veteran almost didn't get the part due to his rumored drinking problem. Although Lucille Ball was initially willing to hire him, Dezi Arnaz was less impressed and gave Frawley a stern warning that if he were late to work, arrived drunk or was unable to perform because of anything other than a legitimate reason, he would be written out of the show. That never happened, and Arnaz became one of Frawley's few close friends. Frawley died of a heart attack on March 3, 1966 at the age of 79. Here's Frawley in a cameo on The Lucy Show.

I know. This one is a real stretch, but let me make my case. Bergeron has hosted America's Funniest Home Videos since 2001 and Hollywood Squares from 1998 to 2004, but those TV shows were career builders. Now, he's what we might call an A-List celebrity, jumping up a couple of notches since the popularity of ABC's Dancing With the Stars. The hot host was 50 when DWTS premiered in 2005. He's charming, handsome, humorous and just oh so appealing. He's a keeper. Long live his career!

Maybe Mike Wallace was well-known in some hard-core news circles, and perhaps he was on a first-name basis with a few news junkies many moons ago, but it wasn't until he laid his groundwork as a superb gotcha reporter on 60 Minutes -- which he did from 1968 (after he turned 50) until 2008 -- that his star began to shine. Wallce was a force to be reckoned with, pushing him into the high-profile-household-name category. This affable news bulldog had a way with words. If Mike Wallace came calling, his subjects tended to want to run out the back door. This well-respected news journalist sadly passed away on April 7, 2012 at the age of 93.

Andy Rooney is another personality that seems to have been around since the beginning of time, and we're all glad to have been the recipients of his off-the-wall satirical takes on human nature, and occasionally educating us on used cars and what to do with annoying relatives. In 1978, at the age of 59, Rooney began his "A Few Minutes with Andy Rooney" segment on the CBS news show 60 Minutes, continuing through 2011. He made us laugh, he made us cry, he made us think. It doesn't get better than that. Rooney died on November 4, 2011 at the age of 92 only a few weeks after his last appearance on 60 Minutes.

Who doesn't love Morgan Freeman? This Academy Award winner (for Million Dollar Baby) paid his dues and then some. Freeman worked for several years as an actor, and then came into his own playing chauffeur Hoke Colburn in Driving Miss Daisy at the age of 52 (although he was 50 when he was nominated for Best Supporting Actor in the film Street Smart). His film career continued on the fast tract as he starred in many other films, including The Shawshank Redemption, Glory, Deep Impact, The Bucket List and March of the Penguins, resulting in a Lifetime Achievement Award in 2011 from the American Film Institute.

Uh, oh. Joy Behar does not like dwelling on her age so I'm not going to mention how old she is. Behar was 54 when she was cast as one of the original members of The View, which made its debut in August 1997. (There will be a math quiz later.) A few years before that, you could catch Behar doing hilarious stand-up comedy on television. She became a household name sometime after The View became a must-see, daytime television talk show.

This Jack Russel Terrier was in the movies Mr. Fix It and Water for Elephants, but he wasn't a household name until he appeared in the much heralded silent movie The Artist in 2011. The Uggster was nine when he starred in The Artist -- that's 52 years old in doggie years. What did he do before he got his big break in Hollywood? He was about to be sent to a dog pound, but was rescued by an animal trainer. Let's hope that Lassie, Rin Tin Tin, Toto and Benji don't get their noses out of joint looking for bones up in Heaven. I have no idea how old they were when they starred in their movies and television shows. Uggie has a good publicist.
Follow Margaret Manning on Twitter: www.twitter.com/sixtyandme