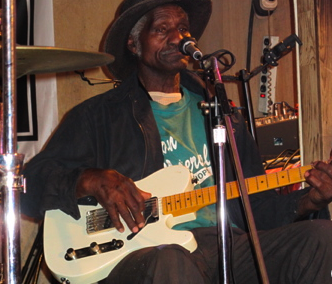 Henry Gipson of Gip's Place Juke Joint
Last week was the first time I'd ever been to Alabama, and while there, I experienced a couple of small tornadoes which pelted down hail and uprooted tall trees. But there was no comparison to the devastating tornado the other day in which 214 people so far have been reported dead. Alabama needs our help, but please don't just send a contribution. If you can, go this weekend to the second Annual Bob Sykes BBQ and Blues Festival at Debardelaben Park in downtown historic Bessemer. This all day (noon to 11pm) blues fest promises lip-smacking barbeque and eight great blues bands, playing everything from toe-tapping, hip-shaking romp-stomping blues to swinging and jumping blues. Best, proceeds will go to the Tornado Relief Fund. But don't let the fun end there. After the festival is over at 11pm, head on over to Gip's Place, a nearby juke joint -- if you can find it -- only open on Saturday nights. It's the main reason I went to Alabama last week.
The night I went there (after getting lost for a good 20 minutes until a guy in a pickup truck led me there), it was pouring rain. This ramshackle tin-roofed hole in the wall is located at the bottom of a small hill on Gip's scraggly lawn, which makes sense because juke joints are always found on the other side of the tracks in godforsaken places in the middle of nowhere. The reason for this was to keep out the sheriff and the white folks, because juke joints sprang up when slaves were prohibited from playing music. The local black musicians banded together and would meet after dark at a ramshackle hut or garage where they could play the blues that grew out of the nearby cotton fields. They called these places juke joints.
There are only a handful of juke joints left in America today, and one of the most authentic is Gip's Place in Bessemer. Hundreds of great musicians have played here, including Muddy Waters, Paul Butterfield, Sonny Boy Terry, and Bob Dylan. Gip's is no more than a shack in 89-year-old Henry Gipson's backyard in Bessemer, Alabama (just follow the detour signs all the way to 3101 Avenue C, and good luck finding it). Gipson, a blues singer and guitar player. grew up in Uniontown, Alabama and for 25 years worked at Bessemer's Pullman Standard Railcar Company. He then become a gravedigger, and ended up -- no joke -- buying the cemetery. Gip still digs graves during the day. But every Saturday night, the rickety shack in his backyard turns into a sizzling hot blues joint attracting everyone from visiting sidemen to local regulars to visitors like me.
When it rains, the hilly path leading down to the ramshackle hut is muddy. The place is no bigger than a two-car garage, you wonder where the hundreds and hundreds of people can fit (answer: they spill over outside in the yard). I entered and faced the stage, separated from the audience by an electrical foot-high "fence" of white Christmas tree lights. I wondered, was that to keep the musicians from falling or the audience from storming the stage? The audience looked to be around forty-ish plus, and they all sat on unmatched plastic chairs, beer coolers at their feet (here, you bring your own, although moonshine is available), tapping and stomping and clapping and hooting and jumping up to dance by the stage.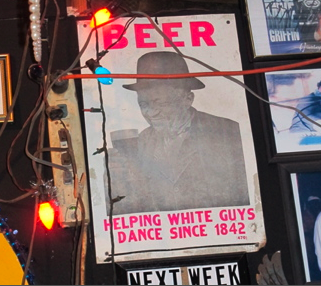 On every wall, including the area around the stage, were photographs of musicians and posters announcing gigs. There was a large neon sign, Gip's Place, and near it, an a poster that read, "BEER: helping white guys dance since 1842."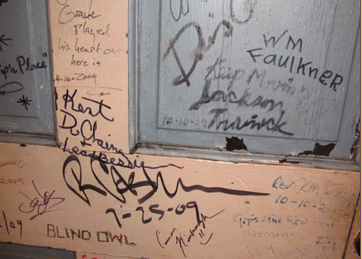 Faulkner's Signature at Gip's Place
The door leading the stage was covered with the signatures of the many musicians who've played there over the last 50 years its been open. I recognized Willy King and Bobby Rush, and was astounded to see another signature scrawled there, that of William Faulkner.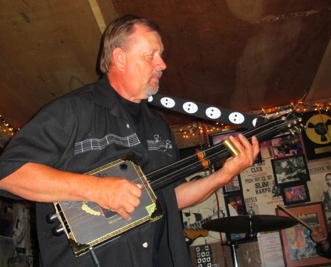 Lenny Madden on Cigar Box Guitar
On stage, lead blues guitarist Lenny Madden was playing his cigar box guitar as if possessed by the devil. Gip sat on a rickety chair in a stained turquoise sweatshirt, his head bobbing beneath a frayed wide-brimmed hat, playing acoustic guitar and wailing throaty blues into the mike.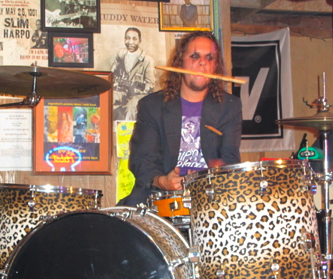 Drummer Shaun Isbell, whose eyes were highighted in eerie black make up reminded me of a combo between Alice Cooper and KISS, and he played on a drum kit outfitted in faux leopard skin. Most of the time, Isbell held one drumstick in his mouth like a dog holding a bone, and the other was tucked under his armpit as he tapped out the beat perfectly with his bare hands.
I pulled up a plastic chair and almost immediately a man approached with a Ball Mason canning jar filled with honey-colored home grown. "Welcome, y'all," he said and poured some into a tiny paper cup. It slid easily down my throat, nothing the way I imagined Moonshine would taste. The song ended. Lenny Madden put down his guitar and stood at the mike. "Welcome to Gip's," he said, "There's only two rules: "No cussing, and men don't leave your woman behind."
Some wise guy called out, "What if you came with two women?"
"Then you're responsible to get them both home," said Madden.
Later, I had a chance to talk to Lenny Madden, a plumber by the day, and one of the pillars who keeps Gip on track and helps decide on the bands. In the 90s, Gip's Place had only netting as a roof, so Lenny built a tin roof for Gip. Lenny also makes sure that Gip's Place stays exactly the way it's always been. "My idea is to preserve this music, not pickle it," Lenny said.
I felt pretty pickled myself by the end of the night, probably due to the endless rounds of Moonshine -- talk about southern hospitality! I was drenched in sweat from dancing, hoarse from hollering, my hands were red from clapping and I couldn't have been happier. When Lenny turned to me at the end of the night and said, "Y'all are welcome anytime, so Y'all come back." Believe me, I plan to!
When I heard about the Alabama tornado the other day, my first thought was about my new Bessemer friends. I phoned Lenny. Was he okay? Was Gip? Gip was fine, Lenny said. Lenny had lost the roof to his house, but everyone was fine. "And Gip's Place?" I was almost afraid to ask. Surely it had to be in pieces. "Gip's is fine," Lenny said. "Don't forget it's already a hole in the ground. It ain't goin' nowhere."
Thank God, I thought. "You comin' up this weekend for the Blues Festival?" Lenny asked. Unfortunately, I can't make it this weekend, but please go for me. And then head on over to Gip's Place and tell Lenny and Gip hello -- that is, if you can take the time to stop clapping, stomping, and screaming your lungs out as the blues seep into your soul and drive all thoughts of the tornado away.

SUBSCRIBE TO & FOLLOW LIFESTYLE
HuffPost Lifestyle is a daily newsletter that will make you happier and healthier — one email at a time. Learn more