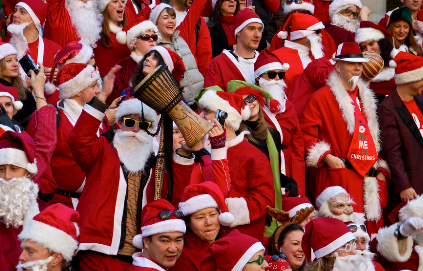 Unlike Santa Claus and Christmas, celebrated on December 25th, Jesus Christ's birthday, the day of St. Nicholas is celebrated two weeks leading up to and on his birthday. Sinterklass is celebrated on December 5th in such countries as the Netherlands, Suriname, Aruba, Curacao, Bonaire, and Indonesia. In Belgium, Sinterklass is celebrated on the morning of December 6th.
In the Netherlands, Sinterklaas arrives with his helper, Zwarte Piet (Black Pete), who helps disperse candy and presents to "good" children. Sinterklaas has a long white beard and dresses in his red mantle, mitre, and golden crosier. He carries a book listing all the good and bad children, delivering presents to only the good children.
Children from many countries could not pronounce Sinterklass, so it became "Santa Klass," and then, Santa Claus. Replacing Bishop Nicholas' cloak and jeweled gloves and hooked staff, were a red suit, black belt and boots. Today, in anticipation of St. Nicholas's nightly visits, children in several European countries put their shoes outside and leave a carrot or hay for St. Nick's horse. When they wake up in the morning, their gift to the horse is gone and their shoes have been filled with gifts and candy.


When I was a child, we left a carrot by the fireplace for Santa's reindeer, and milk and cookies for Santa. In the morning, the food and milk would be gone; Santa would leave a note as well as presents under the tree and a filled stocking by the mantel. I grew up; neither husband was big on Christmas and I'd outgrown it. Today, I still like to look at the department store Christmas windows (although this year, except for Bergdorf's and Barney's, they are pretty unspectacular). I always go to see the Rockefeller Tree, but my favorite is the snowflake on 57th Street. I buy some gifts, but I don't really think about Santa Claus; that is, I didn't until yesterday,
I was jogging on 59th St. and Park Avenue, headed towards Central Park when I suddenly was forced to dart around a large group of people all dressed as Santa Claus. I figured they were going to a costume party -- but by the time I arrived at Bethesda Fountain, it was so packed with Santas that I had to slow to a crawl. "What's going on?" I asked a Santa who was adjusting his white beard.
"SantaCon," he grinned.
Santacon, a mass gathering of Santas and assorted Christmas characters, I learned, doesn't just take place in New York City, but around the world -- in parks, in bars, on street corners. It's an event for people to dress up as Santa, sing, belt out ho-ho-ho, and spread goodwill. Santacon evolved in 1994 in San Francisco where the first "Santarchy" was held. Later, a group of free spirit San Franciscans known as the Cacophony Society turned Santarchy into SantaCon.
I worked my way through the mass Santas at Central Park's Mall and began to run again. A thin Santa caught up and ran next to me. "Hello!" he said, "How often do you run?"
"A few times a week," I responded.
"Yeah, I thought so. You need to, to keep your sanity, right?"
"Oh yes," I laughed. I pointed to his costume, "And I see how you keep yours."
Follow Margie Goldsmith on Twitter: www.twitter.com/margiegoldsmith