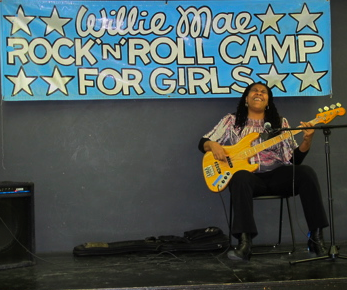 Felice Rosser Performing at Wilie Mae Rock Camp for Ladies.
Photo Courtesy of Margie Goldsmith
If you told me I'd be playing onstage with a band at The Cake Shop on the LES (Lower East Side of Manhattan), I'd say you'd lost it. But here I was under the bright lights singing vocals and playing blues harmonica with five other women: two guitarists, one bass player, one drummer and a second vocalist. None of us had ever before played in a band.
Playing rock and roll on stage was never on my bucket list. What was on that list was writing more impactful stories. I planned to write about the Willie Mae Rock Camp for Girls, a non-profit music/mentoring program which empowers girls ages 8-18 by teaching them to play an instrument and form a rock band. Then I learned there was a three-day camp for women (with the entry fee going towards scholarships for girls), and decided to write about that.
Just like the Willie Mae Rock Camp for girls, the women "students" needed no prior musical experience, could choose to learn to sing, play bass, guitar or drums (all taught by experienced women musicians), form a rock and roll band, and play live at a music club.
Singer/songwriter/musician and executive director, Karla Schickele (daughter of Peter Schickele, AKA PDQ Bach), volunteered at a rock and roll camp for girls in 2000 in Portland, Oregon, whose purpose was to empower girls by getting them into bands. In 2004, she brought the idea in New York, calling the program, "Willie Mae Rock Camp for Girls." Willy Mae "Big Mama" Thornton was a '50s blues and rock performer/songwriter who recorded a gritty, bawdy, dirty version of Hound Dog (#1 on Billboard R&B for seven weeks) three years before Elvis, and was one of the first women to play rock and roll.
The Ladies camp began Saturday morning at the Co-op School in Clinton Hill. Thirty-two female "campers" ranging in age from 21 to 67, and representing every career from financial analyst to Rabbi, were to be taught by 20 volunteer teachers (each a master musician). There were also volunteer female roadies to set up the equipment for seven full bands.
Karla asked everyone to stand, punch their arm up to the left, then to the right, down to the left and the right screaming on each punch, "We rock...we rock."
"At rock camp," sad Karla, "you never apologize for creating a mistake. You say, 'I rock!' Say it!"
"I ROCK!" yelled all the participants, including me.
The campers next introduced themselves to each other, seeing if they wanted to play in the same band. Because I was there only to observe, I eavesdropped on the conversations. "I've always wanted to be a rock star," said one woman. "I'm gonna try to sing unless they kick me out of town". Another admitted, "I like the bass. I tried guitar, but there was no real connection; the bass is really sexy." A third said, "I play the flute, but I'm here to play drums because we have no drums in the house."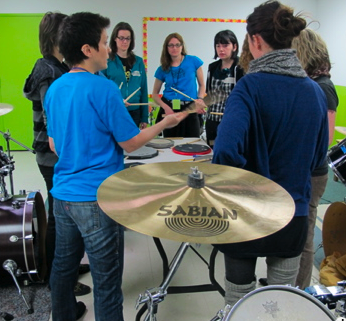 Then, everyone went off to a classroom for a 1.5-hour instrument practice. I started by following the drummers. Each camper was given a pair of sticks and stood before their own drum pad. "The thumb is the CEO of your stick," said the teacher. "Never remove that thumb. Have you ever shot pool? Think of the pointer finger as your stick."
In another room, bass students sat in a circle on kindergarten-sized chairs (the school is a pre-school). "You can use a pick, said teacher, "but I personally use my fingers. I like the yellow pages style. Remember, the right hand makes you a virtuoso."
I checked in on the guitarists and then headed upstairs to the vocalists, who also sat in a circle on the tiny chairs. There was an extra chair, so I took a seat as Beth, the teacher, was saying, "Barbara Streisand never got her nose changed because it would have changed the way her voice sounds. Okay, who wants to go first?"
One by one, the vocalists were to stand in front of the microphone and sing their favorite song. "Just sing it the way you do in the shower," Beth said.
When everyone had sung she turned to me. "Do you want to sing?"
"I don't sing in the shower," I said.
"Then just sing your favorite song," she said.
I moved up to the mike, nervous even though there were only six other women. "I sing when I'm hiking," I said. "It helps me keep the beat." I began to sing Cotton Fields. In the middle, I snapped my fingers and the others began to clap the beat. When I finished, Beth said, "You see? Look how much energy you have! You had everyone clapping!"
I was hooked. If I could sing in front of these people, maybe I could sing on a stage; so during lunch, I paid the $425 tuition and signed on as a camper. Worse case scenario, my fee would send a girl to rock and roll camp. Program Director Emmet Moeller told us we'd been divided into seven different bands, and each person would be in charge of her own part and was also expected to contribute and create a song. "It doesn't matter what you do," Emmet said, "This is rock camp."
The three days flew by. Mornings were for instrument instruction and afternoons the various bands would assemble and practice with the help of a bandleader. Practice sessions ended at 5:30pm, but we could practice until 9pm. There were six in my band along with our bandleader Caryn Havlik (who taught drums in the mornings). The first thing we did was name our band The Longstockings, after a nine-year-old in a famous Swedish children's book). We not only didn't have Pippi Longstocking's superhuman strength, we couldn't even figure out a song -- yet we were expected to perform one on our final night in a real NYC club.
Group dynamics are tough -- especially when you've been haphazardly thrown together. We were all beginners with our instruments, we didn't know how to write a song, and if it hadn't been for our bandleader, we probably would have walked out in total exasperation. Still, we managed to cobble some words together and in Band Art (in which we were each given a blank T-shirt and told to silkscreen a logo, we ended up with a great one (two crossed long stockings and the band's name).
So now, there only remained the song to practice. As no one was an experienced musician, the melody seemed kind of one-note and there was an awful lot of space between each line of the chorus. And so, I pulled out my blues harp and played a riff (I am a beginning harmonica player, but you have to start somewhere, yes?). The band liked it and told me to keep it in. And then, because we were adding musical bridges, I volunteered to play part of Amazing Grace as a solo (which made sense because our song was called I'm feeling Blessed).
But that night, as we arrived at the Cake Shop Club and saw the roadies setting up the drums and plugging in all the instruments on a real stage, I began to panic. Baring your creative soul is a lot harder than getting naked, just as they told us it would be. What if I played wrong notes? What if I came in too early or too late on the harmonica?
Suddenly the six of us were crowded on the apron of the small stage taping the lyrics to our mikes. I introduced our band and nodded to the drummer, "One, two three four," she counted as she banged her sticks together. Something Emmet had said ran through my head: When you're playing, it's okay to need courage - just don't look like you're needing it. The instruments blended together with the melody. Suddenly we were singing the chorus. I raised my harp to my lips and let it blow. The audience screamed in approval. It was time for my bridge solo--I managed to play the bars of Amazing Grace without hitting a clunker note. The song ended. The audience yelled, hooted, and applauded.
I couldn't believe it -- we'd done it! We high-fived each other and as we left the stage, I was already thinking about signing up for one of the two Willie Mae Ladies Rock Camps this summer. The question is: do I want to bang on the drums, twang on the bass or learn guitar?
SUBSCRIBE TO & FOLLOW LIFESTYLE
HuffPost Lifestyle is a daily newsletter that will make you happier and healthier — one email at a time. Learn more