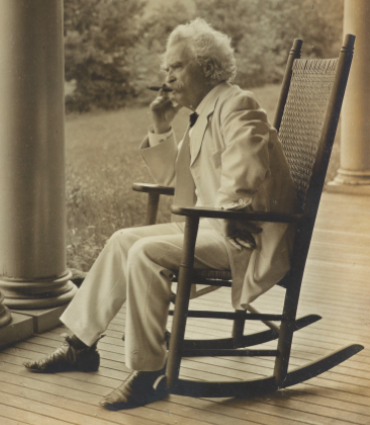 The Morgan Library & Museum has struck gold again -- this time in partnership with the New York Public Library with a new Mark Twain exhibition, Mark Twain: A Skeptic's Progress, in celebration of the 175th Anniversary of the author's birth. It is on view from now through January 2nd, 2011.
In addition to the original manuscript pages from such masterpieces as The Adventures of Huckleberry Finn (1885) and Life on the Mississippi (1883) there are more than 100 other priceless items from both the Morgan and NY Public Library which together, hold two of the world's greatest collections related to the life and works of Mark Twain (1835-1910).
Handwritten manuscripts and typescripts of works by Twain are on display as well as his letters and correspondence, drawings and illustration mock-ups for printed editions, photographs, and several three-dimensional artifacts. What makes this collection so unique is that it deals with a recurring theme in Twain's work: his critical attitude towards the rapidly modernizing America. Look at Twain's words, and you'll see that beneath all his humor is rage, anger and disillusionment.
Samuel Langhorne Clemens, known more by his pen name, Mark Twain, is considered the quintessential American author, humorist, lecturer, essayist, and master of satire. In Life on the Mississippi, Twain examines the history of the river and the impact of technological progress on river life. He paints greatly contrasting portraits of urban life in the North and South. In Following the Equator(1897), Twain is savagely sarcastic in expressing his outrage at the crimes that the Western colonial powers perpetrated on the indigenous populations of Africa, Asia, and Australasia.
Twain read all his work to his wife and children, and his wife also served as an editor. In his
manuscript," Mark Twain: A Biographical Sketch," it's easy to see the corrections on page 13 in the handwriting of his wife, Olivia (Langdon) Clemens. She crossed out the amount of money they lost in 1886-89 ($170,000 -- the equivalent of about $3 million today) on James W. Paige's typesetting machine, and substituted for it the phrase "a large amount of money." She also crossed out the phrase "a fraud," following Paige's name, and inserted instead, that the invention "was a failure."
Twain, a world traveler, might be one of the greatest travel writers in history. He described the great volcano on the Hawaiian island of Kilauea in 1886:
Up a dome of bloody lava as large as a small cottage, and this bursts and sends a million sparkling gems aloft that shed a blinding radiance around -- and from the midst of the exploding dome a filmy veil of light green flame flashes out & floats away like a disembodied soul.
The show is co-curated by Isaac Gewirtz, Curator of the Henry W. and Albert A. Berg Collection of English and American Literature at The New York Public Library, and Declan Kiely, Robert H. Taylor Curator of Literary and Historical Manuscripts at the Morgan Library. With so much rich material to chose from, you might wonder how a curator decides which pages to display?" Says Kiely, "It comes down to an inverse beauty contest." Kiely has chosen to display the manuscript pages with the most changes.
What to me is every bit as exciting as the manuscripts, are the illustrations by Twain's longtime collaborator, artist Daniel Carter Beard. Many are extremely disturbing -- especially those depicting injustice in the world.