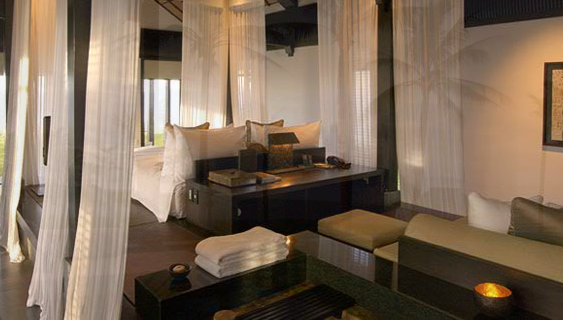 I am at a cocktail party at The Nam Hai , possibly Vietnam's top luxury resort, located in the UNESCO World Heritage Site of Hoi An. Coincidentally, Reda Amalou, Nam Hai's architect, is here with his wife and two children. Considering that this property has been recognized worldwide and was awarded Best Resort in the World by Travel & Leisure's design competition, I ask to be introduced to him.
To give you an idea of what the Nam Hai is like, basically every one of its beautiful, sumptuous, and meticulously-designed garden villas and pool villas (all freestanding buildings) face the South China Sea. Each has an outdoor shower in a lush garden (I haven't gone near the indoor shower because I am so happy showering outside, even yesterday in the rain). All the villas are built in a style that sophisticated Americans might call a "pod," and which the Vietnamese call a platform. Enter your villa and you're looking at a spacious platform. Everything is on it: the large canopied bed with gauzy curtains, two plushy lounging areas, a sunken black marble bathtub, and a spacious writing desk(complete with Ipod, free Wifi, and plenty of sockets). Even the plasma TV sits on the platform. So, you might be wondering, why this design feature?
Amalou, who runs the Paris- based architectural firm, AW2 tells me he has always been inspired by the ancient traditions of Vietnam, and the central region in particular, which is where Hoi An is located.
He has designed the villas as a reinterpretation of the traditional Vietnamese houses found in Central Vietnam, which all have an altar and a platform bed (or phan), as the most prominent furnishing. Much more than a Western bed, the platform bed is multi-purpose and not only a place for a card game, an area to eat meals, and a place to repair a conical hat, but also for sleeping. The Vietnamese typically roll a thin straw mat onto the wooden platform and it becomes a bed.
Amalou says that for the Vietnamese, architecture is much more than structure -- it is the highest art, and is based on feng shui (which the Vietnamese call phong thuy and which translates as 'wind water'). Feng shui is central to Vietnamese architecture, and is a major part in the former imperial capital at Hue and the tombs of the Nguyen Emperors, both which influenced Amalou in creating The Nam Hai.
So do I like my platform? The first night I was really worried that I'd wake up in the middle of the night and trip and fall off of it -- but that didn't happen because I had light. When they come to do turndown service each evening, they light two very large candles, both romantic and practical. They also place a flashlight on each side of the bed, and there are light controls on both sides of the bed, so you won't ever be in the dark. If you choose to leave the candles burning (most guests do because they are so special), you won't ever need your flashlight. And, if you have trouble with the step leading up to the platform, there are a few villas without this feature -- that would be your loss, because the platform also raises the bed and lounging areas to an even better view of the South China Sea.
I ask Amalou if the platform is a problem for those not used to a step. "I like to design things that are a bit of an adventure," he smiles. "And if you're traveling half way around the world, then you want to live in something special."
Believe me, it doesn't get much more special than this.

SUBSCRIBE TO & FOLLOW LIFESTYLE
HuffPost Lifestyle is a daily newsletter that will make you happier and healthier — one email at a time. Learn more