As Christmas, Hanukkah and the New Year approach, cities around the globe celebrate with cherished traditions that delight both local revelers and holiday visitors. Parades on Seventh Avenue and Main Street, department store window unveilings on Fifth Avenue and Rodeo Drive, Santa sightings in sun and in snow and various Polar Bear Plunges kick the holiday spirit into high gear. However, moving past the usual suspects, a wealth of yuletide experiences around the country are just waiting to be discovered. Here, a list of five cities hosting holiday events that you may not know about. Well, yet...
The usual imagery attached to rosy-cheeked Santa Claus on Christmas Eve is in-flight, on a sleigh, being pulled by a cadre of hard-working reindeer. But on December 24th, our nation's capital challenges that notion as Santa gets his groove on waterskiing down the Potomac River. Accompanied by knee-boarding reindeer, flying elves, the Grinch on a jet-ski, and a dinghy-riding Frosty the Snowman, it's no wonder this free event has locals lined up offshore waiting to catch a glimpse. Festivities take place rain, snow, or shine at 1:00 PM sharp! Hey, Santa doesn't wait for latecomers; he's got plans for the night.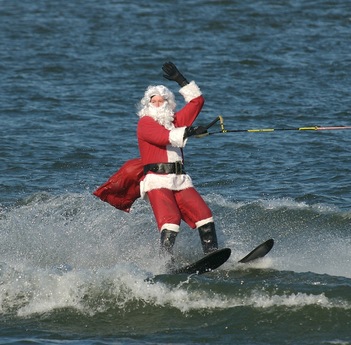 Though catching The Nutcracker is old hat during the holidays, D.C. is showcasing Tchaikovsky's classic score a little differently at Blues Alley, a cool bar and supper club in the heart of Georgetown that has seen the likes of Dizzy Gillespie, Sarah Vaughan and Charlie Byrd since opening in 1965. Set in an 18th century carriage house, local boy Duke Ellington's jazzy rendition of The Nutcracker gives characters like the Sugar Plum Fairy a tweak. Reinvented as "Sugar Rum Cherry," this fairy is a little more feisty, and whole lot more fun. December 15th at 8 and 10 PM.
Ever ponder what it would feel like to charade as Santa's elf for the day? Well, hilarious essayist David Sedaris told the tale to National Public Radio back in 1992 and put his literary career on zoom. Staged as a play by Joe Mantello, frequent Tony and Drama Desk award-winner for such iconic shows as Take Me Out and Wicked, Austin's Zach Theater will be showcasing the real-life story of Sedaris' stint as Macy's elf Crumpet through January 8th. Tickets are $40 tickets. Belly laughs are guaranteed.

Armadillo Bazaar:
Anything that combines armadillos and retail is worth checking out, and it shouldn't surprise anyone that the "weird" city of Austin has an event that fits the bill. From December 14-24th, the Palmer Center hosts the 36th annual Armadillo Christmas Bazaar featuring gifts and artwork by over 160 Texas artists and designers. With affordable stocking stuffers for friends to high-end art to serious collectors, and a calendar of live music accompanied by a full bar, this bazaar is an excuse for a spree and a party. With three musical acts daily, from local favorites like Kat Edmonson and Sahara Smith to exciting new talent, armadillos and shopping don't seem so weird, after all.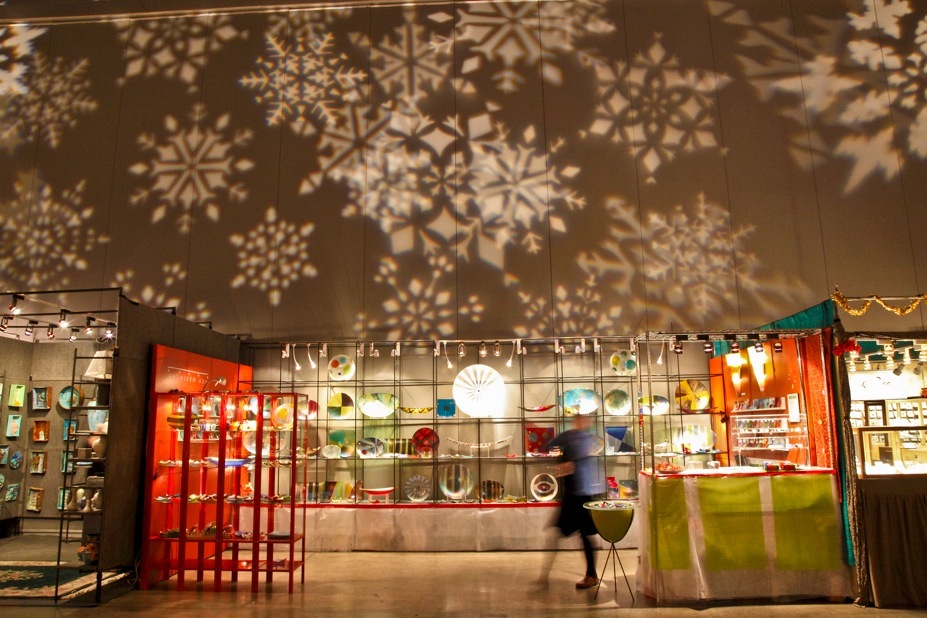 Tavern on the Green and the Plaza may have changed hands in the last few years, but there are still iconic New York City property experiences that rank high in holiday ambience. One is the New York Palace's "Holiday Fantasy" where the courtyard boasts a glistening 30-foot tree, and through December 24, employs Palace Guards and a Snowflake Princess that make appearances at the weekend Holiday Fantasy Brunch. Mrs. Claus' Macaroni & Cheese and Prancer's Pumpkin Cheesecake are on the menu while for adults a daily Happy Holiday Hour with cocktails like the White Christmas Cocktail and a Cranberry Margarita round out the experience. Of course, holiday packages are available should such happy hour carousing render you tipsy enough to require an overnight stay.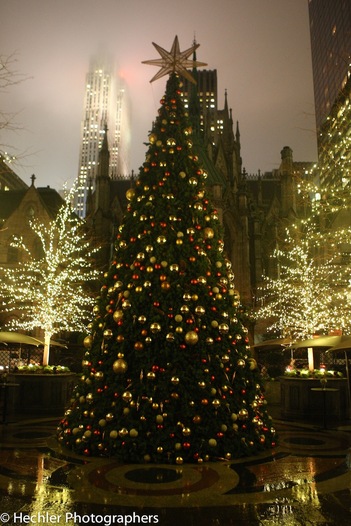 The Lights of Dyker Heights:
For years, the residents of Brooklyn's Dyker Heights have been putting on a light show that rivals those of Manhattan's corporate giants. This small 'hood between Bay Ridge and Bensonhurst attracts visitors of all ages with light displays--many done professionally--that elevate the game of upstaging one's neighbors to art form. With traffic jams occurring once the sun goes down, prepare to spend some time getting through the grid of glowing residences. In addition to the lights, inflatable decorations and motorized Santa, Frosty the Snowman, and nativity scenes are also in abundance. (Tip: The best displays can be seen between 83rd and 86th Streets from 11th to 13th Avenue).
As anyone with a pulse knows, it's nearly impossible to escape Lady Gaga's grasp. She's mesmerizing, talented, and omnipresent. So, it follows that the must-visit experience of the 2011 holiday season in New York is at Barneys on Madison Avenue at Gaga's Workshop. Taking a page from the iconic Mr. Claus's own office space, Gaga's Workshop takes over the entire 5th floor of Barneys and features eight shops encompassing Gaga-approved products from jewelry and candy to clothes and toys. The intricate window displays and elaborate entrance on 60th Street only tease to the installation on the 5th, and in true holiday spirit, 25 percent of all proceeds from items featured in Gaga's Workshop will go to Lady Gaga's Born This Way Foundation which focuses on youth empowerment and equality. Take that, Santa.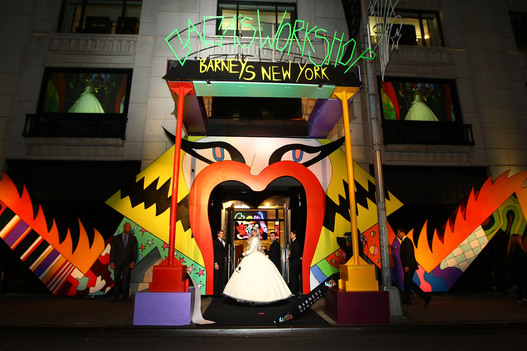 Admit it, going to the zoo is pretty cool at any age. It only gets better when the Lincoln Park Zoo opens ZooLights each holiday season. For its 17th year, Chicago's lions, tigers, and (of course) bears are showered with more than 2 million twinkling bulbs beginning at 5 PM nightly through January 1st. The best part? It's free! Meander through zoo pathways trading wary glances with members of the animal kingdom while keeping warm by sipping on spiced wine, steaming cider, or hot cocoa. If you're with the kids, be sure to visit Santa Claus himself at the Kovner Lion House, and if you're feeling generous, bring a coat and participate in the ZooLights winter coat drive.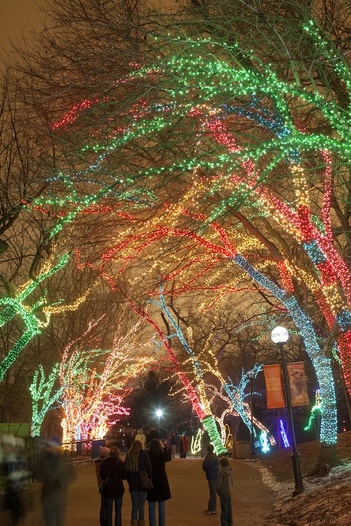 Though it serves your typical pub menu of beers and burgers, Butch McGuire's is no regular joint. Opened in 1961, with the vision of becoming the city's go-to singles bar, this watering hole gained legendary status not only as a pick-up spot, but place of Christmas tradition. What began as the hanging of a few homemade ornaments has blossomed into an awe-inspiring display of lights, garland, and kitsch, with two double-decker trains running through the cozy space. So, for a quintessential Chicago holiday happy hour, head to West Division, order up some eggnog, and raise your glass to Butch. To watch the staff of Butch McGuire's ready for the holidays, check out this video.
Who doesn't love Stevie Wonder, I wonder? Using his popularity to pull in money for charity, Stevie Wonder's House Full of Toys is now celebrating its 16th year. This year's event will take place on December 17th at the Nokia Theatre at L.A. Live. Sharing the stage with Wonder is Drake, Justin Beiber (gasp!), and Michael McDonald, among other guests raising funds for toys for children in orphanages, hospitals, and shelters across the country. Tickets range from $39.50 to $149.50, with a VIP package including front orchestra section seating, preferred parking, and Lounge access with open bar and buffet.
Though Santa Monica is better known for sand, surf, friendly dog walking, and a healthy dose of yoga practice, Downtown Santa Monica adds skating to the mix as it transforms the corner of 5th Street and Arizona Avenue into a sunny winter wonderland. Celebrating its 5th anniversary, ICE at Santa Monica, an 8,000 square foot ice rink is the ideal holiday spot to boogie-skate the night away, lounge in a private cabana (this is L.A., after all), or for novices, take a skating lesson. Open until 10 PM on weekdays and midnight on weekends through January 16th, lockers are available for a charge.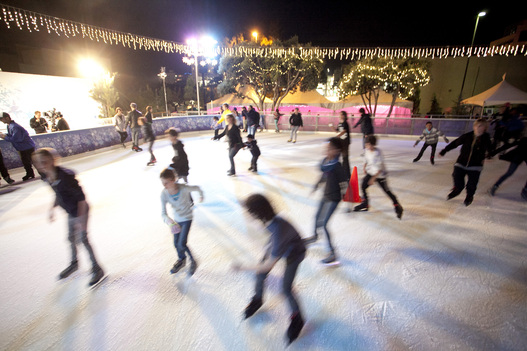 FOLLOW HUFFPOST