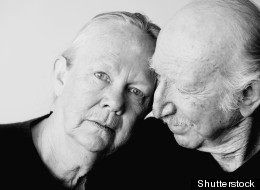 Ed, my beloved Romanian soul mate of 30 years, was continuing to decline slowly and was becoming ever more difficult to get along with. I was at the end of my rope. I really was.
Desperate, in a last effort to save my sanity and the relationship, I invited my friend and colleague, Irene Moore, to lunch to discuss 'a problem with Ed.' Irene was a geriatric social worker whose mother had died of Alzheimer's, and so was uniquely qualified to give me both professional and personal advice.
A few minutes into lunch Irene addressed the issue at hand: "So, how is Ed?"
"Actually," I began as if flood gates had opened, "he's become impossible to be around. He's often incredibly irritable, angry, mean and even sometimes emotionally abusive."
I gave her the full details of a recent bad day, when he'd made ugly scenes at both the cardiologist and the grocery store.
"That doesn't sound good," Irene said somberly.
"He's drinking a lot now, too. I suspect his drinking is contributing to his depression and belligerence. But I can't convince him to drink less. I love Ed, but I just don't know how much longer I can tolerate him. Yet I can't possibly end our relationship ... because I love him and also because he couldn't get by without me."
"Hmm ... Well, Dr. Marley," Irene said, looking at me with empathy. "You do have a problem indeed. I think he may be developing dementia."
"Dementia?" I repeated, immediately dismissing the notion. "Well, I don't care what he's developing."
I leaned forward, put my elbows on the table, and rested my head in my hands. I didn't want to hear about or even think about dementia.
"You have the option of ending the relationship. You know that, right?"
That made me snap to attention.
"Irene, I can't do that," I said, as though it was the stupidest thing I'd ever heard. "I love him. Besides, I told you, he couldn't survive without me. How could I ever abandon him?"
"I know women who were married for as long as 50 years who, in similar situations, divorced their husbands."
"How could I possibly do that? It would be morally reprehensible."
For an instant I fantasized about how wonderful it would be not to have to endure his angry outbursts. But then I imagined Ed sitting in his recliner, unaware of my quandary and the repercussions it could have for him, watching Reagan's funeral, as if it were the only thing that mattered in the world.
Reagan was one of Ed's heroes, and the fact that he'd died of Alzheimer's was affecting him profoundly. I wondered if he worried the same fate might be awaiting him.
Then I immediately dismissed the thought of leaving him. I would never leave him. Never.

"Well," Irene said, "in that case, perhaps we need to talk about how to manage the situation. There are three things I can advise you," she said. "First, don't bring up topics you think may upset him. Second, if he starts to get agitated, change the subject. And third, agree with everything he says, no matter how absurd."
"I can't promise following these rules will stop all the fights," she said. "But it'll help. Why don't you try it for a while and see what happens?"
And that's how it came to be that as Ed's dementia progressed I agreed with him about more and more. Important things, unimportant things; political issues and mundane day-to-day issues; silly things and serious things.
Although this whole plan seemed ludicrous at first, I found that it did stop most of our nasty fights. Irene's advice worked. Staying with Ed, caring for him and loving him became much easier and sometimes even joyful.

For more about my relationship with Ed you can read my book, "Come Back Early Today: A Memoir of Love, Alzheimer's and Joy" and visit my website, which has a wealth of information for Alzheimer's caregivers.
Earlier on Huff/Post50:
Eating two servings of fish weekly can provide brain health benefits since it is a great source of omega 3 fatty acids -- which are important for brain function. Having a diet rich in omega 3 fatty acids has been linked to lower risks of dementia and stroke, and can help improve memory.

Yes, chocolate is good for you! Dark chocolate has been found to sharpen focus because of the caffeine it contains. An ounce of nuts or seeds per day is a great source of vitamin E, which may slow cognitive decline.

Not only are these little berries delicious, research has shown blueberries may help to reduce the effects of Alzheimer's and dementia.

Next time you're whipping up some grub, turn to your spice rack for an extra brain boost. Spices and herbs may do more for your health than you realize. According to Dr. Daniel Amen, author of "Use Your Brain To Change Your Age," cinnamon balances blood sugar; garlic, oregano and rosemary increase blood flow to the brain; curry acts as an anti-inflammatory; and saffron can have anti-depressant effects.

Don't eliminate all of the fat in your diet. Instead, focus on incorporating good fats. In fact, if your cholesterol drops too low, you may be at greater risk for depression, according to Amen and several studies on low cholesterol. So what exactly are "good fats"? Dr. Amen advises people to eat foods rich in omega-3s to promote brain health, including almonds, walnuts, brazil nuts, fish, lamb, avocados and green leafy vegetables. Another added benefit of eating good fats? "Your vitamins are actually absorbed better when you eat them with a little bit of fat," said Dr. Amen. "The American Heart Association recommends that unsaturated fats make up 18 to 28 percent of the calories in our diets," reports a Health.com article.

Adding foods like broccoli, cauliflower, cabbage and brussels sprouts could have great brain health benefits. These vegetables pack serious antioxidant power which helps protect the brain. One Harvard Medical School study found that women who ate more of these veggies lowered their brain age by one to two years, Prevention reports.

A diet rich in whole grains can help stabilize blood glucose levels. By keeping levels steady, you can feel more energized and focused.