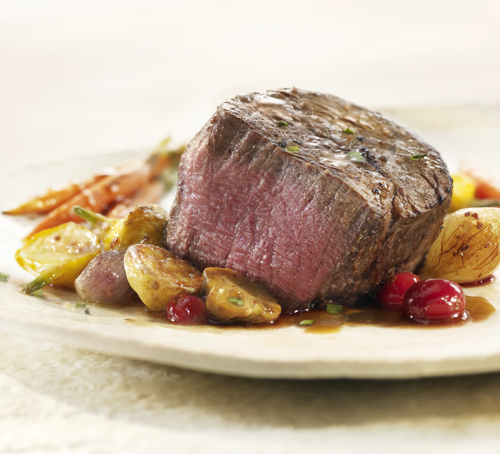 Photo by David Bishop
Tender and tasty filet mignon has comparatively little fat for beef (along the lines of sirloin, which is infinitely less tender) and is one of the lower calorie beef cuts, while being high in protein, potassium and essential amino acids. Unlike other high end juicy cuts of beef, filet mignon does not require fat marbling in the tissue to render it so enticingly tender. It is a muscle that is not exercised as much as others, thus yielding its soft and succulent texture. As its name both suggests and supports, the tenderloin of any animal, be it beef, lamb, poultry or pork, has the same quality.
The secret to evenly roasting vegetables together is in ensuring that the pieces are all the same size so that the cook time is relatively the same. I like using baby vegetables in this recipe for their proportion to the meat and their generous skin surface area providing more color and beauty, but you can simply cut your chosen vegetables to equal sizes. Smaller pieces mean less cook time. I chose my favorites and you can use any that you like best.
Seasoning before cooking can make all the difference in flavor and texture in both meats and vegetables. My visit to The Meadow in Greenwich Village in NYC for a salt tasting experience, and an education on salt choices, taught me why Sel Gris is perfect for roasting and grilling meats. Sel Gris, a sea salt with a high moisture content, does not draw the moisture from food, unlike it's drier cousins. It does, however, upon letting it rest on the food for a few minutes before cooking, meld with the surface, creating a pleasing crust when grilled, seared or roasted. I like to mix it with a touch of olive oil and ground crushed red pepper to rub onto the meat and toss in with the vegetables. A plethora of sea salts are becoming more available in grocery stores and gourmet shops.
Quick grilled, broiled or roasted lean steak such as filet mignon creates little liquid and residue to form a gravy from, and I love having a bit of sauce to mop my meat and veges in. For this dish I used cranberries, cranberry juice and D'Artagnon brand Veal Demi Glace, found in the meat department of your grocery store, to make my sauce. Demi glaces come in many varieties and can be kept in your freezer to have them on hand for enhancing a multitude of dishes. The cranberry addition to the recipe creates a sweet and tart component to the rich savory flavors, and adds easy elegance to the finished dish for holiday or everyday presentation.
There are several parts to this dish that require some wait time. While you are waiting for one aspect of the dish to come to fruition, you can be occupying your time with other steps. I am, therefore, giving you the steps in an order that might best suit expedience.
Recipe for Filet Mignon with Baby Roasted Vegetables and Cranberry Veal Demi Glace Preheat Oven to 375'F. Serves 4, 600 calories per serving, if you use all the cranberry sauce and all of the oil, which you probably won't.
Seasoning Mixture for Meat and Vegetables
1/4 Cup Olive Oil -- 120 calories per tablespoon
1 Tablespoon Sel Gris
1 Teaspoon Ground Crushed Red Pepper
Mix well
Filet Mignon Cooking Directions:
Rub four 4 ounce center cut filet mignon steaks with the seasoning mix.
Allow the meat to rest with the rub at room temperature for about ten to twenty minutes.

(While you are waiting, look to the other steps in the recipe as a whole.)

Place them on a half sheet pan or roasting pan and set them on a center shelf in the oven, under the broiler, or on a medium high heat grill (without the pan in the case of grilling).
Flip them over every 3-4 minutes for even roasting. 6-8 minutes total cooking time for medium rare, 9-12 minutes for medium. Test them for doneness by pressing a finger in the center or by using a meat thermometer. Don't waste this precious cut of meat for anything over medium. Well done is a waste of filet mignon's delicate nature.
Let the meat rest for about 5 minutes before serving to allow the juices to remain in the meat before slicing.
Roasted Baby Vegetables:
Ingredients:
6 Ounces Golden Peewee Potatoes -- 25 calories
6 Ounces White Pearl Onions -- 50 calories
6 Ounces Red Pearl Onions -- 50 calories
4 Ounces Baby Carrots with trimmed greens, peeled -- 15 calories
1 Cup Tiny White Button Mushrooms -- 18 calories
1 Cup Tiny Baby Pattypan (Yellow Squash) -- 24 calories
Directions:
In a large pot of boiling water, submerge the squash and peeled, trimmed carrots into the water for about a minute, then quench them in ice water until totally cooled, and dry them thoroughly.
In the same water, boil the pearl onions for about 5 minutes to soften the outer layers, then submerge them in the ice water to cool them completely.
With a pair of kitchen scissors, cut the root end of the pearl onions and trim the tail end a bit.
Holding the tail end of the onions, squeeze the inner parts out and set them aside in a bowl. If you find any trouble with a few of them, simply make a cut vertically with your scissors, through a bit of the outer layer to make the release more graceful. (You can use the outer layers, skin and all, to make stock another time, so as not to waste the onion flavor).
Wash and thoroughly dry the mushrooms and potatoes.
Toss all the vegetables in the seasoning mixture. Remove them with a slotted spoon and drain them well on a paper towel lined plate or tray to eliminate most of the oil.
Line a half sheet pan or roasting pan with parchment paper for ease of clean up later.
Place the drained seasoned vegetables in the paper lined roasting pan. Roast the vegetables for about 20 minutes until tender, tossing them half way through their cooking time.

Recipe for Cranberry Veal Demi Glace and Cranberry Sauce:
Ingredients:
4 Ounces of Clear Sweetened Cranberry Juice -- 67 calories
4 Ounces Fresh Cranberries -- 23 calories
1/2 Cup of Agave Nectar -- 250 calories
7 Ounces of Veal Demi Glace -- 30 calories
Fine Sea Salt to taste
Directions:
In a one quart sauce pan, bring the cranberries and juice to a boil for about 5-10 minutes until the berries pop and soften.
Drain the berries and place them in a bowl, reserving the juice.
Mix the agave nectar into the berries and let them macerate at room temperature until ready for use.
Place 1/2 cup of the strained berry juice with the veal demi glace back into the one quart sauce pan and reduce to one quarter of its volume to concentrate the flavor and thicken the sauce. Add sea salt to taste once it has finished reducing.
Plating:
Divide the roasted vegetables onto 4 plates.
Place one filet mignon steak onto the vegetables on each plate.
Add the sauce over each plate of meat and vegetables.
Garnish with a sparing smattering of macerated cooked cranberries and scissor cut fresh tarragon, or the herb of your liking. I love the licorice perfume quality that tarragon lends this sweet, tart and savory dish.
Serve this epiphany with your wine of choice or a sparkling mineral water.
Also visit my first blog at foodfloozie.com and my professional website at marilinda.com.