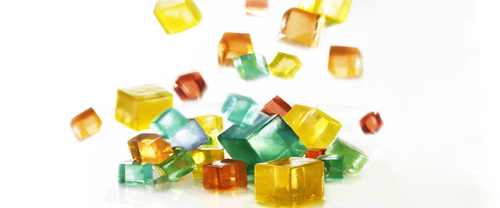 Photo by David Bishop
For more than 30 years I have worked on advertising campaigns for gelatine brands. I have to admit that gelatine products are one of my favorite food stuffs to style because gelatine is innately beautiful, due to its jewel like transparency and kaleidoscopic mesmerizing qualities.
Several years ago I had the opportunity to put my dream of sharing my personal vision of "Jell-O" into a short film through the co-operation of a long time professional friend of mine, Steve Romano. He was one of the first to own and operate a Phantom Camera, which captures images at high speeds up to 3000 frames per second and plays back at the normal 30 frames per second, rendering the images at 100 times slower than the human eye can capture. It is transformational to watch what the eye cannot see, as form reshapes itself into continually shifting images. Life imitates art, or vice versa.
I am happy to share this video we created at the below link, which I entitled "JOY". Be sure to click the X when the pop-ups appear, so that you can see it unencumbered by the YouTube ads. It is a YouTube video, after all. If you would like the recipe for this room temperature gelatine, you can contact me at marilinda@rcn.com. It is basically 2 packets of gelatine to 1 cup of water, but it is just a bit tricky.
Also see my first blog at www.foodfloozie.com and my professional website at http://marilinda.com/