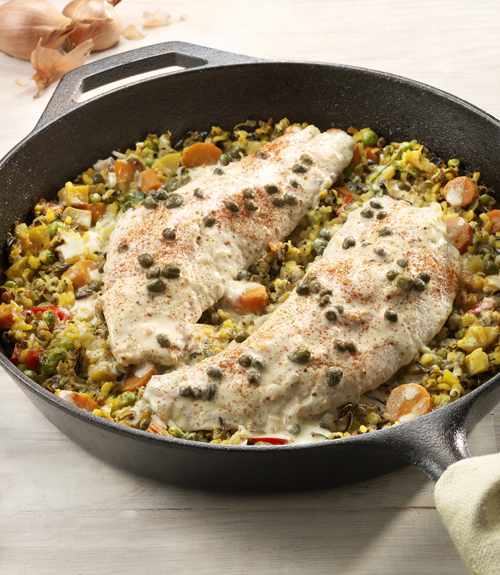 I was asked to style a creamy mustard roasted fish recipe from a famous TV chef for an editorial photo shoot. I cooked the recipe as it was given to me. I thought it needed help. The sauce was too thick and clumpy-looking, so I made some changes in the sauce recipe and roasted the fish with it on a brown and wild rice vegetable medley, where there was none. It turned out looking and tasting better than the original recipe. I added chicken broth and heavy cream to thin the sauce, making it and smoother and creamier with better flowing coverage... perfect for oven roasting over rice, paella-style. The changes in the recipe also make it healthier and more balanced with plenty of whole grain, vegetables, nutrients and fiber.
With that said, here is my recipe for Creamy Mustard Roasted Red Snapper on a Brown and Wild Rice Vegetable Medley. Make the rice medley first.
Brown and Wild Rice Vegetable Medley
Rice
1/2 cup of Lundberg's Wild and Brown Rice Blend
1/2 cup wild rice
2 cups of broth, chicken, fish or vegetable
2 Tablespoons of olive oil
1 teaspoon of turmeric
Salt and pepper to taste
Vegetables for Rice
1 sliced carrot, peeled
1 cubed parsnip, peeled
1 diced onion
1 cup of English peas
1 sliced red finger pepper
Bring the broth, olive oil, turmeric and salt and pepper to a boil.
Add in all the rice.
Reduce to a simmer and cover.
Cook on low heat for 40 minutes.
Add in the vegetables, stir and continue cooking for another 10 minutes, or until the wild rice blooms.
Creamy Mustard Roasted Red Snapper
4 (8-ounce) fish fillets such as red snapper
8 ounces crème fraîche
1/2 cup Heavy cream
1/2 cup broth, chicken fish or vegetable
3 tablespoons Dijon mustard
1 tablespoon whole-grain mustard
2 tablespoons minced shallots
2 teaspoons drained capers
2 tablespoons olive oil
Sea salt and freshly ground black pepper to taste
Hot smoked Hungarian paprika as final garnish for fish
Directions: Preheat oven to 400'F
Whisk together all the ingredients except the fish, paprika and olive oil to make the sauce.
Coat the bottom and sides of a baking dish with the olive oil.
Spread the rice medley evenly in the dish.
Lay the fish, skin side down, over the rice.
Cover the fish and the rice with sauce.
Bake the recipe uncovered for 10 -20 minutes depending on the thickness of the fish, until it is just done and flakes. Do not over cook the fish.
Sprinkle the fish with the paprika.
Serve immediately.
SUBSCRIBE TO & FOLLOW THE MORNING EMAIL
The Morning Email helps you start your workday with everything you need to know: breaking news, entertainment and a dash of fun. Learn more