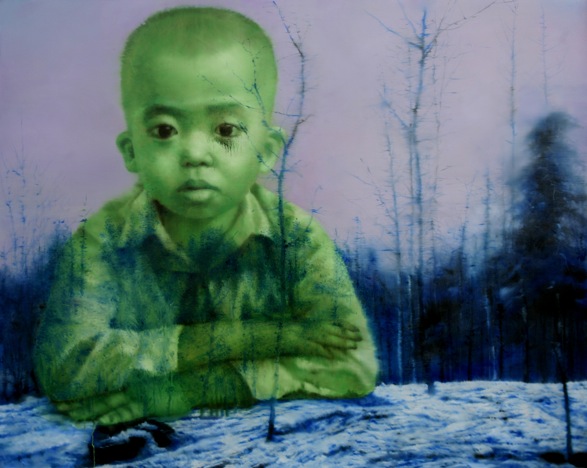 Reve sur le foret, 2010, oil on canvas, 160 x 200 cm.
Although not officially part of my own Studio Visit series (launched September 7th), I thought this would be a great link to share, as the artist featured in this video, Li Tianbing, opened a show at Contrasts Gallery in Shanghai this weekend.
I was interested in Li's work and wanted to research further, which is how I stumbled up on this video from Artivi, a Paris-based internet television network that focuses on the visual arts. It offers insight into this particular artist's practice as well as the context of his work, coming straight from the artist himself.
At 36 years old, having been born and raised in China, Bing didn't have any siblings as a result of China's one child policy, introduced in 1978. This policy -- as well as the fact that China has morphed from isolated and impoverished third world state to one of the most powerful and wealthiest countries in the world (it recently surpassed Japan as the world's second-largest economy) -- has greatly influenced Li's practice and approach to art-making. No doubt it has influenced the work of many artists of his generation, directly and indirectly.
"I missed having siblings in my childhood," the artist says, "so I tried to make up for this in my painting." He goes on to explain how he "invented" several brothers in his paintings, all based on photos of himself as a young boy -- an "ideal childhood," he goes on to say of himself and his imaginary brothers.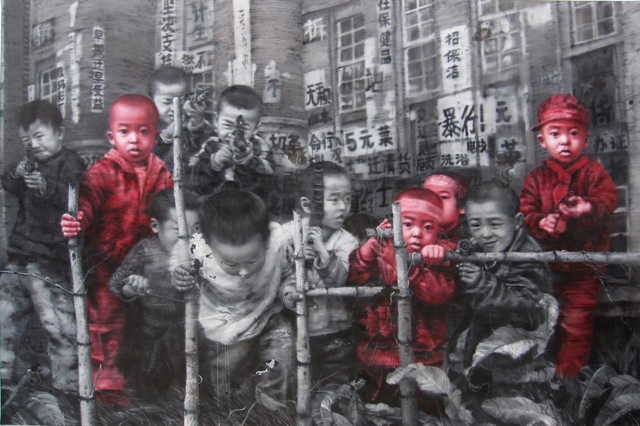 Bataille devant les ecritures, 2010, oil on canvas, 200 x 300 cm.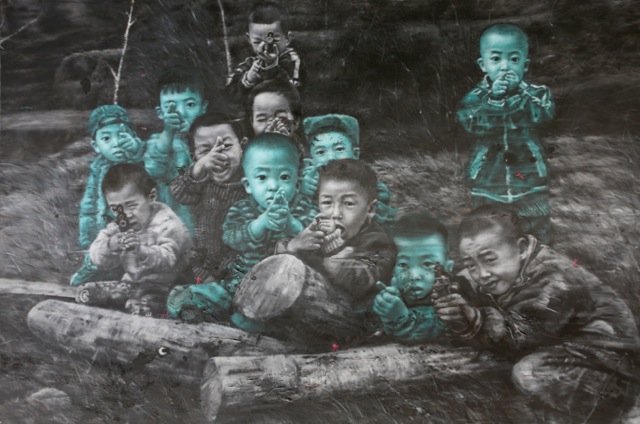 Bataille verte sur le champs, 2010, oil on canvas, 200 x 300 cm.
I couldn't imagine who I'd be without the influence of my brother. He and I are friends and confidants (granted that was something that developed more so in our teenage years and into adulthood but nevertheless, crucial periods in a young person's life). We stuck by each other through all the ups and downs in our own family. But the difference between my own family structure and one of my only-child peer was the choice for our parents; this was not law and in being an only-, one of two, or one of seven children was part of each person's individual family makeup (though studies have shown that this might affect a person's development as well, i.e. the only-child and middle-child syndromes that are often referred to).
In China an entire generation of people are only-children. I wonder how it has that affected this generation. Are these children, many now adults, more mature, having had to relate to only adults as their first 'friends' or confidants? Did this affect their relationship to others as far as always being doted on or being the only "light" in their parents' eyes? Are their relationships with friends perhaps more significant, taking on friends as surrogate siblings? Was there a shared sense of loneliness or isolation growing up?
I think Li Tianbing's relationship to the subject says a lot about how different people of his generation that grew up in China have struggled with the feelings that come with this particular -- and forced -- family structure, as well as the many major changes that have been taking place in China, of course. I'd love to hear readers' thoughts on the subject, as well as Li Tianbing's work, in which the artist says he creates paintings that evoke cultural duality and the isolation he felt growing up as an only-child.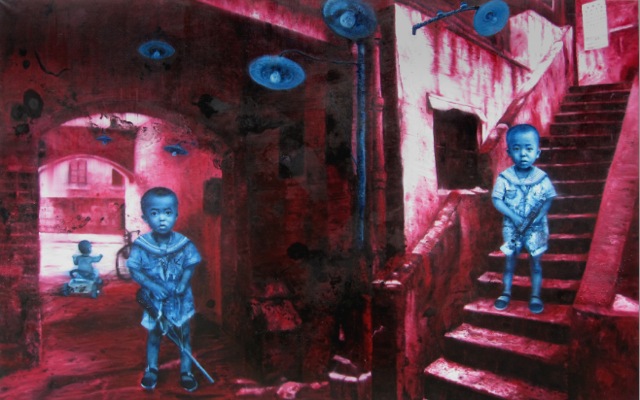 Rencontre (Encounter), 2010, oil on canvas, 160 x 250 cm.

Haut-parleur, 2010, oil on canvas, 200 x 300 cm.

SUBSCRIBE TO & FOLLOW CULTURE SHIFT
Every Friday, HuffPost's Culture Shift newsletter helps you figure out which books you should read, art you should check out, movies you should watch and music should listen to. Learn more