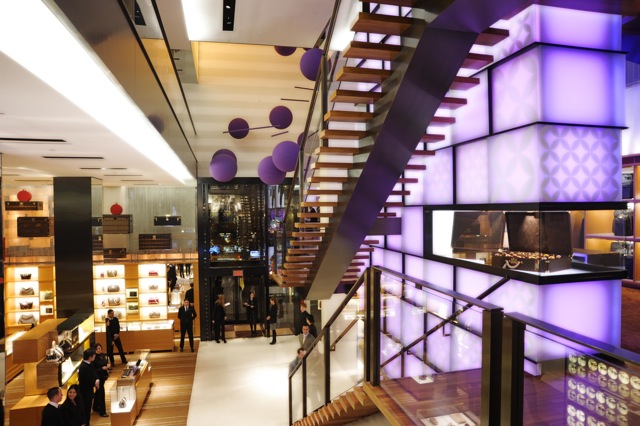 It's a rare occasion that I venture anywhere near midtown during the holiday season but last month I ventured into the sea of tourists, braced myself in the cold gusts of wind and stepped into the rather aloof atmosphere of Louis Vuitton's flagship Fifth Avenue store. I was there essentially to look up, or at least upon first entering. There, quietly rotating above my head was French artist Xavier Veilhan's Mobile, a sculpture comprised of large purple globes hanging in clusters from steel wires like roots from a tree. Motors at the base of sculpture rotated the orbs quietly around. Immediately it made the space more approachable.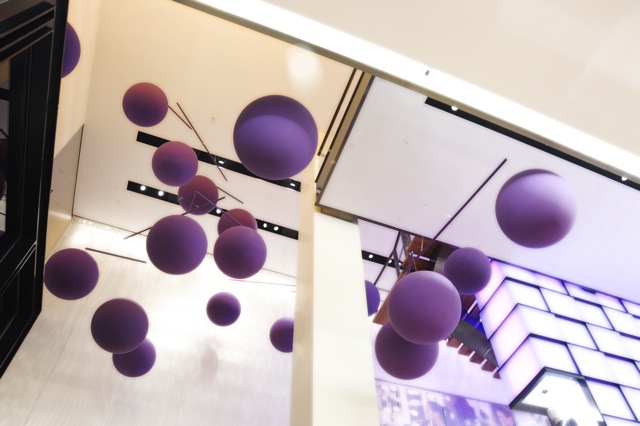 The work was first shown, in a different configuration, during Veilhan's 2009 exhibition at the Chateau de Versailles. It was made for- and installed above the Gabriel Staircase. One year later, on the corner of Fifth Avenue in a bustling city, it took on a new life (Veilhan later commented that all of his works are autonomous). Moving from a place of great history to the 2004-opened Jun Aoki and Peter Marino-designed LV megastore is a poignant indication of the power of art and integration of art into lifestyle, potentially changing one's perception of- and offering different interactions with artworks outside of the museum or gallery, whether in the context of a historical site or a commercial mecca (though that's not to say that I always agree with art being situated in commercial spaces).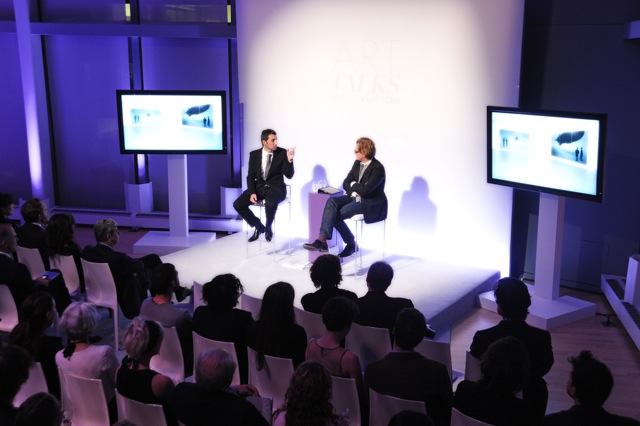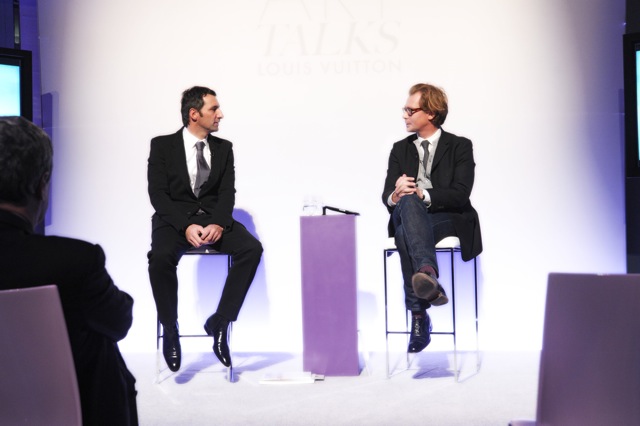 Following the viewing, guests of LV were taken to their "Magic Room," where a talk between Veilhan and Dia Art Foundation director Philippe Vergne took place. The first images to appear on the two screens set up was Veilhan's photograph The Eiffel Tower (1999). Vergne opened the discussion, commenting on Veilhan's "castration of the Eiffel Tower," which was met with chuckles from the audience. Veilhan (who, at the mention of castration had developed a slight blush on his cheeks) simply said that the iconic French structure was either being constructed or deconstructed. This was just the beginning of what became a rather jocular -- and thoroughly enjoyable -- conversation between the two Frenchman. Veilhan was very articulate; he spoke about his relationship to art history -- naming influences from Vermeer to the obvious, Alexander Calder -- and architecture; the collaborative nature of his work; and his "dream project," a traveling exhibition where he chooses the venues, mostly rooftops around the globe (the project is apparently in the process of being realized). The hour-long talk was then followed by a beautiful meal by French celebrity chef par excellence Daniel Boulud himself, who came out to thank his long time friends Louis Vuitton.
This was part of a series of art talks hosted by Louis Vuitton, a major supporter of the arts. The Louis Vuitton Art Talks launched in 2006 and have featured artists Vanessa Beecroft, Dinos and Jake Chapman, Sam Taylor-Wood, Tracey Emin, Chris Ofili and Antony Gormley. In October, Louis Vuitton and MoCA hosted an intimate discussion between Richard Prince and Jeffry Deitch at the home of Edythe and Eli Broad in Malibu, California, marking the North American debut of the Louis Vuitton Art Talk series.
Mobile is replacing Olafur Eliasson's, You See Me, as the Louis Vuitton Fifth Avenue Maison's permanent art installation (The Olafur Eliasson piece will be transferred cross-country to Louis Vuitton Rodeo Drive). And in 2011, Veilhan will show, "Free Fall", consisting of five original new artworks, as the inaugural exhibition at Espace Louis Vuitton Tokyo, an art space on the 7th floor of a landmark building in the Omotesando area, which was first conceived as a Louis Vuitton store by Jun Aoki in 2002.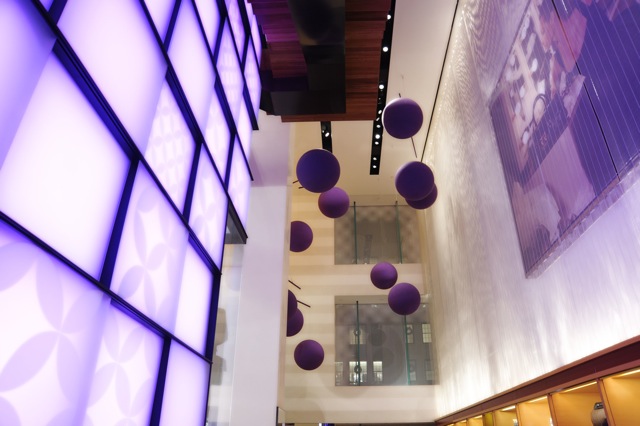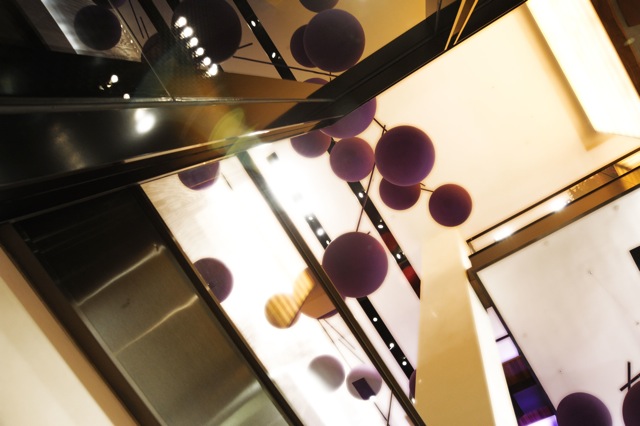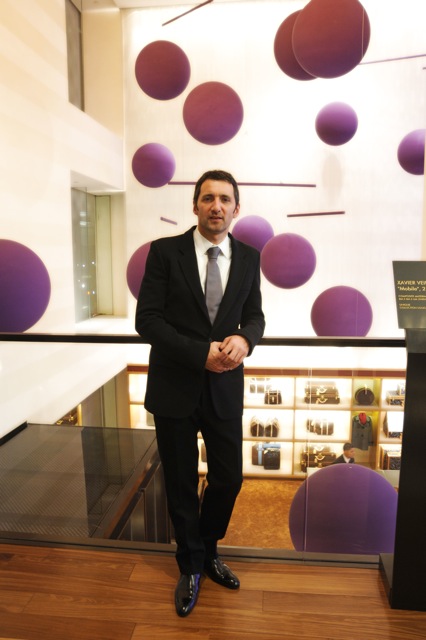 Xavier Veilhan with Mobile

Follow Marina Cashdan on Twitter: www.twitter.com/marinakcashdan